UN Blue Helmets Shouted "Boo" In South Sudan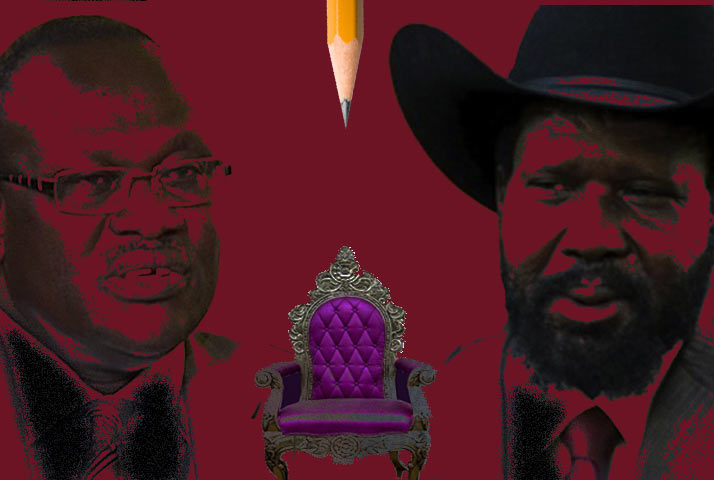 While the world community, as well as the people of the region were celebrating the birth of a new country in the South of Sudan, others were skeptical. Most Arabs, however, screamed, 'conspiracy to divide the Arab world'! They seem to have forgotten that the Arab-African Sudan lost its Southern half under president Numeiri, who in the eighties of the last century insisted on ruling the over eleven million people of South Sudan, mainly Animists and Christians, by imposing on them Islamic Sharia Law.
Decades before South Sudan became independent in 2011, for twenty-two years another country in the region, Eritrea, held the title of the "Newest Country of the world". However, the new country of Eritrea that became independent in 1991, failed to add substance to the meaning of freedom as its people embarked on a second phase of a liberation struggle. This time not to liberate territories, but to free Eritreans from bondage; unfortunately, their liberators turned into oppressors and more than squandered the people's goodwill, and they are now detested by the people. South Sudan became the "Newest Country of the World", a meaningless title that appeals only to the sound-clip media; there is nothing significant to be gained from catchy titles, except in advertising. Sadly, both new countries turned to be title holders of the 'The latest countries to be ushered into localized oppression.'
It was on the eve of achieving statehood that South Sudan People's Liberation Movement (SPLM) experienced fracturing.  In addition to the disagreement that South Sudan had with Sudan over the border town of Abyei, the dissident Lt. George Athor Deng, a veteran of SPLM who lost in state elections, accused SPLM officials of conducting election fraud and splintered, forming a rebel group. Military clashes ensued and the UN Somalia Eritrea Monitoring Group reported that the Eritrean government was supporting the South Sudanese rebels of George Athor. By then, the Eritrean regime has expanded its commercial and investment interest in South Sudan.
Subsequently, the UNHCR further accused Athor's group for the "massacre" of nearly 200 civilians, mostly women and children, in the Jonglei region bordering Southwest Ethiopia. Soon, the SPLM experienced more splintering and finally, the disparate groups coalesced into the Southern Sudan Democratic Movement.
The Suicide of a Nation
If in 2011 the skeptics of the world were worried the nascent State of South Sudan will destroy itself, it did, and proved their skepticism was warranted. Currently, the country is on the verge of witnessing genocide and total collapse as its leaders continue to wreak havoc in the lives of the fatigued South Sudanese people.
For the most part, the South Sudanese are cattle herders who would like to be left alone to tend to their animals. Of course, they aspire for development, education, health care and rule of law, even at the expense of their traditional arrangement that has brought them this far. But what they got instead was a digression from the level of their ancient traditional laws that governed their lives. They had seen tribal conflicts, but they were limited, not remotely as devastating as the one brought to them by the "freedom fighters" and leaders who could not provide an environment conducive to normal life. On the contrary, they normalized bloodletting, rape, torching of villages, and killing of people and their cattle.  If there is no peace or rule of law, at least in its basic sense, naturally the people resort to bloodletting and devastating civil war, and the South Sudanese are doing a remarkable job at destroying themselves and their country.
South Sudan is being ruled by,  "an arrogant government, a trigger-happy army and Warrior culture." That was a few years old prediction, though it was all too obvious not to discern the destructive developments that followed the declaration of independence. The violence didn't come from the sky, it was instigated by the leaders whose thirst for power could not be satiated; Silva Ker's Dinka and Rick Machar's Nuer tribes are at each other's throat and in the process, razing the country to the ground. Tens of thousands of people are displaced, many living in refugee camps, locally as well as in neighboring countries, including Ethiopia, Kenya, Uganda, and the Congo.
In a statement she published in December 13, 2016, Ms. Yassmin Sooka, Chair of the UN Commission on Human Rights in South Sudan, said that, "A UN survey found 70% of women in the camps had been raped since the conflict erupted – the vast majority of them by police or soldiers – and a staggering 78% had been forced to watch someone else being sexually violated." And these are supposed to be in civilian camps set in Juba, the capital of South Sudan!
Understandably, the world community is fatigued and ceased to pay enough attention, but it is time to take drastic measures (even use force) to end the suffering of the people who face possible genocide by one or another armed group. The economic hardship has not been helping the situation since South Sudan, as the Ms. Sooka indicated, "has the world's highest inflation rate – 837% as of October [2016]". Worse, in such situations, opponents find another reason to weaken their opponents by torching their villages and crops, benefit themselves by looting harvests and cattle herds—unfortunately, only the common citizens suffer as sights of corpses of people either killed by government forces or by the rebels, litter some roads. And that kind of savagery is a recipe for a serious famine and genocide.
Ironically, it is happening in a country that literally sits on sealed oil wells. Oil production has stopped due to blind rivalry between the corrupt and greedy South Sudanese leaders, mainly by Silva Ker's SPLA, and Rick Machar's SPLA/IO, who want to clear their path to become life-long dictators.
There Must Be a Reason to Fight!
The current conflict in South Sudan is the second phase of the one that started in 2013, just two years after its independence, when president Silva Ker accused his deputy, Rick Machar, of plotting a coup against him. Immediately the Dinka forces disarmed Machar's Nuer ethnic soldiers and a conflict erupted. It continued until a lengthy negotiation, arm twisting, and political pressure was exerted on the warring factions by many countries, including Ethiopia and Kenya. The peace brokers managed to have the two antagonists, sign a ceasefire agreement, without explaining how that would be different from the previous six they signed and ignored. The IGAD supervised agreement of August 2015 ushered a shaky peace that lasted only a few months, until Silva Ker decided on "redrawing of state boundaries to create 28 states." Rick Machar rejected it, and that triggered the current phase of violence that started in July, and has since brought the country to the brink of ethnic cleansing and genocide.
Now, the conflict does not have a sign of abating, both sides are poised for an all-out civil war as they are arming themselves, and forcefully recruiting soldiers, including child-soldiers. And as the government spends over 40% of its budget on arm supply, tensions could build for trivial reasons, similar to what happened when a rumor spread that Silva Ker was dead. The conflict raged until he showed up in a pickup truck to assure his followers he was alive.
The Blue Helmets Shouted, "Boo!"
Children are starving and women are dehumanized, some "were raped in July within sight of UN peacekeepers. And like many other people in the region, officials absolve their tribes of rape, "our tribe doesn't rape – it's not in our culture"! However, it's déjà vu in South Sudan, reminiscent of the role of the French UN contingent that helplessly watched the Rwandan genocide in 1994, and couldn't do anything to stop it. Armed with lethal weapons, including tanks and machine guns, it would be appropriate if the blue helmets exchanged their weapons for red roses—it's difficult to understand the purpose of the expensive weaponry and legal mandate, if a ragtag army is left alone to kill and maim the people.
The embarrassing news of UN troops running away and hiding in the face of rape and looting that happened around their camp, was the reason the UN Secretary General, Ban Ki Moon, sacked the Kenyan UN forces commander Lieutenant General Johnson Mogoa Kimani Ondieki; Kenya threatened to withdraw its 1,000-strong force. While South Sudan, threatened by an arms embargo, succumbed and finally allowed an additional 4,000 soldiers (the bulk of them from Ethiopia and Rwanda) to enter its territories.
The UN is rightly blamed for being too obsessed with slapping violators with an arms embargo, which every sane person, including the UN itself, understands it cannot be enforced. In a civil war, even machetes and sticks do the job efficiently, that is, if miraculously, guns are in short supply in the market. And that never happens when the cost of a gun is cheaper than the cost of a cigarette pack. Around 20,000 blue helmets, from many countries are present in Sudan, but they hardly solved the crisis or protected the victims. Surprisingly, even the Japanese, who never had an overseas military presence since WW2, have decided to join the UN forces with a 350-soldier battalion—though they can now take the "brave action in self-defense", and will be involved in engineering projects in Juba, that Silva Ker and Rick Machar are destroying. The previous Japanese contingent that they replaced was only allowed to shout "BOO", hoping the armed rascals would be scared and surrender.
It is disheartening that the UN has effectively emasculated even the battle hardened African forces who are in South Sudan in their thousands. That is because the Ethiopians and Kenyans were not as peaceful in Somalia as they are in South Sudan. And the UN forces in South Sudan, of course, in their peaceful blue helmet, number around 20,000 soldiers, all paid in hard currency. A South Sudanese quipped, "No wonder the United Nations Mission in South Sudan, is abbreviated as UN-MISS."
Related Reading
Monitoring Group Finds The Smoking Gun On Eritrean Regime
What Eritrea Can Teach South Sudan
Eritrea and the Hood