Eritrean Ministry of Information At War With Foreign Media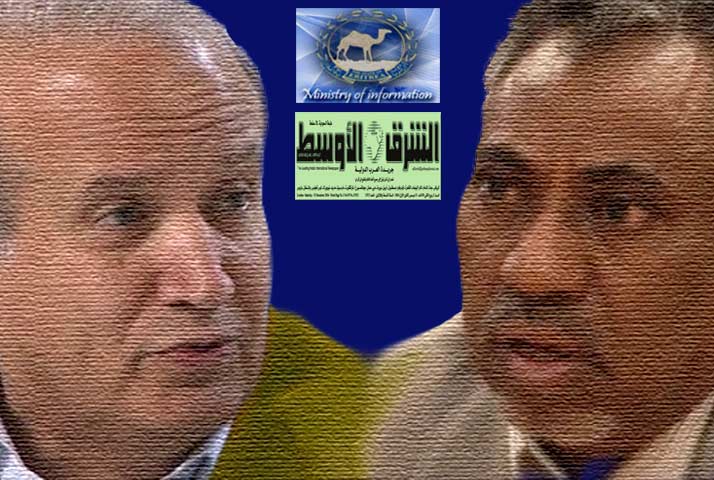 Six days ago, Abdulrahman Al-Rashid, the previous editor of Alsharq Al-Awsat, who now maintains a column in the newspaper stated that "the Saudi minister Ahmed Al-Khatib visiting the Ethiopian Renaissance Dam appears to have been an excuse for a media exchange that turned the relationship between Riyadh and Cairo from an intimate one to one where bad language is used."
In that context, Al-Rashid said that Ethiopia, "succeeded in containing Somalia by force, unlike [the USA in] Afghanistan, and it disciplined Eritrea."
On December 20, Awate.com's The Pencil had mentioned that "Egypt's AlSisi finally made a one day visit to Uganda, … on the same day Ahmed AlKhatib, the Saudi king's special adviser was visiting Ethiopia and made an unannounced visit to the GERD."
The Pencil also speculated that, "any of the two visits could have been a reaction to the other [and that] the political rift between the two countries is not expected to be resolved anytime soon."
On December 30, Eritrea's Ministry of Information issued a statement in response to the London-based Alsharq Al-Awsat, for publishing in its Arabic and English editions, "a number of distorted "news stories" on Eritrea." And criticized what it described as the "lengthy but shallow "opinion piece" by a certain Abdulrahman Al-Rashid."
It further accused Alsharq Al-Awast for going out of its way to "shower praise on the TPLF regime as a "dependable" errand boy to advance US military and political agendas in the Horn of Africa region."
On December 14, 2016, The Ministry of Information had another statement stating that, the previous day, "the Beirut-based Arabic Tv channel, Al-Mayadeen, wrongly asserts, that the "United Arab Emirates has acquired a 30-year lease for a military base in the Port of Assab"".
On the same statement, the ministry has another accusation for the Al-Mayadeen Tv and stated that "on 20th June this year, Al-Mayadeen had falsely claimed that "Israel has completed the construction of its largest listening post at Emba-Soira, Eritrea… to monitor maritime movements in the Bab-el Mendeb and eavesdrop on Iran".
Similar to news about the UAE's military presence in Eritrea, which has been spreading since last year at about the same time the war in Yemen started, rumors about Israeli military presence in the Red Sea, and lately about its listening post in the inaccessible Soira Mountain, has been circulating in the Arab countries for many years, mainly by a Kuwait professor, Dr. Abdallah Al-Nafisi, who regularly appears on the media repeating such claims, and "is extensively quoted as a credible analyst".
However, the Eritrean regime is not fond of the media: in 2001 while the world's attention was focused on the New York attacks on "911", it stealthily closed all free press, newspapers and arrested the editors and the reporters. Fifteen years alter, the whereabouts of the arrested is still unknown.
"If the Eritreans government would have an authority to rule the world for one day, its first proclamation would certainly condemn all foreign media outlets to face the fate of the nascent but vibrant Eritrean free press that was shut in 2001."
On 0-100 score set by Freedom House, 0 being the best and 100 being the worst, Eritrea scores 94.