Christine Umutoni In Eritrea: Another Abuser of UNDP Mission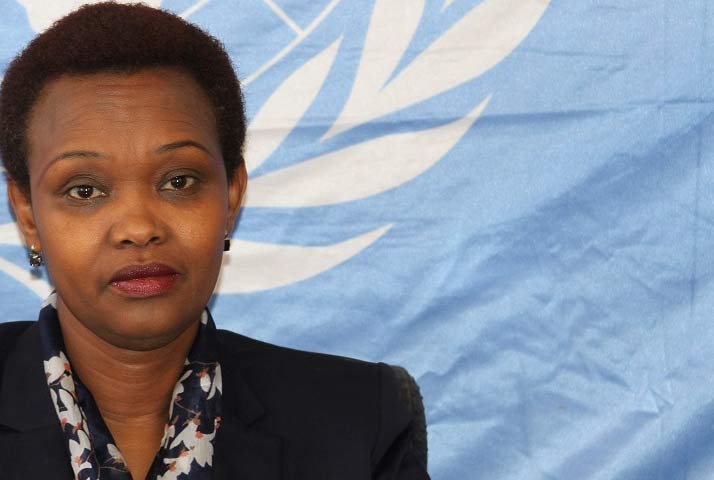 The global mission of the United Nations Development Program (UNDP) is poverty reduction, fighting HIV/AIDS, promoting democratic governance, energy and environment, and social development, crisis prevention and recovery, encouraging the protection of human rights, and the empowerment of women. Such noble mission is non-existent in Eritrea. Thanks to the resident UN Humanitarian Coordinator and UNDP-Eritrea country representative Ms. Christine N. Umutoni who has been working against the UNDP mission and acting as an agent of the dictatorial regime in Asmara.
A Brief Profile
A lawyer by profession, Ms. Umutoni Nyinawumwami Christine was born and educated in Uganda. She received her first degree from Mekerere University (1983 to 1987) after which she joined a clandestine organization mobilizing support for its return to Rwanda. In 1990, she was actively engaged with Rwandese Patriotic Front (RPF) fighting against the Hutu controlled government. After the war ended, she became the "Director of Cabinet and the Assistant Minister for rehabilitation and reconstruction". In 1998, she received her Master's degree and started her diplomatic career as an ambassador to Belgium and in charge of The Netherlands, Luxembourg, The Vatican, and the European Union. And in 2002, she became Ambassador to Uganda. After serving two unsuccessful years as a diplomat (2002-2004), she was recalled back to Rwanda and worked in different domestic and international positions. In 2009 she was appointed UNDP country's representative to Zimbabwe, and then in 2012, she was reassigned to Eritrea. She is also a member of the Rwanda Women Leaders Caucus.
After sixteen years of diplomatic career stained by failures, she was appointment in Eritrea where she indulged herself as if she was a diplomatic envoy of the dictatorial regime, by violating UNDP's legal framework of work ethics and standards (1). Before detailing how she is crossing over her diplomatic mandate, let's see her overall background to explain her abuse of the mandate of the UN office that she holds.
Ms. Christine N. Umutoni as a Rwandan Government Envoy
First, allow me to illustrate the political highlights of modern Rwanda before detailing the diplomatic relationship that developed between Eritrea and Rwanda after Ms; Umutoni's arrival in Asmara.
Rwanda and 1994 are synonymous—whenever Rwanda is mentioned, 1994 flashes immediately. In that year, Rwanda experienced a genocide where more than 800,000 people were slaughtered in just one-hundred days by Hutu extremists who were stopped only after RPF forces, now the ruling party in Rwanda under the leadership of Paul Kagame, controlled Kigali. By then, over two million Hutus had fled to the Congo and many had died. Soon, Rwanda started to heal its wound by focusing on economic development while suppressing dissent and freedom of speech; talks about ethnicity also became illegal.
Although the genocide of 1994 could be a strong reason to suppress talks about ethnicity, its interdiction is hindering an honest reconciliation. In addition, the complexity of the Rwandan genocide, both within Rwanda and outside it, has created tensions across the region. Rwanda, once thought to be in the right direction of democratization process, is now in a situation where tyranny through legal procedures is developing. Recently, Rwanda extended the presidential term-limit to three and enabled Kagame to stay in power for a third term, with different justifications for the additional term–excuses such as, "President Kagame is a successful leader without a successor". Of course he has no successor; he either sacked or chased away the capable leaders who were around him.
Fear is the ultimate ruling strategy in Rwanda, and the dispute between Hutu rebel groups in the Democratic Republic of Congo and the Rwandan government, the proxy war in Burundi and the increasingly negative peace in the country, have made Rwanda a fertile ground for the instability of the central government. President Kagame openly threatens his opponent with actions that would be taken against them if they do not fall in line. In addition, Rwanda considers France guilty for the 1994 tragedy, and that is hampering the relations between the two  countries.
At the same time, political developments in Rwanda are deteriorating as president Kagame is transforming himself from a promising and capable African leader into a dictator. In a speech delivered to African Union leaders in 2015, President Obama said, "When a leader tries to change the rules in the middle of the game just to stay in office, [the country] risks instability and strife…" (2)
Rwanda and Eritrea have been strengthening their diplomatic links since 2013 when Osman Saleh, the Eritrean foreign minister, visited Rwanda (3). That coincided with the arrival of Ms. Umutoni, a member of RPF, in Asmara. She took the opportunity to execute her political mission, beyond her UNDP mandate, and to act as a bridge between RPF and PFDJ, both of whom have common political strategies.
If we dig deeper into the details, we find that both countries follow almost similar military strategies: clamping on dissidents, abuse of human rights, engagement in proxy war with neighboring countries, and keeping their Diasporas communities hostage (4). Recently, Rwanda introduced a mandatory Military Services–systematic and widespread arrest of citizens is becoming increasingly common as thousands are put in secret prisons.
There is also a worrisome aspect in the relations of the two countries: Rwanda made secret arrangements with Israel to accept Eritrean refugees who are deported from Israeli prison camps (5), and the fate of these refugees who were already sent to Rwanda is still unknown.
Ms. Christine N. Umutoni in Zimbabwe
Before coming to Eritrea as a UNDP officer, Ms. Umutoni had similar job post in Zimbabwe, a country that is unfortunately led by president-for-life Robert Mugabe, a typical dictator who impoverished his country though it is endowed with abundant natural resources. His absolute authoritarian leadership and suppression of individual freedoms has made Zimbabwe a fragile state. Ms. Umutoni's failed UNDP mission in Zimbabwe has not brought any significant change contrary to her annual reports and her international engagements that costed millions of dollars; it was similar to what she claimed to be trying to do in Eritrea, supposedly to empower the youth, strengthening women's role, and to some extent, to create a conducive environment for international engagement with Eritrea.
Ms. Christine N. Umutoni in Eritrea
Though Eritrea and Zimbabwe follow different paths, they share common trends; both are ruled by absolute dictatorial systems, and both countries have created a failed economic system. While the youth unemployment rates are relatively better in Zimbabwe, Eritrean youth are victims of "forced labor – aka slavery". As a result, youth, women and children are the principal victims in both countries. Thinking that the same principles she advanced in Zimbabwe could be applied in Eritrea, Ms. Umutoni initially immersed herself in the failed strategy of pouring UNDP's financial resources towards futile make-believe youth and women empowering programs. As smart as she appears to be, she is shrugging the fact that she has to continually appease Eritrean officials if she is going to maintain her post. As a result, she follows, and doesn't deviate outside the line that the dictatorial system draws, by creating a platform called "Development Partners' Forum" to engage self-interest motivated diplomats. The platform, is mainly composed of individuals like the South African Ambassador to Eritrea, Professor Iqbal Jhazbhay, and Ambassador Marchel Gerrmann, head of the EU delegation. Her mission is to create an opaque image of Eritrea, though all the attendants in the forum have their own objectives. For example, the South African Ambassador, who is  an expert on Somalia, is only interested in creating conducive environment in Eritrea for the South African Mining Industry; the interest of the  EU delegation is to stop the fleeing youth who are flooding Europe, as the EU countries are the principal preferred destinations of the refugees.
Ms. Umutoni has mastered the art of gathering experts who promote the PFDJ and use their official status to shield it by denying its human rights violations, an accusation leveled against it by the UN Human Rights Council. Parallel to her participation in a number of UN meetings and conferences where she defends the PFDJ, Ms Umutoni spoke on behalf of the Eritrean Women's Union in a number of occasions, when Eritrean officials were accused of "Rape and Sexual abuses". She participated in meetings in New York and Geneva when the Commission of Inquiry (COiE) produced a report narrating Eritrea's systematic and widespread human rights violations. Recently, she was in a EU conferences along with like-minded diplomats defending the Eritrean regime and highlighting its achievements on the so-called "registered developments".
Disappointed by Ms. Umutoni's defense of the oppressive Eritrean regime, a group of Eritrean activists wrote a formal complaint addressed to the UN organs: the Department of Political Affairs, the Head Offices of UNDP, UNFPA, and UN Women (6). Human Rights Concern – Eritrea also did the same (7)
Ms. Umutoni Serving The Dictator
The objective of this article is to create awareness about Ms. Umutoni's meddling, her views on the dictatorial system, and the way she is abusing her UNDP credentials to promote a dictatorship. As a UN diplomat who failed to bring tangible developments in Zimbabwe, followed by Eritrea, she is a candidate for the title of, "Servant of Dictators".
In her 2016 Human Rights Day statement, Ms. Umutoni wrote,
"Providing support on human rights in the above areas [Eritrean human rights institutions, line ministries, non-state actors and national civil associations] to the GoE is an essential element in supporting a long-term commitment to human rights in Eritrea. (8)
Here, she conveniently forgets that the Eritrean regime's powerhouse, the PFDJ, stands for People's Front [FOR] Democracy and Justice. The word "FOR" is purposefully highlighted because it has a significant meaning in the way the PFDJ's manipulative strategy keeps Eritreans in shackles, while at the same time pretends as if everything will be fine tomorrow. However, every passing day adds more agonies and crimes against Eritreans and against humanity. There is no justification for a UNDP officer to be blind about what is happening in Eritrea.
It is inhumane to draft programs for the future that ignores the present. Today, Eritreans are suffering, both at home and abroad, due to the action of the totalitarian regime in Asmara. If Ms. Umutoni was courageous enough, she could have used her office to expose the crimes against humanity that is being committed in her doorsteps. And instead of producing lame reports with images of officers, she could at least visit a prison in the heart of Asmara–no need to visit those scattered elsewhere in the country–and be the voice of the voiceless youth.
Conclusion
As evident from her background as member of RPF, and considering the status of RPF and her other political implications, Ms. Umutoni is focused on working for the interest of the dictatorial regimes of Rwanda and Eritrea.
Works Cited:
UNDP. UNDP Legal Framework for ADDRESSING NON-COMPLIANCE with UN STANDARDS OF CONDUCT. 2010.
The White House. Remarks by President Obama to the People of Africa. 2015.
Tesfa News. Eritrea Seeks Strong Ties with Rwanda. 2013.
Africa research Institute. Princes' Progress: Reconstruction and authority in Eritrea and Rwanda.. 2011.
Aljazeera. Eritrean refugees in Israel sent to Uganda and Rwanda. 2016.
Eritrea: Formal Complaint about Certain Controversial Statements Attributed to Some Senior UN Officials. Asmarino.com. 2015.
Open Letter to Mr. Brian Hayes (MEP), Regarding the EU Relations with Eritrea. Human Rights Concer-Eritrea. 2016.
Statements delivered by Ms. Christine N. Umutoni, UN resident/Humanitarian Coordinator and UNDP Resident representative in Eritrea, on HUman Rights Day 2016. UNDP. 2016.