Texas Jury: Two Pro-Government Eritreans Guilty Of Assaulting Eritrean Journalist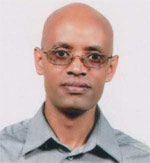 Gedab News, January, 11, 2012: A Texas jury has found Eritreans Redi Bokhretsion and Yohannes Gebremichael guilty of assaulting Eritrean journalist Tedros Mengistu.
Judge Robin Brown is expected to pass the sentence soon.
The two defendants, who are supporters of Eritrea's ruling regime, the People's Front for Democracy and Justice (PFDJ), were accused by the State of Texas of beating up Tedros Mengistu, an Eritrean refugee journalist who issues a newsletter called Selam, in Houston, Texas.
The incident occurred on May 9, 2010 when Tedros attended a public seminar called by the local PFDJ supporters. The seminar was called to agitate the public and to form an organized opposition against the Security Council Resolution 1907 of Dec. 23, 2009 which imposed arms and travel sanctions on Eritrea for supporting Al Shabab, an insurgent group in Somalia.
PFDJ supporters frequently hold seminars which they call "Hzbawi Mekhete" which means 'popular defense' in an Eritrean language, to garner support for the Eritrean government and its action, regardless of its effect on the Eritrean people or on the stability of the region.
Tedros had announced the venue and time of the Houston "Hzbawi Mekhete" seminar in the newsletter that he publishes and he attended the seminar "with the intention of covering the event for the newsletter."
But since Tedros, an independent journalist, is considered an "opposition", he said, "the organizers told me to leave the hall because I am not a supporter of the PFDJ." Tedros didn't heed the call: "I refused to leave the public meeting because I didn't do anything that would make them push me out," he explained.
It was then that the a crowd ganged up on him and dragged him out of the hall, beating and pushing him until his "eye-glasses were broken." He also said, "the crowd took my notebook and camera."
Bruised, Tedros was treated at a Houston hospital.
The incident was treated as a criminal offense and the State of Texas pursued the case and brought it to the Harris County Criminal Court where, today, a jury found the two defendants guilty.