Ghost Entourage Accompanies Isaias Afwerki to Abu Dhabi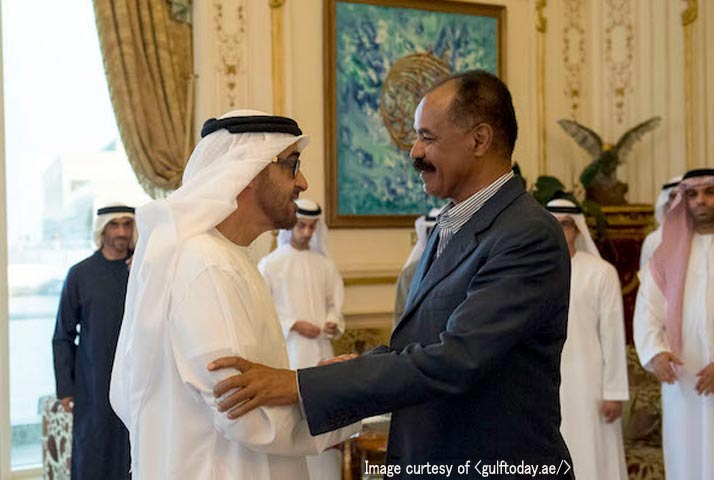 On January 2, 2017, Isaias Afwerki, the Eritrean president, arrived in Abu Dhabi, and held a meeting with the Crown Prince of the United Arab Emirates, Prince Sheikh Mohamed Bin Zayed Al Nahyan, who is also the Deputy Supreme Commander of the UAE Armed Forces.
According to UAE news reports, the Abu Dhabi meeting "focused on ways of co-operation in political, economic and developmental spheres within the framework of the Emirati-Eritrean leaderships' commitment to advance bilateral ties to new heights."
The meeting was held at the Crown Prince's palace and was attended by Emarati officials, including Sheikh Saif Bin Mohammed Al Nahyan, Sheikhk Surour Bin Mohammed Al Nahyan, Sheikh Nahyan Bin Zayed Al Nahyan, Chairman of the Board of Trustees of Zayed bin Sultan Al Nahyan Charitable and Humanitarian Foundation, Sheikh Khalid Bin Zayed Al Nahyan Chairman of the Board of Zayed Higher Organisation for Humanitarian Care & Special Needs (ZHO), Sheikh Hamdan Bin Mubarak Al Nahyan, and a number of Sheikhs and senior officials.
It is not known yet if any Eritrean official accompanied Isaias in his trip. However, Isaias doesn't allow the names of officials accompanying him in his visits to be announced.
Websites affiliated to the Eritrean ruling party didn't mention any name of Eritrean officials.
A diplomat stationed in Abu Dhabi said, "the Eritrean government has a strange system of diplomatic protocol, the names of officials who accompany the president is not made public, and during the meetings, the officials do not say a word but sit silently."