Eritrea: The 2000 Border War Is Not Over Yet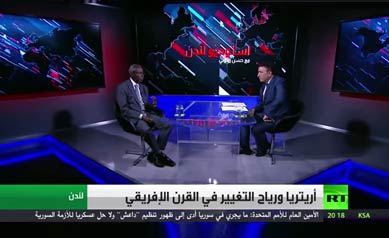 [The video clip is embedded below]
In an interview with Russia Today (RT) in London, Yemane Gebreab, the political adviser to the president of Eritrea said that the border war between Ethiopia and Eritrea that ended in the year 2000 has not stopped yet.
The border war that was waged between Ethiopia and Eritrea started in 1998 and ended in 2000. The Eritrea Ethiopian Border Commission in the Hague has given its ruling over a decade ago
Yemane said that the government of Eritrea faces "difficult situations and big challenges and aggression on Eritrea, particularly from big powers like The USA."
Asked if his government has opposition, Yemane dismissed the presence of any opposition stating, "there are those who call themselves opposition but they are basically mercenaries, and are part of the external aggression on Eritrea."
The interview was conducted in the London studios of RT and was conducted by Hassen Zeytuni.
Awate.com will publish the full translation of the interview that was conducted in Arabic.