ENCDC Issues Directive On Formation Of Local Committees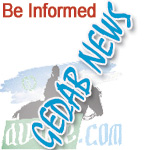 The Chairman of the Executive Committee of the Eritrean National Council For Democratic Change (ENCDC) has issued directives on how the local committees should be organized.
The ENCDC has divided its areas of operation into seven localities: Australia, Ethiopia, Europe, Middle East, North America, Sudan, and South Africa. Each region will also be responsible for countries that are closest to its sphere.
The directives stipulates that the committees should be formed by mid-February at the latest and are expected to draft their bylaws and elect representatives.
According to the directive, the chairman of the ENCDC [the equivalent of "Speaker of the House"], his two deputies and two secretaries are not eligible to be members of the local committees. Nor are, obviously, the 23-member Executive Committee of the ENCDC. But the other elected council members of the ENCDC can elect and be elected to any position in the local committees. [Refer to ENCDC's organizational structure]
The directive gives the responsibility of supervising the process of election and formation of the committee to seven designated members of the ENCDC who would relinquish their supervisory role immediately after after the local committee is elected.
The executives of the local committees will report to the Secretariat of the Executive committee.
The temporary supervisors are, Munir AbdelHay, Australia, Semere Gebrezgabher, Ethiopia, Hamid Ezaz, Europe, Nur Idris, Middle East, Tewelde HabteMichael, North America, Abdu Ahmed, Sudan, and Bereket Ghezae, South Africa.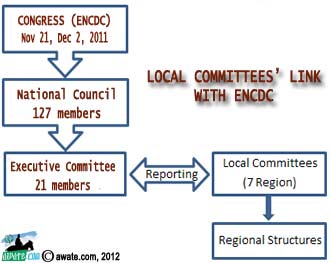 Related links:
https://awate.com/encdc-names-of-assembly-members-and-executive-office-heads/
https://awate.com/national-assembly-for-democratic-change-elected-its-executive-committee/