Dear friends and readers of Awate.com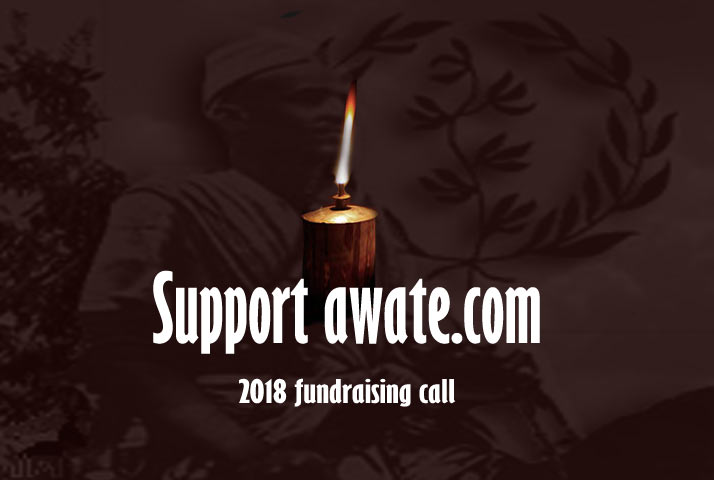 The political situation in the immediate neighborhood of Eritrea is becoming increasingly risky, and the situations inside Eritrea are calling on all citizens to do their utmost to stop the regime that continues to destroy the fabric of our society.  There have been episodic resistances in that regard, the most recent being the firm stand of Hajji Musa who stood tall and galvanized Eritreans to renew their faith on their people. His defiance is a watershed moment in which fear was annihilated from the recess of the hearts of all citizens—we must face the challenges.
Our close friends are aware that awate.com has never been in a good financial shape—it has never received a single cent, be it from the "generous Western" NGO's, or Arab associations, or the regional governments and parties. For the most part, we have used our own funds and the only outside financial support we received were provided by a few dedicated friends whose support we appreciate very much. They have always responded positively to our appeals for support but they are very few.
To the majority of the "Friends of Awate" and other regular visitors who express their gratitude for the services awate.com provides, and never stopped showering it with their encouragements, this time we are appealing for your tangible support.
Awate.com prides itself on serving its visitors continuously since it was launched on September 1, 2000, to be the voice of the voiceless and to challenge the mouthpieces of the Eritrean ruling party. It has always been an alternative and an independent voice that informs inspires and emboldens—a voice that promotes the healing and reconciling of old wounds and differences. It has filled that gap, and we are mighty proud of it.
We also take pride in the unmatched diversity of our readers and writers, and our discussions forum. This did not come by chance but by hard work and years of sleepless nights, financial ruin and emotional investment. But today, leaving that story for another time, we are appealing for your support.
Before we continue, we would like to apologize for not delivering on our past promises though we are confident you will understand our situation and why we couldn't deliver. However, this time we are determined to deliver even If we must physically knock on your doors to remind you to contribute.
On the technical side, over the years we have depended on a few volunteers to help us manage the website: updating themes, maintenance, and the like. Handling and managing seventeen-years worth of archives, and thousands of files require a robust and efficient outfit. We are grateful to the few dedicated volunteers who supported us in the past, but we had an unfortunate experience during the last three years. In short, it was a very frustrating and saddening experience. Ideally, we would rather focus on what we do best: run our activities without heartaches and without putting holes in our already strained pockets and be less occupied with the technical aspects of the operations. But we couldn't do that.
However, ethically, one cannot depend on volunteers and complain. That is why we cannot go into details and prefer to leave it at that because we do not understand the reason for the mishap—we hope our friends do.
One of our main concern has always been the pervading gap between Tigrinya and Arabic readers. The two sectors of our people dwell in a parallel universe:  Tigrinya-only or Arabic-only (and to a certain extent, English-only) outlets seldom intersect each other. We believe narrowing that gap by revitalizing the Tigrinya and Arabic sections will get us closer to our goal and we will pursue it aggressively. In addition, we have plans to incorporate audio-visual elements in awate.com to stay up to date with the technological developments. And here is what needs to happen to accomplish our goals:
Last year we promised to give you a report of the total contribution that we have received since the last time we solicited your contributions. However, please note that the total contributions for the year, 2017, is $2965. This time around, we hope you will respond positively and generously–we need an amount of $6000 for immediate requirements and in the meantime, we might use borrowed money if possible hoping to pay it back once we meet our funding goals.
Going forward, hopefully, once the initial funding is secured, considering the growth we are planning, we reckon our running cost for the website alone will be about $1000 monthly (current expenses around $450 monthly) –that will cover cost of equipment, hosting, admin costs, subscriptions, applications, and other dues.
Finally, since the campaign will be ongoing until we meet the target amount, we will post a meter to show you what has been collected to date. But we appeal to all of you to be part of the campaign. We are counting on your support to contribute and to encourage others to do so.
Please help with the following:
Testimonials about awate.com and the services you believe it provides: send us a fifteen-second audio or video, or simply a paragraph of text testimonial–whatever suits your budget.
Share this page with your network of friends, colleagues and family members after adding your own words to solicit contributions on behalf of awate.com. Please share the link through text-messaging, Whatsup, IMO, Viber, Facebook, tweeter, etc. Your help is needed because we cannot possibly do everything alone.
Encourage and create a "Friends of Awate" group in your localities and encourage friends and family members to organize social events to strengthen our offline communities.
Share with us your suggestions on anything that would help our fundraising to be more effective. Kindly keep the discussion on this issue alive–provide us with ideas and suggestion at the bottom of the page.
If you feel a monthly contribution fits your situation, please do it on the PayPal payment system on the frontpage. But if you would rather pay one lump sum amount, please do so.
Kindly note that this time, such messages will appear repeatedly until we see results or, God forbid, we give up!
Thank you very much and we hope you will act immediately
Awate Team
Your support donation can be facilitated through the following means:
Credit and Debit Cards
Click the orange colored "Support awate.com" icon on the frontpage and it will take you to the support page. All payments are processed through Paypal. Your contribution will appear on your bank statement as "Paypal*awate.com".
Bank Transfer: Account Name: Awate.com
Bank: Bank Of America,
Acct #: 29570 76732
Swift ID: BOFAUS3N
Contact and pay through E-mail transfer to : <support@awate.com>
Please contribute as generously as you can. We appreciate your support, thank you.