Egypt Seals Main Human Trafficking Route To Israel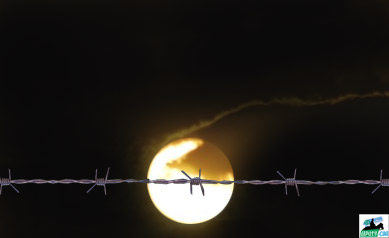 In the last two years Israeli made it impossible for refugees and migrants to stay in its territories, and difficult to cross its borders, now Egypt has finally came to its help by securing its borders. Lately Egypt has began to consolidate its control over North Sinai border with Palestinian Gaza Strip and Israel. That section of the border was heavily used by human traffickers and arms smugglers.
A 500 meter open buffer zone between the Egyptian Rafah and Palestinian Rafah was established last week on the North in the Egyptian side of the Sinai Desert adjacent to the Gaza Strip. Residents of Rafah in the planned buffer zone were given 48 hours to vacate their homes and since last Thursday Egyptian security forces took full control of the area.
According to sources affiliated to the Egyptian government, a year ago Egyptian authorities have informed the residents of Rafah about the decision to create the buffer zone. On October 28, the Egyptian Army began to move the estimated 12, 000 affected residents and demolished their houses. Al-Ahram Center for Political and Strategic Studies said the residents compensation for their properties was set at 1,200 Egyptian Pounds (apx. US$168) per square meter.
In 1977 the Israeli Prime Minister Menachem Begin and Egyptian president Anwar Al Sadat signed a peace agreement under the auspices of president Carter. Based on the Camp David Agreement, Egyptian forces were not allowed to have presence in Sinai.
For almost forty-years Sinai was no man's land, and during the last decade, criminals took advantage of the lax security and the Sinai desert became a breeding ground of extremist political groups and criminals who traded in arms, trafficked humans, and human body parts.
The criminals expanded their operations to Sudan and Eritrea and created a lucrative human smuggling business and thousands of Eritreans lost their lives in the hands of human traffickers. Hundreds were raped, tortured, and often when they couldn't pay ransom, their body parts were extracted in makeshift tents. The dead were buried in shallow graves in the desert where wild animals fed on their remains.
Despite the difficulties in surviving the hardships in the Sinai Desert, tens of thousands made it to Israel after their relatives, mostly residing in the West, paid ransoms as high as $40,000 per person to the human traffickers.
In July 8 the Israeli forces began to relentlessly bomb Gaza allegedly to stop rockets being launched into Israel by Hamas, a Palestinian party fighting the Israel State. When the bombardment stopped two months later, it turned Gaza's private and public buildings into rubble; about 2000 Palestinians from Gaza were killed.
For many years Israel has been complaining that arms were being smuggled through secret tunnels crossing from the Egyptian side to Gaza. Many such tunnels were found in houses in Rafah that the Egyptians demolished a few days ago.
The recent move to deploy Egyptian forces in Sinai mainly helps to secure Israel borders. The buffer zone creates a favorable monitoring environment and it will certainly stop the smuggling of people, mainly Eritreans, who used to be trafficked to Israel.
In its July 17, 2011, The UN Monitoring Group on Somalia And Eritrea reported the following:
(a) Human and Arms Smuggling: "Arms trafficking from western Eritrea is just one component of a much broader, and highly profitable, smuggling operation overseen by General Teklai Kifle 'Manjus', Commander of the western military zone. His principal Sudanese counterpart in this cross-border activity is Mabrouk Mubarak Salim, [the current Minister of State for Transport of the Sudan], who is also a wealthy merchant and former leader of the now defunct "Free Lions" rebel group that once formed part of the Sudanese "Eastern Front" opposition alliance supported by Eritrea. Salim, an ethnic Rashaida, works closely with other well-established Rashaida smugglers, who operate with the full knowledge of Government officials on both sides of the border. An Eritrean source, who claims to have long been engaged in people smuggling activities on behalf of General Teklai Kifle "Manjus" told the Monitoring Group that he was first deployed into Egypt in a convoy carrying weapons in 2008. According to the source, his contacts confirm that Eritrean agents based in Egypt were continuing to coordinate routine trafficking of people and arms via Sinai in 2011."
There were at least two instances where allegedly Israeli fighter jets bombed a caravan of trucks and four wheel drive vehicles in the North of Sudan. The convoy was allegedly carrying arms and people. The caravan was owned by human trafficking gangs operating around the Sudanese and Eritrean border. Tens of Eritreans were killed in the attack.
Related Reading
Human and Arms Smuggling