Ahmed Nasser Passed Away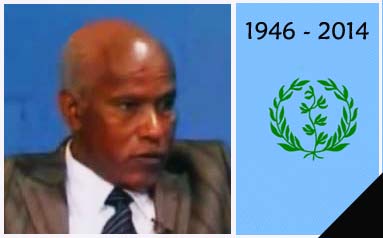 Mr. Ahmed Nasser, a prominent leader of the Eritrean opposition, died today in Stockholm, Sweden. He had a stroke after which he was taken to a hospital where he stayed for one day before he died (Wednesday morning in Stockholm).
Ahmed was elected chairman of the Eritrean Liberation Front (ELF) at the organization's second congress and served as a leader until the disintegration of the ELF in 1983.
The soft spoken leader was trained on artillery and graduated from an Iraqi military academy as an officer before returning to Eritrea to rejoin the Eritrean Liberation Army.
After the independence of Eritrea, Ahmed and his colleagues appealed to Isaias Afwerki to form a national reconciliation government. Their appeal was not answered.
Since then, Ahmed has been a leader of the ELF-RC and later the National Salvation Front, two Eritrean opposition organizations. In 2012, he resigned his position from the leadership council and decided to continue struggling as an ordinary member. He explained his decision to relieve himself from a leadership position as an attempt to open the way for the young to assume their roles in the struggle. Here is the party where he is honored by the organization that he led for so many years.
Since leaving Asmara, where he finished high school and  joined the liberation army in 1964, Ahmed had never returned to Eritrea. He will be buried in Sweden.