Al-Bashir Regime Jails Leaders of Eritrean Opposition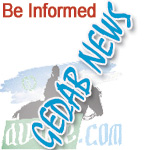 On Sunday, October 23, 2011, the regime of Sudan's Omar al-Bashir arrested Ramadan Mohammed Nur and Abdulkadir Hamid, both leaders of the Eritrean Islamic Congress Party (EIC), as well as Jemal Hummed of Adoulis.com.
The Sudanese regime arrested the three Eritreans for holding a press conference to publicize the plight of Sheikh Hassen Salman, the leader of EIC, who has been in jail in Saudi Arabia for nearly three months.
No charges have been brought against Sheikh Hassen Salman who had traveled to Saudi Arabia, on a religious pilgrimage (umrah), after securing an entrance visa from the Saudi embassy in Khartoum.
According to our sources, the Sudanese regime felt embarrassed because the press conference coincided with the three-day visit of the Eritrean strongman Isaias Afwerki to Sudan which began on October 19, 2011.
Sudan does not allow any activity related to the Eritrean opposition in its territories though Isaias Afwerki hosts, and provides or provided support to, several armed Sudanese opposition organization in Eritrea including the Darfuri opposition, the Easter Front, and the SPLM (and now warlords opposed to SPLM.)
Differences between al-Bashir and Isaias, as in the time Sudan voted with IGAD to sanction the Isaias regime or the time Isaias is caught red-handed training/arming the Darfur opposition, are quickly brought under control by the interference of the government of Qatar which is the only friend Isaias has after the death of Ghaddafi.
The Amir of Qatar is expected to arrive in Sudan and together with Isaias and al-Bashir, he will inaugurate the 26-kilometer road that he funded. The road links Kassala and Laffa, a village on the border with Eritrea.