Eritrean Orthodox Diocese established In Europe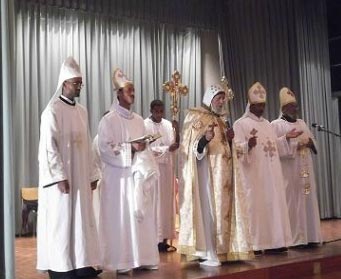 The first Eritrean Orthodox Diocese was established in Europe on December 3, where His Grace Bishop Mekarios of the North American Archdiocese appointed a board of clergy to oversee the work of the church, according to the website of the Eritrean Orthodox Church in North America.
The board reports to Bishop Mekarios.
The European Diocese has "about 11 churches" that serve Eritrean Orthodox faith.
The European and North American Dioceses of the Diaspora Orthodox Eritreans are under the authority of His Grace Bishop Mekarios and they maintain their loyalty to Abune Antonios, the third patriarch of the Orthodox Church, who is still considered the legitimate patriarch of the church.
In 2007, the Eritrean regime removed the 85 year-old patriarch Abuna Antonios from the church and placed him under house arrest and, in what Orthodox Christians and Eritreans in general considered a clear interference in church affairs, appointed a new patriarch, Abune Dioskoros, in his place.
Since then, many, if not most, Orthodox Eritreans have rejected the regime-appointed patriarch Dioskoros, and still pledge allegiance to Abune Antonios.
The move of the Eritrean regime is also denounced by the international Oriental Orthodox Churches who still consider Abune Antonios the legitimate patriarch of the Eritrea Orthodox Church.
To combat the opposition to its interferences, the Eritrean regime has sent scores of priests to many cities in Europe and North America and has used threats and blackmailing to weaken those who still pledge allegiance to Abune Antonios.
The octogenarian patriarch is said to be suffering from bad health after almost five years of house arrest.
The North American Diocese with its thousands of followers has been defending its church robustly against the interferences by the Eritrean regime.