Unrest In Asmara, US State Department Issues Warning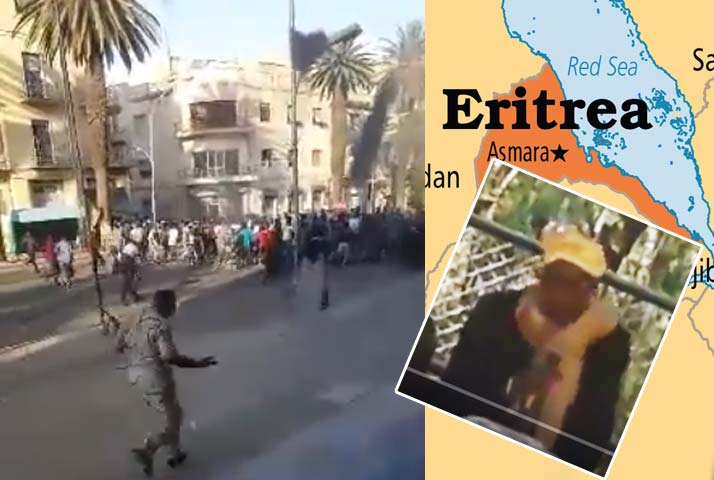 An unusual rally against what the protesters consider the ruling party's excesses has been raging since the early morning of Tuesday in Asmara.
The rally's epicenter is in the Akhria neighborhood in the northern section of the capital city Asmara.
Today's protests were ignited by the government's heavy-handed actions when it attempted to confiscate a private Islamic school established by the late Ustaz Mohammed Beshir Ahmed in 1967. Since then, the school has gone through many hurdles by successive Ethiopian governments to control it. The current heavy-handed steps of the Eritrean government are the most aggressive the school has faced so far.
The current unrest was triggered by the government's arrest of Hajji Musa, an nonagenarian, who was the honorary president of the Al Diaa school.
The rallies began in Akhriya by the Al Diaa school students in the early morning. By noontime, it gained steam when many people joined the rally. Security forces who were beating the people indiscriminately were faced by the students who reacted by pelting them with stones. Soon, the rallies spread to the streets of central Asmara where the security forces used brute force to quell the protests.
Several rounds of live bullets were fired, but as of this moment, there is no confirmed report about casualties, if any.
People living in a few neighborhoods in the capital city were prevented from venturing out from their houses and advised to stay home.
In a security message, the US embassy in Asmara sent out, it warned that, "demonstrations intended to be peaceful can turn confrontational and escalate into violence." It further advised US citizens to "avoid areas where demonstrations are taking place and exercise caution when in the vicinity of any large gatherings, protests, or demonstrations."
Eritrean elders have approached the government officials to restrain themselves and deal with the protesters with caution. Some diplomats have also repeated the same advice to the Eritrean authorities.
Meanwhile, the protesters have stated they have "no other demand except to see the government reverse its actions that curtails the freedom of Eritrean citizens."
Gedab News will update this news as necessary.
Background to the news
Nonagenarian Hajji Musa Arrested in Asmara
The Torch Is Dead, Long Live the Torch