The Rebirth of a Nation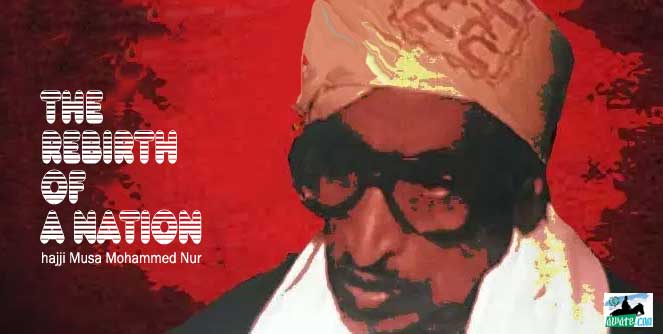 Hats off! Hajji Mussa, no worries no trepidation
Four months have elapsed since your revolution
Or was it a hundred and twenty days of incarceration
Whichever is right but I do beg some clarification
***
You resisted injustice well since your very inception
Ever since your indomitable soul knew no rest no capitulation
Jails, dungeons broken limbs disfigured beyond recognition
Yes your body was broken but your spirit preached liberation
In defiance of all forms of torture and extortion
***
You are familiar with their dungeons and oppression
You are not afraid of imprisonment and isolation
You've suffered from every gladiator with no distinction
The News Media speak nowadays in their transmission
Referring to water-boarding as if it is a new invention
But I know how many times you've drowned with no mention
By who (you know the culprits) in barrels of water frozen
In the darkest cells above and underground detention
***
You've been through that all with no apprehension
So I'll count them not but I'll celebrate the inspiration
The euphoria you created the energy and illumination
You sparked on dead bodies rendered to petrifaction
And miraculously amazed I still remain
As if you found the staff of Moses or was it his cane
You quickened the lifeless bodies to animation
Restored their health regained their coordination
Four months of hope of courage and relentless determination
To continue the journey and bring the task to completion
That is what I'll count if you give me the permission
***
Not even in my dreams, I say with full assertion
Far farther beyond my wildest imagination
Never did I think that the rebirth of our nation
Shall come to pass merely through wise persuasion
Flowing from him of the glorious generation
The pioneers of our struggle for emancipation
Epitomized in the venerable image of the revolution
In the person who defied tyranny with no ammunition
Simply armed with truth and unswerving determination
Cloaked with dignity despite frailty and age complication
A hundred years old man from that glorious generation
I guess that is his age according to the lunar calculation
Hajj Mussa the man who stood firm and called the nation
Rise up! Bow not to tyranny and exploitation!!!
***
"Rise up!!!"
Called the man, "Bow not to tyranny and exploitation"
His call reached all over the four corners' expansion
The masses responded with thunderous confirmation
Throughout the entire globe with firm acclamation
In demonstration following another with perfection
Spontaneously instinctively without manipulation
No gimmick, no rehearsal, no tricks, no preparation
No disguise-costumes no role plays no drama 'no coercion
***
The masses rose up with no prior mobilization
Everyone in his and her own volition
Reflecting the true colours of the population
The marvellous mosaic of our beautiful nation
Representing males and females of every persuasion
The Crescent and The Cross standing tall in procession
The young and old hand in hand in the solid formation
Chanting simultaneously the same tune in unison
Raising banners of peace, harmony and cohesion
Saluting the firmness you instilled in the population
Them who faced with their bare chests the aggression
And the fatal bullets which came from all direction
Indeed, you have sparked another revolution!!!
Hats off! Hajji Mussa, no worries no trepidation
***
With such clarity and immaculate articulation
Your amazing strength, resolve and determination
Simply captivated the heart of the whole nation
Infused it with hope, courage and resolution
Your honest words cleared the fog, restored the vision
Your wisdom united the people and wiped out all division
You heralded joyously our rebirth our resurrection
Casting aside the horrible years of destruction
At the hands of maniacs with no affiliation
Neither to humanity nor to civilization
Doubtful is even their affinity to the nation
That destiny let it suffer under their domination
For so long subjected to despicable humiliation
Rescue us Lord from this plague, Lord save our nation
***
Hats off! Hajji Mussa, no worries no trepidation
You've set the pace you have defined the direction
Your own people shall accomplish the mission
Your own people will soon reach the destination
No worries, all is set the revolution is in full motion
The seeds you planted will in no time grow to fruition
The souls you stirred will never succumb to delusion
Now that you have cleared the path and restored our vision
___________________
A humble tribute to all our heroes behind the bars.
Abdulkader. O. Ali, 25 February 2018