The Mirage Of Salary Increase Feared To Cause Unrest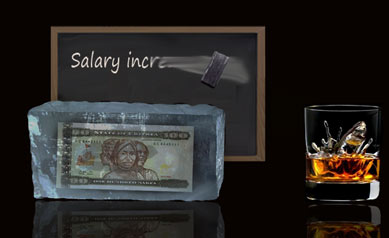 Almost five months after the news was leaked to the public, the promised increase of salary for Eritrean civil servants, including the armed forces, has not materialized yet.
News about the planned salary increase was first leaked in November 2015. Two months later Isaias confirmed the news in a New Year television interview. However, after months of waiting, the salary increase remains a mirage.
The announcement of the increase came at a time when the government was engaged in a frantic movement to change the national currency, the Nakfa.
Sources from Eritrea indicate that the grievances could possibly escalate and the forces that were lied to about the salary increase, particularly the army, might mount their pressure on the government. Unconfirmed news indicate that such unrest has happened in a camp in Sahel where scores of soldiers were arrested for instigating the unrest.
Since the last months of 2015, the cost of living has been increasing so much because of the currency change which caused acute shortage of cash in circulation in Eritrean markets. Withdrawals from banks are tightly regulated.
Though theoretically transactions can be conducted through checks, the Eritrean economy is a cash economy—businesses hardly use checks let alone the general population. The government allows bank-account holders to withdraw only a limited amount of money on a monthly basis.
Many Eritreans who reside in cities depend on foreign remittances that are transferred to them from their children and relatives. However, due to the shortage of Nakfa, the price of the US dollar, Euro and other Gulf Arab currencies have dropped by more than half its price compared to last year.
The artificial increase of the Nakfa means that less and less people are willing to dump their forex in the market.
In the past, visitors to Eritrea exchanged thousands of dollars and spent it during their stay which usually last for about a month or so. Now they can't do that because it is a crime to keep amounts in excess of 3000 Nakfa (roughly $100*) in cash. Unauthorized buying or selling of foreign currency is a serious crime in Eritrea and the banks exaggerate the value of the Nakfa—the official exchange rate is less than half of the actual value of the Nakfa.
President Isaias Afwerki has realized the severity of the general grievances and is hoping the Gulf rulers would bail him out of the financial crisis.
Further Reading
The Pretend Tudor Monarch And His Banks