Sudanese Source: Isaias Seeking Reconciliation With Ethiopia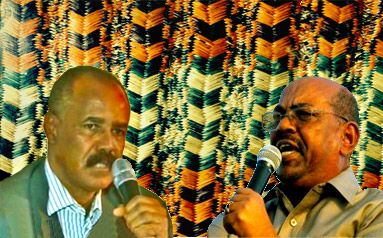 Sudan's president, Omar Al-Bashir, is the closest and, probably, the only friend that the Eritrean president, Isaias Afwerki, has. The leaders of the neighboring states, both shunned by regional and international governments, find solace in each other's company. Now, according to our diplomatic sources in Sudan, Al-Bashir's long-standing proposal to normalize relations between Eritrea and Ethiopia is being received favorably by the Eritrean strongman.
The relationship between Isaias Afwerki and Omar Al-Bashir intensified since Qatar's Hamad Bin Khalifa Al Thani handed the reins of power to his son, Tamim Bin Hamad Al Thani, in June of last year, and the Gulf state ceased being the lifeline of the two isolated regimes.
After Isaias' visit to Sudan from November 23-27, 2013, Al Bashir publicly stated his goals of reconciling Eritrea with Ethiopia. Now, according to our sources, Isaias Afwerki is pursuing this goal with a sense of urgency: in Al-Bashir's visit to Eritrea from January 16 to 18, 2014, Isaias Afwerki asked him to push for normalization of relations between the Eritrean and Ethiopian governments.
A Sudanese diplomatic source informed Gedab News that "Isaias Afwerki looked desperate and needed normalization immediately."
During his visit, Al-Bashir accompanied Isaias on a road trip from Asmara to Massawa through the picturesque Filfil-Solomuna road.
From Massawa, Isaias accompanied Al-Bashir on a boat trip to some Islands in the Dahlak Archipelago. A trustworthy source indicated that, several times during the journey, Isaias Afwerki asked Al Bashir, "do you see any Israeli bases here?"
The question is in reference to Arab countries' long-standing allegations that there are Israeli bases in the Red Sea, particularly in the Dahlak Islands. Isaias wanted Al-Bashir to bear witness that there are no Israeli bases in Eritrea, a sign that he needed Al-Bashir to convince others of the fact. But since the diplomatic standing of Al-Bashir is not tenable in the Arab world, and he has little leverage to mediate or convince any government, it is doubtful that his personal testimony would change any minds.
According to one source, Isaias Afwerki's apparent about-face is based on an assessment that "our calculations were wrong and we need to end this abnormal situation with Ethiopia immediately," as he allegedly admitted to Al-Bashir. For over a decade, the Eritrean regime had predicted that the Ethiopian government was on the verge of collapse and it used to publicize defection even by low ranking Ethiopian soldiers as front page news.
Al-Bashir carried Isaias's message to Addis Ababa on January 29 when he met with the Ethiopian Prime Minister Hailemariam Desalegn. Al-Bashir was in the Ethiopian capital to attend The New Partnership for Africa's Development (NEPAD).
According to our sources, the Ethiopians didn't have a positive response to Al-Bashir, telling him that Eritrea's problems are with regional and international entities, not with Ethiopia, and that Isaias should address it with them first.
The Ethiopians passed a threat to Isaias, "We don't want the enmity of the Eritrean people by invading their country; otherwise, we can push Isaias to Dahlak."
A usually-reliable Gedab source in Asmara dismissed talks of reconciliation as a head-fake by Isaias Afwerki whose "ascent to and grip of power is based on being unpredictable!"  Asked for clues, he said that who Isaias Afwerki names as Eritrea's ambassador to the African Union and IGAD, to replace the outgoing Ambassador Girma Asmerom (now appointed as Eritrea's Ambassador to the UN) may reveal his intentions.
//END
awate.com
inform. inspire. embolden. reconcile.