San Bernardino: In Memory of Issac Amanios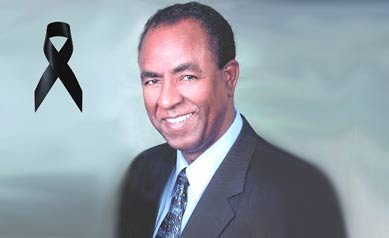 Isaac Amanios Gebreslassie, 60, was tragically taken from us on Wednesday December 2, 2015 in San Bernardino, California. He was one of the 14 killed in the mass shootings by two radical Islamists.
Isaac was born to Aregash Emnetu and Gebreslassie Amanios on June 29, 1955 in Adi Merkeja, Eritrea. He attended San Gorgio high school in Mendefera from 1968 to 1971. In 1971 he transferred to Atse Yohannes High School in Mekele, Ethiopia until his graduation in 1972.  After graduation Isaac attended the University of Addis Ababa. He left University and joined the ELF from 1974 – 1976.  He attended the University of Khartoum from1979 to 1984 and received a bachelor's degree in Agriculture and Nutrition.
After graduation, Isaac briefly worked in Saudi Arabia prior to joining EPLF from 1986 to 1991, until the independence of Eritrea. In Asmara, he became the Managing Director of SOPRAL, a state owned food processing and packaging company.
On October 20, 1991, Isaac married Hiwot Haile. His family was complete after the birth of his three children; sons Bruk and Yosief and daughter Milka. He was a loving, kind, and involved father.
In 2000 he traveled to the United States to attend his wife's graduation. He then decided to remain in the United States to provide a better life for his family. Isaac found work as weight and measure inspector for the Los Angeles County from 2000-2002. Isaac worked as an Environmental Health Specialist for the County of San Bernardino from 2002 until his untimely death. He was grateful to be working in San Bernardino since it was closer to home and allowed him to have more time with his family. He cherished his work as a public servant and was honored to serve the county of San Bernardino.
Isaac was preceded in death by his parents, Aregash Emnetu and Gebreselassie Amanios and his brother Solomon. In addition to his wife and three children he is survived by: his brothers Abraham, Beyene, Shambel Segid, Tesfai and Habte; sisters Abadit, Zaid, Hirit, Alemash and Letnsie. He is also survived by many sisters/brothers in-laws, nephews, nieces, and cousins who will miss him dearly. Although he nurtured and mentored many of his family members, he was especially close to Fessehatsion Solomon Gebreselassie with whom he shared a special bond.
Above everything else, Isaac valued family and community. Despite the deep sorrow his family and community are experiencing, his passing has brought us together in ways that would have made him proud. Isaac will be missed and his death has left a hole in our hearts.
And for those who want to contribute, the link for the fund raising site for Isaac's children  is below:
Fundraising
For those who want to contribute, the link for the fund raising site for Isaac's children is:
https://gofundme.com/IsaacAmanios
Memorial Service:
Saturday, December 12, 2015;
10:00 AM to 12:00 PM; at St. Minas Church,
22700 St. Minas Ct, Colton, CA 92324
Burial:
Saturday, December 12, 2015; 12:00 PM to 2:00 PM;
Montecito Memorial Park and Mortuary,
3520 East Washington St. Colton, CA 92324
Reception:
Saturday, December 12, 2015; 2:00 PM to 4:00 PM;
The Rock Church and World Outreach Center
234 S. Waterman Ave – San Bernardino, CA 93408
The Amanios Family