Rest In Peace Memhr Mewael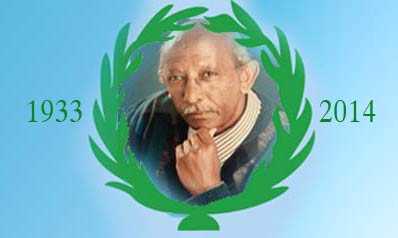 Another member of the "Steadfast Generation" left us these past days. After a long and debilitating illness, Memhr Mewael Mebrahtu passed away on Tuesday, June 17 2014 at the age of 80 in San Diego, California.
Mewael was born in Keren, on September 11, 1933 to his father Deg. Mebrahtu Gubsa and his mother Weizero Hagosa Weldemariam. He was raised and educated in Asmara. Once of age, he married Weizero Rosina Abraha, and started his activity as a lawyer in Asmara.
Attention of the agencies of coercion and of the public zeroed upon him when he decided to defend in 1958 four young men from the Red Sea area who were accused of insurrection. No other lawyer would touch their case because of fear of severe repercussions by the occupying government.
Mewael did not flinch, that was not who he was. He was dedicated to public service and his commitment was that the young men get the best defense possible. All his actions thereafter were driven by his deep-set conviction in the independence of Eritrea, and the building of stable, prosperous and democratic nation. That was also the reason he joined the secret chapter in Asmara of the Eritrean Liberation Movement.
He instilled that culture and that sense of justice, duty and fairness on all his offspring. In fact in the early seventies one of his sons and a daughter, barely of age joined the Eritrean Liberation Front. Keisar, the elder of his sons was martyred in combat.
A few years later Mewael followed the path taken by his elder child and joined the Eritrean Liberation Front in the field and served in the justice department of the front until the military breakdown of the Eritrean Liberation Army.
In 1981 he obtained political asylum and settled with the rest of his family in San Diego, California. Even in the USA, so far away from his native Eritrea, he never lost sight of the human tragedy of his beloved birth-nation and was very active in the Eritrean community in California and Eritreans everywhere in the Diaspora.
He found employment in San Diego County Law Library as Reference Librarian. He was also the founder and first Chairman of the Eritrean Community Services in San Diego, whose bylaws he drafted.
He was later elected member of the Central Council of the Eritrean Liberation Front, and served in that capacity until his illness totally debilitated him. In the meantime, he drafted a constitution for the new Eritrea and submitted it to all the interested and concerned parties. He founded and was editor in chief of a Tigrinya magazine, and translated innumerable documents to Tigrinya including the political program of the Front.
All the above is what Mewael achieved and did for others. And that does not even come close to describing him as an individual. He was a loving husband, a doting father, a grandfather and a friend. Not to mention his love and empathy, his warmth, his long disquisitions, his foibles and impatience towards ignorance, mental rigidity and intolerance.
The way his family coped with unequaled character, strength and dignity, his long, and for them painful and trying illness, says it long to his legacy.
To Weizero Rosina, Agazit, Argehe, Nisri and his grandchildren we pray that the Supreme Almighty grants them fortitude in these very trying moments. To Mewael, we know he is among the just and fair who preceded him, and we pray that he rest in eternal peace.
We shall miss Memhr Mewael, and our way of keeping him in our hearts is to continue the struggle until final victory and the emergence of a democratic Eritrea.
In the name of all comrades, brothers and friends of the Eritrean Liberation Front,
Yohannes Zeremariam