Resolution 1325 on Women And It's Implications For Eritrean Women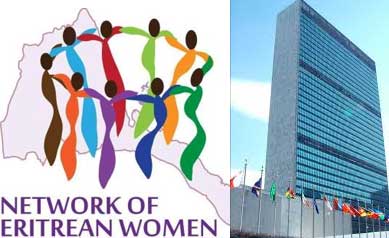 Network of Eritrean women was set up by a group of Eritrean women with diverse backgrounds and experiences to setting up a solid Eritrean women's organisation that protects women's rights, promotes the involvement and participation of Eritrean women in all decision– making processes.
As one of the main objectives of Network of Eritrean Women has been to actively work with leading international sister organisations, to raise awareness about the situation of Eritrean women at local and international level. As a result of its collaboration with WILPF UK Network of Eritrean Women is attending the 15 th anniversary of Resolution 1325*.
Network of Eritrean Women (NEW) will be attending the 15 th Anniversary of Resolution 1325; Women Peace and Security at the Security Council in New York, 19–24 October 2015. In this piece I will look at what resolution 1325 is, what its significance is and how can Eritrean women and Eritrean society as a whole benefit from this resolution
Resolution 1325 was adopted by the Security Council on its 4213 th meeting, on 31 October 2000. The resolution came into being as expressing its concern that particularly women and children, account for the vast majority of those adversely affected by armed conflict. The resolution affirms the importance of the role of women in the prevention and resolution of armed conflict. The resolution also reaffirms the need to fully implement international humanitarian and human rights law that protects women and girls in armed conflict.
The history of Eritrea since its colonisation in 1890 by the Italians has had a history of armed conflict and violence and women have been victims of this conflict. Eritrean women were not only victims but were armed combatant fighters during the armed struggle for independence as well. During the years of armed conflict for independence Eritrean women combatants comprised 1/3 of the military in the Eritrean People's Liberation Front (EPLF).
The participation of women during the war for liberation was crucial both to the Eritrean Liberation Front (ELF) and the EPLF and women played a decisive role in the victory of the Eritrean people's struggle for independence. Women participated on the battlefield alongside men as well as caring at home, running the farms and businesses in their absence.
The years since independence despite early pledges and promises by the government of Eritrea for recognition of women's contribution to the liberation struggle and equality, women remain marginalised and discriminated in all areas of position. Even those within government positions do not have any effectual powers. We have seen the participation of women being eroded and that the government has taken no tangible steps to tackle violence against women.
The unconstitutional and highly militarised nature of the regime has led to a number of human rights violations including sexual abuse. Moreover, in June 2008 a complementary resolution 1820 was adapted to include sexual violence as a crime of war, and a crime against humanity and stresses on sanctions in ensuring that amnesty is not given to perpetrators of sexual violence. See the link below for further information. www.securitycouncilreport.org/atf/…/CAC%20S%20RES%201820.pdf. This is highly important in the Eritrean context, as evidence has been provided to the Commission of Enquiry on Eritrea which has found violence has been perpetrated to women by State and non–State actors in Eritrea. It is therefore, imperative that all Eritrean justice seekers work in eliminating all forms of violence against women.
Resolution 1325 reaffirms the importance of women in the prevention and resolution of conflict and stresses the importance of their equal participation and full involvement for the maintenance and promotion of peace and security. It is therefore, important to ensure that all barriers that hinder the participation of Eritrean women are addressed.
Eritrean women are also a crucial component to any durable peace and security in Eritrea. So far 49 countries have a national action plan to implement resolution 1325. The regime in Eritrea has not adopted resolution 1325 and it simply can't carry on in this way, and we need to plan from now how to build our nation and ensure peace, stability and security. Therefore, whilst the Eritrean government has not instituted resolution 1325, it is imperative that Eritrean justice seekers and opposition groups incorporate it as part of their organisations policy and try to redress some of the most pertinent problems faced by women.
The commission of Enquiry received reports of gender based violence including rape in state institutions of military camps. The Commission of Inquiry report http://www.ohchr.org/EN/HRBodies/HRC/CoIEritrea/Pages/ReportCoIEritrea.aspx states on page 186, that the "Eritrean government has failed its due diligence on two levels, firstly by not creating good systems to address root causes and secondly by not providing victims prevention, protection, punishment and reparations. It is therefore, imperative that Eritrean justice seekers, human rights and civic organisations in the diaspora incorporate the participation of Eritrean women in conflict resolution and create durable peace by providing justice and reparations to victims and ensuring that systems are in place to address root causes of such violence.
Many of the Eritrean opposition groups in the diaspora are headed by men with few women at the leadership positions. The problem is only not at the executive positions only but at the lower end of the spectrum as well whereby we see few women activists engaged in the various groups. One of the reasons why Eritrean women don't engage themselves in the opposition is also because the opposition has not yet been able to build the much needed united front under a unifying leadership, which has kept women away from engaging. This is in stark contrast during the years of struggle for independence when Eritrean women were very active.
We need to ensure that for any durable peace in Eritrea, Eritrean women are given the opportunity to fully participate at all levels. To attract and encourage more Eritrean women to play an active role in the change process in Eritrea?. The first thing is all opposition groups need to do is to listen to the needs and address the concerns of Eritrean women.
The opposition groups need to be more family orientated when organising events and talks to ensure the child provision is catered for to ensure that more women are able to attend and participate in events. They also need to provide the environment and platform for women to organise themselves within the various political and civic organisations. The Eritrean government has used Eritrean women to consolidate its power, in contrast the opposition has not be able to utilise nor mobilise Eritrean women in mass. This however, is crucially important firstly in mobilising Eritrean women to change the situation in Eritrea but also in the second phase in post conflict Eritrea in building a durable peaceful and stable Eritrea.
Therefore, the job for this needs to start from now and we need to ensure that we are engaging all Eritrean women in the diaspora. Communication is important to getting the message across and a lot of Eritrean women may not use the internet. Therefore, civic and political organisations need to use various forms of communication to engage Eritrean women e.g. viber and whatsapp and mobile texting.
We also need to utilise the skills and knowledge of Eritrean women in a constructive way which aids transparency, accountability and strengthens Eritrean civic society in the diaspora. Having a strong civic society is important in creating the bedrock for a democratic and peaceful state. Therefore, more work needs to be done in ensuring that organisations do not provide obstacles for women to join and caters to their needs to ensure that they can fully participate.
There are also lessons that we Eritreans can also learn from the Northern Ireland peace process. In Northern Ireland Irish women became a channel for cross community co–operation and gained a voice in the peace negotiations (http://www.c–r.org/accord/public–participation/northern–ireland–s–women–s–coalition–institutionalising–political–voice). Irish women have carried on playing a role in stabilising Northern Ireland. Syrian women made a statement in Geneva on Engagement in the Syrian Political process and are playing a pivotal role in the peace process. It is therefore equally important that Eritrean women are an integral part of conflict resolution and equal participants in building a durable peace.
Whilst Network of Eritrean women (NEW) will be attending the 15th Anniversary of Resolution 1325, this is not an issue for NEW or Eritrean women's groups only but for Eritrean society as a whole. The importance of women's participation on all fronts helps in creating, peace, security, elevate poverty and help Eritrea to develop economically as well. Therefore, there is much that needs to be done and we need to start changing the way we work now to shape our future for tomorrow, so that when change does happen we are in the position to assist and stabilize Eritrea.
* Resolution 1325 on Women, Peace and Security & It's Implications for Eritrean Women