PFDJ's Quotable Quotes From Ten Years Ago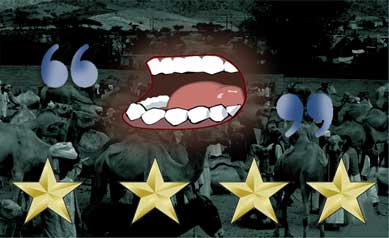 The following quotes were first published on September 1, 2005. They were collected between Sept. 2004 and Sept. 2005
EXISTENTIALISM & OTHER UNSOLVED MYSTERIES
"Netom Halewa emmo men yu kHlwom? (And who is going to watch over the watchdog?). As you can see, we have reached a stage where those entrusted with patrolling the border are, themselves, in need of patrolling".
One of Brig. General Tekhle Manjus' assistants [name withheld] baffled by escalating numbers of border guards fleeing to Sudan. [A major part of the 1st Command Zone, under General Manjus, is 'Halewa Dob' – in charge of patrolling the Eritrea/Sudan border, with the main task of preventing Eritrean youngsters from crossing the border to Sudan].
"Temeharai yhadm, serahtenya yhadm, agelglot yhadm … ntail yu eti tsegem?" [Students flee, workers flee, national service participants flee, what is the issue?]" –
Minister of Health, Mr. Saleh Meki, addressing the public in a seminar in Adi Keih.
"Every boat we send out for some errand ends up on the Saudi coast. Even those we send to pursue them follow suit. 'knserrH ayka'lnan' (we are unable to do our job)" –
A top official in the Eritrean Navy, on the increasing number of Eritrean Navy servicemen seeking refuge across the Red Sea. They normally flee on navy boats or using fishing boats operated by the Navy.
ROUNDING UP 'DRAFT DODGERS', aka, WUCHU GETS BORED
"Asmera wala titselmit ayg'dsenen 'yu! AisemAkkan 'ye! [I don't care if Asmara goes dark! I won't listen to you!]"
COLONEL 'WEDDI WELELA', who coordinated the infamous gffa (round up) of the 4th of November in Asmara, responding to pleas by the Eritrean Electric Authority manager for the release of detained staff of the Authority.
"Look, we were asked to help because the police could not deal with the level of crime and draft dodging. Right now, I have about 4000 or 5000 prisoners in my custody!"
General Gerezghiher Andemariam (Wuchu) responding, in the PFDJ Expo seminar of 12-13 April in Asmara, to queries about the heavy-handed tactics of his forces in Asmara.
"It [Awate/Asmarino reports that people died at Adi Abeyto] is not only false, it is a smear campaign. There was no incident. It is totally baseless. These [allegations are made by] agents of the Ethiopian regime". [The report] might as well have come from the Ethiopian news agency".
ALI ABDU, Acting Minister of Information, November 6, 2004
"Ms zei mezanuna akkibkum Adfirkumna" ["You made us meet with our juniors and subjected us to their disrespect."]
An annoyed General Gerezghiher Andemariam ("Wuchu") addressing Mr. Yemane Ghebreab, the PFDJ's Political Director, in a follow-up meeting of PFDJ senior officials convened to assess the EXPO seminar.
MINE IS MINE.  PS: YOURS IS MINE, TOO.
"Why don't we simply seize this money?"
GERGIS TEKLEMIKAEL, Minister of Trade and Industry, in a cabinet meeting, referring to dollar bank accounts belonging to private businesses.
"This week I went to the shop at 5:00 a.m. and there were 300 people queuing in front of me. Some people come even during the night and sleep there, waiting for the shop to open."
A shopper in Asmara talking to AFP reporter.
"The government will really have to compensate for vehicles confiscated and broken contracts. … Since we are donors, we can always deduct from other programmes."
A Western diplomat in Asmara, as reported by Reuters.
"These coupons remind me of the time when the Derg ruled,"
An Eritrean woman, resident of Asmara, on the new ration cards introduced by the Eritrean government.
"I admit there are queues,"
Eritrean [acting] Information Minister Ali Abdu, to AFP – adding quickly that the country's only political party, which is running the shops, would soon more than double the number of outlets to ease congestion.
"We haven't had diesel for weeks, while our Energy Minister is busy cutting birthday cakes",
Disgruntled TAXI DRIVER in Asmara referring to the Minister's extended tour attending festivals in North America.
PFDJ RESPECTS THE RIGHT OF WOMEN TO BE RIDICULED
"Do you know what's making these girls reluctant to go to Sawa? They are so spoiled they don't want to leave their warm beds. They resent the fact that they have to get up at six in the morning. Mai mwrad, encheyti mskkam tseli'en! [They don't like going to the countryside and fetch water or wood]"
GEN. SEBHAT EFREM, Minister of Defence, in a seminar, in reference to the widespread shunning by female students of theWarsai Yikaelo School.
"Maybe she thinks that, having been 'emancipated', she has 'graduated' into a Man!"
A LADY irritated by Ms. Askalu Menkerios' repeated standoffish reference to Eritrean women as 'them' (in an interview with Government media on the occasion of the NUEW silver jubilee).
SOMETHING ABOUT "HE WHO DOESN'T HAVE A JACKASS…"
"Therefore the Ethiopian peoples have legitimate right of wrenching their democratic rights if the regime is not abiding by the rules of the democratic game. Also the opposition parties in Ethiopia have to bear their historical and moral responsibilities to defend the Ethiopian peoples and in compelling the regime to succumb to the rule of law and respect of the voters will."
From a Ministry of Information Editorial dated 15 June 2005.
HOW TO GET AN A+ IN PFDJ'S EDUCATION SYSTEM
"Ab ma'atot Trai eHeggsuni 'mber zterrf yellen. Kullukhum ktHalfu ikhum. [Just make make me happy in this harvest season and nobody will fail. All of you will pass]"
Col. EZRA, Director of Mai NefHi Technical Institute/Camp addressing the Institute's brigades of students.
"This university has not even contributed this much (holding index against thumb) to the country's development".
ISAIAS AFWERKI, in a meeting with University of Asmara staff and faculty.
"The minimum rate of transition will be 90%"
From a directive issued by the Office of the President that was read in meetings for school directors and other Ministry of Education officials. The rate refers to the minimum percentage of students sitting for exams in various levels that should be allowed to progress to the next level, whatever their score.
THE BOLIVARIAN REVOLUTION COMES TO ERITREA
Bzei m'ggnan, [without any exaggeration] our medical services, especially in Zoba Maekel [Central Zone], can only be compared to those of European countries. Comparing them to the services of neighbouring countries is unfair."
SALEH MEKI, Minister of Health, in a seminar held in Hager Conference Hall, Ministry of Information, on the occasion of the Silver Jubilee of the National Union of Eritrean Women.
NO, WAIT, WE MEAN THE CONSTITUTIONAL MONARCHY….
"At the end of the tour, the President gave directives containing the workplan for 2005".
ERI-TV, DimSi Hafash and Haddas Ertra, reporting President Issayas' visit to a road building crew as part of his tour of Northern Red Sea Zone on November 27th and 28th, (accompanied by his son – check the pictures in Shabait).
WAIT, WAIT! WE MEAN THE PEOPLE'S REPUBLIC
"After touring the two-hectare farm and all thirty bee hives, His Excellency was generous with his agricultural advice to this exemplary lady". (Hrshawi mkhri leggisulla).
ERI-TV, DimSi Hafash and Haddas Ertra, reporting President Issayas' visit to the Southern Zone on 20th November, in which he stopped by the farm of an industrious lady farmer, Ms. Abeba.