Millions of UAE Cash-Money Seized in Somalia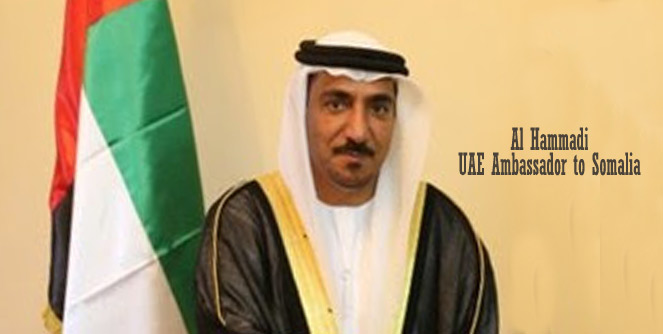 Bags containing US$9.6 million have been intercepted by Somali security and customs forces at Aden Abdulle International Airport in the Somali capital city, Mogadishu.
The UAE ambassador to Somalia, Mohammed Al Hammadi was at the airport to receive the cash that arrived on board a UAE airplane from Abu Dhabi, the capital city of the UAE.
According to reports, the UAE claimed the money was sent to the Somali defense ministry, and it "was seized at gunpoint by Somali security personnel, who disrespected some members of the UAE forces."
A Somali diplomat told Gedab News, "of course, every country seizes money found entering the country illegally and security forces all over the world carry guns."
The stash of money arrived aboard a UAE Jet plane, an Emirati airline that services the "luxury market between the UAE and Europe."
Observers suspect the money was supposed to be dispersed by Mohammed Al Hammadi, the UAE ambassador, "to bribe Somali senior officials and army personnel." However, the UAE ambassador told VOA news the money was intended for the Somali "ministry of defense… it is for the salary of soldiers."
Al Hammadi didn't say why UAE didn't use the service of banks to deposit the money in the account of the ministry instead of smuggling the money to the country.
The Somali diplomat added, "the UAE has been sending huge amounts of cash money to Yemen to buy the loyalty of tribesmen and officials to bolster its influences in the country, now it seems Somalia will face the same fate."
It's not known why the UAE chose to carry cash money when the Somalis have developed an effective money-transfer system which many users consider the most efficient in Africa.
The UAE depends on mercenaries from Nepal and Colombia in its operation in Yemen and other places. Since the beginning of the 19th century, Nepal has been supplying the British imperial army with soldiers, the renowned Nepalese Gurkha warriors. In addition to Colombian and Nepalese soldiers, the UAE also depends on the services of mercenaries from other countries, including the services of the USA firm, Blackwater.
Somalia has taken a neutral position regarding the blockade imposed on Qatar by Saudi Arabia and the UAE, a coalition that has been bombing Yemen since 2015.  It has also resisted pressure from the UAE and Saudi Arabia to sever its diplomatic ties with Qatar.
Recently, Somalia has also rejected a deal reached between Ethiopia, UAE, and Somaliland, which gives Dubai Port rights to run the Somali port of Berbera.