Kiros Yohannes Pays Tribute to Saleh Gadi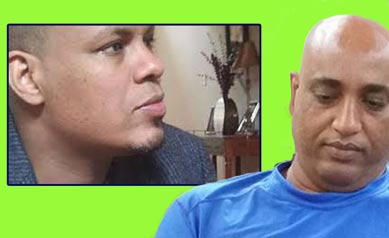 I was moved and elated to read Kiros Yohannes poem on Saleh Gadi; it is a fitting tribute. Kiros Yohannes believes that we should not wait to express our appreciation and respect for the giants, who walk among us, till they are no longer with us. For the last few days, Saleh Gadi was in a stand-off with death and death blinked; it tried to mess up with the wrong guy. The born-story-teller and fighter will soon be back to tell us about his ordeal in his usual manner and don't be surprised if this near-death-experience has afforded him an opportunity to see  some of the most colorful personalities of Keren that we come to fall in love with, over the years.
We usually say that a Habesha and a chicken are honored after their death (habeshan derhon ms motu yom zkhbru), but not the likes of Saleh Gadi. Those of us who are lucky enough to call him friends are always in awe of his energy, commitment and an unshakable will. Indeed, Saleh Gadi is a power whose vacuum could not be easily filled, and the good news is we don't have to. Saleh Gadi is here to stay and finish the struggle for justice that has become the epicenter of his life. Get well my friend! It isn't the same without you!
Saleh Gadi
By Kiros Yohannes (Translated By Semere T Habtemariam)
If you're lucky enough to sit down with Saleh Gadi;
And have a conversation,
You would discover that history awaits you in a rolled up scroll.
His mighty pen is an advocate that stands up for justice.
Keren, the beautiful, gave birth to Saleh Gadi;
The city where "kofo hllekum" is heard from afar.
Saleh is a teacher who straightens what is crooked;
Nonchalantly shunning those that aggravate him,
Saying "Jinni-Efrit" as his best defense mechanism.
Is there anything that his sharp pen has not debated?
Is there any debate that he did not win by championing the truth?
In his blood runs the quintessential "can do attitude" of the liberation struggle era,
It is his dream to see justice reigning in Eritrea.
In his pursuit of justice, he has not taken a break,
Awate.com bears testimony to his love of a work well-done.
One gains a lot by consulting with Saleh Gadi.
Saleh Gadi, you must stick around,
We have already had enough of those whose life was cut short.
The end of your struggle is in the offing,
Where both the Lowlanders and Highlanders will be home,
And embrace each other like David and Jonathon.
---
ምስ ሳልሕ ጋዲ ኮፍ ኢልኩም እንተትዕልሉ
ምስ ጸንሓኵም ታሪኽ ብራና ተጠቕሊሉ..
ንፍትሒ'ያ ትሙጉት እታ ብርዑ…
ከረን ጻዕዳ ንሳልሕ ጋዲ ወሊዳ…
ኮፌ ሄሌኩም ዘይፍለዮ ማዕዶ…
መምህር'ዩ ቅኑን ሓሳብ ዘዕሪ..
ጂንዕፍሪት ይብል ብገለ ነገር ክዅሪ
እታ በላሕ ብርዑ ምስ መን እሞ ዘይሞገተት
ንስለ ሓቂ ሞጊታ ዝረትዔት….
ኣብ ደሙ ኣላ እታ ኒሕ መለለይት ገድሊ…
ሕልሙ'ያ ፍትሓዊት ኤርትራ ክርኢ…
ንፍትሒ ክደልያ ከዕርፍ'የ ዘይብል…
ጹፉፍ ስራሕ ዝፈቱ ደምበ ዓዋተ ትመስክር..
ብዙሕ'ዩ ዝኸስብ ምስ ሳልሕ ጋዲ ዝመክር…
ሳልሕ ጋዲ ንስኻስ'ባ ሃሉ…
ይኣኽለና ናይቶም ቅድሚ ሕጂ ዝተኾልፉ
ቃልስኻ በጺሑ'ዩ ኣብቲ ምዕራፉ…..
ከበሳን መታሕትን ዓዱ ክኣቱ ተሓቛቑፉ…
ብኪሮስ ዮውሃንስ