Isaias' State Visit To Sudan Without A Photographer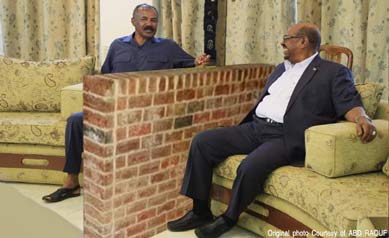 Almost ten days after Isaias Afwerki missed Omar AlBashir's swearing-in ceremony, on June 11, the official Eritrean government website posted a 114 word report entitled, "President Isaias Leaves for Republic of Sudan on a working visit."
This is the first time that news about a president's official visit is not reported alongside fresh pictures. It is unusual for the government media reporters not to accompany Isaias Afwerki on his "working visit" to the Republic of Sudan.
Shabait also didn't provide fresh photos showing that "President Isaias was accorded warm welcome by President Omar Hassan Al-Beshir."
The official ministry of information website displayed an old picture with the news and didn't indicate it was an archive photo.
The same photo had appeared on the a Danish website, politiken.dk on December 2014 with a story entitled "Portræt: Manden, der holder Eritrea i en jernnæve" (Portrait: The man who keeps Eritrea in an iron fist). Politiken had indicated it was an archive photo and credited it to Abd Raouf/AP.
According to the government media, "President Isaias will hold talks with President Omar Hassan Al-Beshir on enhancing bilateral relations, as well as on regional and international issues of interest to both countries."
Shabait further explained that "as a reflection of their goodneighbourly ties, the Heads of State of Eritrea and the Republic of Sudan maintain regular consultations and exchange of views on issues of mutual interest to both countries."
Until 5:30 am Asmara time on Friday, June 12, 2015, Google search returned news links mainly to Eritrean government affiliated websites which are based outside the country, quoting each other about the visit
A source from Khartoum told Gedab News, "it's expected that the Eritrean government will report the news on television, but the way it was handled so far is an indication that something is wrong with the relation of the two countries."
There has been a simmering rift between the two countries.
In a related news, Isaias Afwerki didn't attend the third COMESA-EAC-SADC Tripartite Summit which was held in Sharm AlShekh, Egypt. The Eritrean government media didn't report the reason for his absence.
Reports indicated that on Wednesday, June 10, President Abdulfatah AlSisi of Egypt, Prime Minister Hailemarian Desalegn of Ethiopia and President Hassen Omer Al Bashir of Sudan met in the sidelines of the Sharm AlShekh summit and agreed to form a council for joint economic and political matters.
Links to the pictures mentioned in the news:
The picture as it appeared on the Danish website, politiken.dk on Dec, 3, 2014
The picture as it appeared on shabait.com on June 11, 2015
Further reading:
Isaias Absent From AlBashir's Party