Isaias Afwerki Dismisses "January 21 Incident"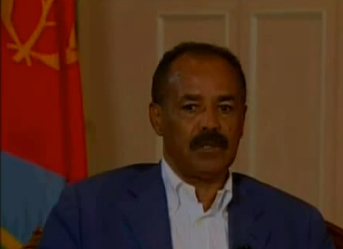 Eritrean strongman Isaias Afwerki dismissed the January 21 military takeover of his Ministry of Information as a minor incident orchestrated by "a handful" of individuals, an incident that he and his ministers, who were in a meeting within the confines here [presidential palace], discussed "all day."
The disclosures were made on February 14 in an interview with state television, Eri-TV, following a Ministerial Cabinet meeting whose agenda included the "incidents of 21 January."
According to Isaias Afwerki, his regime dispatched the commander of the mechanized brigade to deal with the disturbance and that one of the leaders of the "incident" shot and wounded him.
The organizers of the "incident" did not have an agreed-upon plan with "some saying 'let's shoot' and others 'let's not shoot'" and that, "by lunch time, everybody had abandoned them," claimed Isaias Afwerki.
"We were here until sunset, when they left," said Isaias Afwerki.
The decision was made to allow the organizers of the event to "hop in one car and leave"  not because "we didn't know where they were going" but because "we wanted to know how much worse they could make things for themselves."
The next day, all but one surrendered "voluntarily or involuntarily…the person who was doing the shooting abandoned them, according to them…[and] they were claiming that they regretted committing such a big error."
The last holdout was cornered and committed suicide.
"The film was over," he said.
Asked why his government was slow to disclose information about the event, Isaias Afwerki said that he and his ministers had planned to issue an announcement within a day or two after the disturbance but that they had prioritized other issues.
"Their units must have known.  And one of them had to go over and issue an explanation to them… he did."
"The fable was over," said Isaias Afwerki.
One of the reasons for his government taking three weeks to address an issue that had global media attention was because it respects the "right of liars to tell lies," he explained.
The interviewer did not ask what the demands of the organizers of the "incident" were or who had been arrested since January 21.
Independent news outlets including Gedab News have reported that the organizers of the "January 21 incident"–which was dubbed "Operation Forto" by Eritrean opposition (Forto is where the Ministry of Information is located)– were demanding constitutional government and release of political prisoners.
Gedab News has also reported that among those arrested are Abdella Jaber, the ruling party's long-serving director of organizational affairs; and Mustapha Nurhussein, the governor of the South Zone.
Although the impression that was being given by Eri-TV was that the interview was incidental to a Ministerial Cabinet meeting, our sources indicate that the Cabinet meeting was scheduled for the sole purpose of holding the interview, to address the paradox that an insignificant incident warrants an interview with the president.
awate.com
inform. inspire. embolden. reconcile.