Hassan Salman Jailed In Saudi Arabia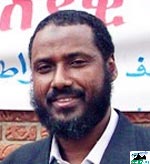 Shiekh Hassen Salman, also known as Abulbara'a, has been in jail in Jeddah, Saudi Arabia, where he arrived to perform Umra (a lesser pilgrimage to Mecca) about six weeks ago.
Muslims who can afford to perform Umra do so mainly during the last days of Ramadan which this year coincided with the month of August.
Hassen Salman is the leader of Eritrean Islamic Congress, a member of the Eritrean Democratic Alliance, an  umbrella grouping of exiled opposition organizations fighting to overthrow the Eritrean regime.
Hassen Salman had been deported from Saudi Arabia years ago and it is believed that he is now jailed for entering the country where he was once deported from.
Gedab News has learned that Shiekh Hassen had "disappeared" for around two weeks–he was unheard from– until prison authorities allowed him to call his family and colleagues to inform them that he was detained.
His colleagues and acquaintances within the opposition are appealing to the Saudi authorities to release him.
Sheikh Hassen Salman holds a Masters degree and is an imam (preacher), a politician and a doctoral degree candidate.