Eritrean Refugees Abandoned By UNHCR Are Sleeping In Yemeni Streets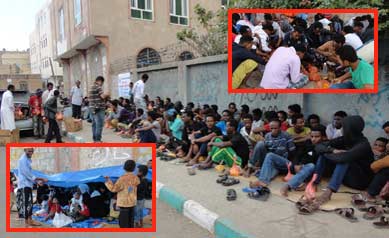 Eritreans have been fleeing their homes since the mid-sixties to escape the scorched earth policy of the Ethiopian occupation that razed their villages to the ground.
In 1991, Eritrea was liberated gaining formal recognition by the world community in May 25, 1993.
Independence didn't bring to Eritreans the stability or economic freedom they struggle for. Twenty-three years after they liberated their country, Eritreans find themselves in precarious situation ruled by a regime that is considered one of the most repressive in the world.
Over the last seven years only, tens of thousands of youth fled their country and are now scattered all over the world. Tens of thousands of newcomers have swelled the number of refugees in Sudan, some of whom have been in exile for over four decades.
Over a hundred thousand Eritrean refugees live in Ethiopia, a country against which Eritreans waged decades long bloody wars to free themselves.
Tens of thousands have left the entire region after using Sudan and Ethiopia as a transit stop.
But there are other refugees different from those who made it to the West where they are protected by the safety nets that the democratic nations offer.
Around fifty thousand refugees are in Israel facing discriminatory treatment and threats by the Israeli authorities who have put them in concentration camps pending deportation to Eritrea to be handed over to the repressive regime from which they escaped.
There are forgotten refugees are in Djibouti for over five years. they were detained for years until recently when they were transferred to a remote camp only last month.
Currently, however, the most serious case is that of Eritrean refugees in Yemen are living on the streets of Taez. Almost all of them fled From Eritrea to Yemen drifting in small overcrowded boats that dropped them on the coast of Yemen.
216 refugees, including women and children, now known as "Taez Street Refugees", have been sleeping in the open on the streets of Taez for weeks.
Their ordeal begun in 2011 immediately after their landed at the Yemeni coast from where the authorities drove them to a prison in Hudaidah for years until the UNHCR received them.
After formally receiving the refugees, the UNHCR hosted them for three months after which it discarded them on the streets to fend for themselves.
One of the refugees that Gedab News reached through a telephone said, "apart from some help we get from a local charity group, Ard A'Sedq, [a Yemeni charity organization] and a few Yemeni families, we have been sleeping on the streets with our children and women."
The Yemeni organization has issued a statement to create awareness about the plight of the Eritrean refugees while Yemeni human right activists and writers have leveled stinging criticism against the UNHCR which abandoned its responsibility of caring for the refugees. Still, the ordeal of the refugees in Yemen has not ended.
Yemeni authorities consider caring for the refugees the responsibility of the UNHCR which has taken charge of their case.
Mr. Idris Lahda of Ard A'sdq warned, "..the suffering of the Taez Street refugees is an impending human disaster and it is so because the UNHCR neglected its responsibility towards the refugees. " He added, "the helpless refugees escaped persecution in their country only to land in a hapless situation."
The issue of refugees has become a major concern for many countries who do not want to be considered safe place to avoid attracting more refugees from Eritrea. To ward off future refugees, Yemeni authorities seem to make a cruel example of the refugees who are already on its territories.
One of the refugees said, "it is difficult to blame other governments when your own government causes your suffering."
Help Eritrean refugees in Yemen, FOLLOW THIS LINK TO DONATE.
Ard A'sdq facebook page: http://goo.gl/ijXIB1