Close to a Thousand-People Arrested at Haji Musa's Funeral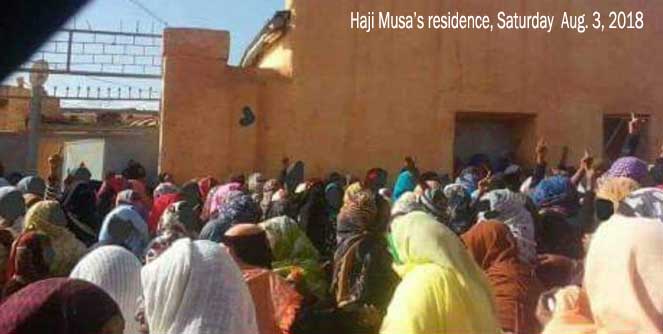 Thousands of people participated in the burial of Hajji Musa Mohammed Nur, the Nonagenarian chairman of the Al-Dia School. He was buried on Saturday at the Sheikh Al Amin burial grounds in Asmara.
Haji Mussa is believed to have died Thursday night at the Fifth Police station in Asmara. But the security officered transferred his body to a government hospital on Friday morning where it stayed until late evening.
Sources from the hospital said the security officers who brought the body didn't disclose his identity until Saturday morning when they told his family to collect his body from the hospital.
Muslims usually bury their dead immediately, unless it happens during the night.
On February 2008, Haji Musa's younger brother Dr Taha Mohammed Nur, a co-founder of the Eritrean Liberation Struggle, died in prison after three years of detention. The government told his relatives to collect his remains without explaining the cause of his death or why he was jailed.
Reports from Asmara indicate that the government wanted to avoid announcing the death of Haji Musa until after the Friday prayer for fear of unrest after the prayer congregation.
On Saturday, as the news of the death was spread, large crowds gathered at Haji Musa's home in the Akhria neighbourhood from where the funeral procession started. The crowd refused to obey the order of the security officers to follow the shortest route to the burial ground through a minor street. Instead, the procession walked with the remains of Haji Mussa on the longer route through the main street of Asmara.  From Akhria, It passed by the Riga Somal neighbourhood, through Edaga Arbi, and through the edges of Medeber, and in front of the Karshelli prison, and to Edaga Hamus before reaching the Shiekh Alamin burial grounds.
The heavy presence of helmeted security personnel, many of whom were in anti-civil unrest gear and swaying batons, increased the tension in the burial grounds where the security men mingled with the crowd. Soon, unknown individuals pelted the security officers with stones. In reaction, the police closed the gates of the graveyard and rounded up the crowd–they hauled close to a thousand people to the Adi Abeito prison in waiting trucks they had parked on the side streets.
Eyewitnesses indicated that the cells of Adi Abeito are filled up and the prisoners are packed in the open-air prison grounds. The prisoners include many underage children.
Gedab News had confirmed the arrest of two brothers aged, 11 and 13, and another three brothers aged between 12 and 15.
On Sunday, some elders went to the police station to ask about the prisoners and they were told the police has videos that identify the individuals who pelted the soldiers with stones and the rest will be released on Monday after some investigations. However, no prisoner was released on Monday and the security informed the elders, "we are still in the process of registering the prisoners, we will release them soon."