Eritrea: NEVSUN's Multi-million Class Action Lawsuit Settlement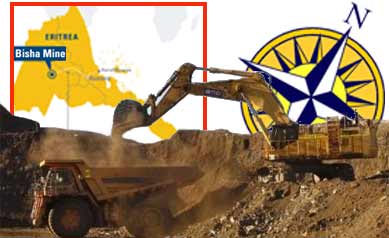 Recently, Nevsun, the Canadian mining company operating in Eritrea, approved a multi-million class action lawsuit settlement brought by a New York-based law firm representing shareholders and investors.  The firm had accused Nevsun of US securities fraud.
Nevsun owns 60% of the Bisha Mining Share Company in western Eritrea while the remaining 40% is owned by the Eritrean National Mining Corporation (ENAMCO), which is owned by the ruling party.
The lawsuit alleged that Nevsun was engaged in deceptive practices to mislead investors and shareholders by inflating the value of mineral deposits at the Bisha mine it operates in Eritrea.
After the exhaustion of gold production, which did not require much logistical support and infrastructure to export, and moving to copper production phase, Nevsun started to rely on the Eritrean ministry of defense to provide it with security and transportation services to move the copper from Bisha to the port of Massawa.
One of the many pending lawsuits against Nevsun was filed in US and Canadian courts; it alleges that Nevsun has used forced labor in Bisha, a fact that Nevsun admits but claims was practiced by Segen, its subcontractor. Segen is a construction firm owned by PFDJ, the Eritrean ruling party.
The allegation was also confirmed by Human Rights Watch in 2013 and reported that "Former conscripts described working long hours for minimal food rations, primitive lodging, and wages too low to sustain themselves, much less their families. They were not allowed to leave the work site."
It is very likely that the lawsuit will be settled out of court for fear of disclosing sensitive financial information and records of transactions, between Nevsun and ENAMCO, during the public trial or discovery process.
In Eritrea, often times, there is a no distinction between the interests of the state and the ruling party. The current minister of finance, Berhane Habtemariam, is also the manager of ENAMCO, as well as the general auditor of Eritrea.
In its website, Nevsun states that taxes, customs, and concession fees due to the Eritrean government are being used and will continue to be used in the future to offset payments that ENAMCO was required to make to Nevsun to increase its stake from 10% to 30%.
According to Nevsun's financial statement, the Eritrean government and ENAMCO were paid $144, $317, and $86 million USD, in 2011 and 2012, and 2013 respectively.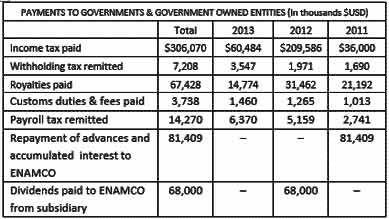 The total executive compensations of the four top executive for 2013 are reported as follows:
Mr. Clifford T. Davis,
Chief Exec. Officer, Pres and Director
$1,780,000
Mr. Frazer W. Bourchier BASc, MASc, P.Eng.
Chief Operating Officer and Member of Social Environment, Health & Safety Committee
$965,000
Mr. Scott A. Trebilcock
VP of Bus. Developmnet. & Investor Relations
$712,000
Mr. Joseph P. Giuffre B.A, L.L.B.
Chief Legal Officer and Corp. Sec.
$919,000
Zara Mining Share Company (ZMSC)
Citing UN sanctions on Eritrea for its failure to secure capital to go to production, the Australian Chalice Gold Mines was forced to sell its Zara mine property at a discount for $80 million to China's SFECO Group, which now has a 60% controlling interest in Zara Mining Share Company (ZMSC). The remaining 40% is owned by ENAMCO.
The only activity reported at its website shows that on December 2012 SFECO held its second board meeting in which its chairman, Mr. Tong Jisheng, and "Mr. Hargos [sic] (Vice-chairman of the board and Secretary General of the Central Economic Committee of People's Front for Democracy and Justice), Mr.Bohani [sic] (director of the board and Eritrea Minister of Finance)" attended.
The report added, "They also ask ZMSC to operate more effectively and simply, better control costs and budgets and establish an operation system with the objectives, rules and achievements." However, Gedab sources indicate, "Even though SFECO seem to be demanding more due diligence and oversight control of the operation, it is hesitant to invest the required capital expenditure to go to production phase due to the political and  general investment environment and risk in Eritrea."
Colluli Mining Share Company
A group of Eritreans from the Afar region accused the regime of systematically targeting the Afar people in order to remove them from potash and other precious metals rich area to make room for a Colluli Potash Project.
South Boulder Mines Ltd owns 50% of the Colluli Mining Share Company (CMSC) while the remaining shares are owned by ENAMCO.
So far South Boulder Mines Ltd drilled some 97 holes and is conducting feasibility studies of the project.
Eritrea's Mining Prospect
The arrest of the minster of mining, Ahmed Hajji Ali, on February 2013, who was allegedly implicated in the Forto coup attempt, underscored the precarious investment climate in Eritrea in general and the mining sector in particular. Mr. Ahmed Hajji, whose whereabouts is unknown to his family, had been the face and voice of the mining activities in Eritrea for the last 23 years.
The noticeable absence of Ahmed Haj Ali during the opening ceremony of the 4th Asmara Mining Conference, held on October 2013, and the equally noticeable absence of major international mining companies did little to alleviate that concern.
The Forto incident gave major mining companies a pause to evaluate the possibility of being shut out from future mining concessions in the event of a success of similar attempts in removing Isaias from power.
Concession agreements signed by unpopular regimes in developing countries are often rescinded after their overthrow.
At the same time, the political situation in Eritrea has become worse due the growing rifts among the top officials of the government. The situation has encouraged speculations and spurred fears concerning the safety and security of foreign investments in the mining sector under the repressive regime of Isaias Afwerki.
The shortage of fuel and other supplies has also affected the mining companies: Nevsun depends on contraband fuel to run its operations in Bisha. Nevsun's contraband fuel oil supplier is a company owned by a partner of Major General Tekle Manjus.
Related links:
Human Rights Watch (world report 2014)
Stop Displacement of Indigenous Afar: Petitioning South Boulder Mines Ltd. of Australia
South Boulder Mines (PDF)
//END
Gedab News
inform. inspire. embolden. reconcile.