Eritrea 2015: Isaias Afwerki & His Musical Chair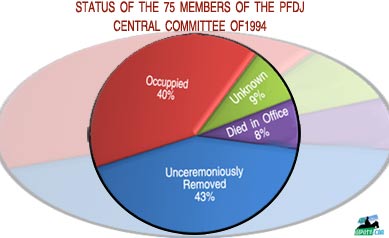 (UPDATED May 4, 2015) The last time Eritrea's ruling (and sole legal) party had an organizational congress was in February 1994, over twenty-one years ago. This is remarkable even by its own low standards: During the full-fledged War of Independence, 10 years passed between its first congress in 1977 and second congress in 1987, and 7 years between its second and its third and last in 1994. At the PFDJ Congress (the first and only one for the re-named party), 75 individuals were elected to the Central Committee, which is the party's legislative arm. These 75 individuals were supplemented with 75 appointees to make up the 150-member National Assembly which was operational (barely) between 2/1994 and 2/2002.
What has happened to the 75 members of the Central Committee?
ARRESTED: 18 (6 died in prison)
FROZEN:  7
DIED IN OFFICE: 6 (5 died abruptly)
EXILED: 7 (1 died in exile and was denied burial in Eritrea)
PRESIDENT: 1 (for life)
OCCUPIED: 29 (serving the regime including as prison wardens and prison doctors and prison builders)
UNKNOWN: 7 (including the missing member # 75)
This report is limited to the 75-members of the Central Committee. Many of you know individuals who exercise power without any accountability. Those individuals are not, for now, the focus of this report. Here's our 2015 update on Isaias Afwerki and His Musical Chair:
| | |
| --- | --- |
| Name | Musical Chair |
| Abdella Jaber | ARRESTED. The Director of PFDJ's Organizational Affairs, Abdella Jaber was considered instrumental in organizing Eritreans in the Middle East and he did the ground work for the Eritrea-brokered  Sudanese peace agreement between Khartoum and the Eastern Front. Arrested in 2013 allegedly for his involvement in Forto 2013, the attempt to take over the Ministry of Information and demand democratic changes. His whereabouts are unknown. |
| Abraha Kassa | OCCUPIED. Long-standing head of National Security. Usually avoids the limelight but, in 2014, he participated in a symposium on human smuggling where he blamed the United States for being behind the massive exodus of Eritreans from Eritrea. |
| Abrahaley Kifle | FROZEN. Former ELF (Sagem) member who joined the EPLF after the implosion of ELF. Has held a series of posts including as liaison for the UN commission monitoring the Eritrea-Ethiopia border (UNMEE); consul-general in Mekele; charge d'affairs in Holland. Was long considered up-and-coming after he was offered multiple portfolios.He appears to have been frozen: not much is heard about him. |
| Adhanom G/Mariam | EXILED. Was a member of the G-15, one of 3 who were not arrested because they were outside the country on September 18, 2001 when the round-up of G-15 was initiated. He is an active member of the opposition organizations and one of the leaders of the Eritrean People's Movement. |
| Ahmed Haj Ali | ARRESTED. Served as Minister of Tourism and later Minister of Energy and Mining. He was employed in that capacity until 2013 when he, along with Abdella Jaber and Mustapha Nurhussein (former governor of the South Zone) was arrested for his alleged role in Forto 2013, the attempt to take over the Ministry of Information and demand democratic changes. |
| Ahmed Omer Kakai | DIED: The major general was once commander of the Aseb Front. He appears to be frozen as not much is heard about him. |
| Ahmed Tahir Baduri | FROZEN: Served in various capacities including UN Ambassador and appeared to be on fast track to become Foreign Minister particularly when younger versions of himself were blocked advancement opportunities. Now a shadow of his old self, roaming in Asmara. |
| Alamin M. Said | OCCUPIED. The Secretary of the PFDJ makes occasional appearances on official party businesses but the party he is Secretary to rarely meets at organizational level (has been 20 years.) His position is largely ceremonial and he is in poor health. |
| Alamin Sheik Saleh | ARRESTED. When the G-15 were G-19, they included people like Alamin Sheik Saleh. He retracted his endorsement under heavy pressure from the President's Office. He was frozen not long after, and subsequently he was arrested and is reportedly in jail. |
| Alamin Siraj | FROZEN: Was Eritrea's Sports Commissioner in the 1990s. He has no role in the party or the government now. |
| Ali Said Abdella | DIED IN OFFICE ABRUPTLY: Was named Foreign Minister when Haile "Derue" Woldetensae was shifted to Ministry of Trade/Industry in 2000 (and subsequently arrested in 2001 with the G-15.) Held the position of Foreign Minister until he died suddenly in 2005. Some of the opposition media reported that there was foul play involved and the government reported that it had performed an autopsy and he had died of a heart attack. |
| Almaz Ljam | OCCUPIED: Has always been low profile. Even some of her colleagues within the Central Committee have no idea who she is. She is a manager in one of Eritrea's six administrative zones, the Central Zone. |
| Amna Nur-Hussein | OCCUPIED: A nurse in the armed struggle, she climbed the PFDJ ladder and, when Saleh Mekki passed away, she succeeded him in the job of Minister of Health. |
| Andeberhan W/Giorgis | EXILED: Held a number of positions including ambassador to the EU. Joined the field from the US, after getting an MBA from University of Colorado.  For a long time after he left the country and his association with the regime, he was tight-lipped and had nothing to say. Surfaced in 2013 as a spokesperson for the Eritrean Forum, more commonly known as "Medrekh." |
| Andemikael Kahsai | DIED IN OFFICE ABRUPTLY: Former Ambassador to the US and Italy (after the expulsion of Eritrea's ambassador to Italy), Andemichael died mysteriously in Asmara after allegedly falling down a flight of stairs. |
| Asemrom Gebrezgiher | OCCUPIED: Major General and head of Logistics of the defense forces. |
| Askalu Menkerios | OCCUPIED: Despite the fact that her husband was outed by Wikiileaks as being anti-Isaias Afwerki and subsequently arrested, Askalu continues to serve as Minister of Tourism after a stint as Minister of Labor and Social Welfare. |
| Aster Fissehatsion | DIED IN PRISON: Was a Director in the Ministry of Labor and Social Affairs and a member of the G-15, who were arrested on September 18, 2001. According to an escaped prison guard, Aster died shortly after her transfer from the Embatkala prison to Eilla-Eiro. (She was one of two female prisoners: the other being Meriam Hagos, Director of Cinemas.) |
| Beraki Gebreselassie | ARRESTED: A teacher, co-founder of Revolutionary School, and Minister of Information during the time that Eritrea had a brief relatively free press, Beraki was a member of the G-15, and he was arrested on September 18, 2001. For nearly 13 years, he has been in prison in the deserts of  Eilla-Eiro. |
| Berhane Abrehe | FROZEN: The former Minister of Finance had a falling out with Isaias Afwerki over the need for budgets and audits. A graduate of University of Illinois at Urbana-Champaign, he was Director of Macroeconomic policy before he became minister. Is in poor health. Has no government or party portfolio and is otherwise frozen. |
| Berhane Gebrezgiher | ARRESTED: Was in charge of the National Reserve during the 1998-2000 border war with Ethiopia when he was demoted, which generated a chain of letters to Isaias Afwerki. Was a member of the G-15, arrested on September 18, 2001. Presumed to be at Eilla-Eiro although some opposition news outlets have also reported that he died in detention. |
| Berhane Zerai | UNKNOWN: Very little is known of this veteran EPLF combatant other than his nickname is "Tawla" and that he is handicapped veteran. |
| Ermias Debessai | ARRESTED: The former chief of Red Sea Trading Corporation ("09") who is also known as "Papayo" was sentenced by the Special Court for "corruption", served time, was released and subsequently arrested in December 2003, with his sister Senait, who was a popular member of EPLF's cultural troupe. They have been in jail for over a decade. |
| Fana Tesfamariam | OCCUPIED: Governor Southern Region administrative office. Until recently she was the mayor of Massawa, although, in the parlance of the ruling party, "Mayor" and "Governor" are titles too threatening to Isaias Afwerki so she is known as the "Administrator of the Sub-zone of Massawa." |
| Filipos W/yohannes | OCCUPIED: After the death of Major General Wuchu, Filipos was named as Chief of Staff of Eritrean Defense Forces (EDF). Filipos is ascendant (for now) and he is rumored to either become the Defense Minister or to report to a future Defense Minister. |
| Fozia Hashim | OCCUPIED: Fozia Hashim is the Justice Minister that many humanitarian organizations send their (futile) appeal letters to, unaware that she has nothing to say about justice other than as it pertains to enforcing organizational dictates. |
| Gebrezgiher A/Mariam | DIED IN OFFICE: Also known as "Wuchu", Major General Gerezgheir passed away in April 2014 after battling an unspecified illness and receiving treatment in Italy. He was posthumously promoted to Chief of Staff. |
| Germano Nati | ARRESTED: political activist, cadre, governor, administrator, Nati was a member of the G-15, and arrested on September 18, 2001. He is presumed to be in Eilla-Eiro, although some opposition groups have reported that he is dead and published a death certificate attributing his death to kidney failure. |
| Giorgis Teklemikael | OCCUPIED: A former member of ELF (Sagem), Girogis is the Minister of Trade and Industry. Formerly the Minister of Transport and Communication, Giorgis is soft-spoken, not much is known about him. |
| Hagos Gebrehiwet | OCCUPIED: Also known as "Kisha", Hagos is the Director of PFDJ's Economic Affairs Department and, more importantly, boss of Red Sea Trading Corporation ("09"), the parastatal company with its hands in every industry. One of its companies, Sembel Serehat Hatsinin Entseytn, actually constructed the Eilla Eiro prison where most of the political prisoners and private journalists were/are kept. |
| Haile Mehtsun | OCCUPIED: Brigadier General Haile, who was Eritrea's first Health Minister, is Chief of Military Hospitals. A prison guard who escaped from Eritrea, Eyob Bahta, reported that Haile is the medical doctor who visited the G-15 at Eilla-Eiro. |
| Haile Menkorious | EXILED. Was a member of the G-15, one of 3 who were not arrested because they were outside the country on September 18, 2001 when the round-up of G-15 was initiated. A graduate of Harvard University, he is Head of the United Nations Office to the African Union as well as Under-Secretary-General of the UN. |
| Haile Samuel | OCCUPIED: Also known as "China", the Maj General is one of five commanders of Eritrea's five Command Zones. |
| Haile Woldetensae | ARRESTED. Also known as "Derue", Haile, who was Eritrea's Foreign Minister during the Eritrea-Ethiopia border war (98-00), was a member of the G-15, and arrested on September 18, 2001 when the round-up of G-15 was initiated. A prison guard who escaped says that Haile, who suffers from diabetes, was losing his eyesight when he last saw him. |
| Hamed M. Karikare | OCCUPIED: The major general is the Commander of Eritrean Naval Forces. |
| Hamid Himid | DIED IN PRISON. Was a member of the G-15, arrested on September 18, 2001. According to an escaped prison guard at  Eilla-Eiro, Hamid Himid died in Eilla-Eiro prison. |
| Hiwet Zemikael | UNKNOWN: Hiwet reportedly moved to the United States and now lives in Dallas where she has no political role with the party or government. |
| Isaias Afwerki | PRESIDENT: for life. |
| Issa Ahmed Issa | OCCUPIED: Was Eritrea's ambassador to Sudan until 2011. He (or his namesake) is occasionally mentioned in the news media in ad-hoc roles, such as organizing festivals. |
| Leul Ghebreab | OCCUPIED: Replaced by Ms. Teka Tesfamichael. She was the chairwoman of the National Union of Eritrean Women (NUEW), last seen at the Bologna Festival chairing a meeting. |
| Mahmud Ali Herui | UNKNOWN: Formerly ambassador to Qatar, then to Saudi Arabia. Husband of Ruth Simon, the AFP reporter who was jailed for "reporting secret information told by Isaias in a press briefing". He is the younger brother of high ranking army officer, Saleh Herui the commander of the battle for the liberation of Dekemhare, who languished in jail for a long time until he was released a broken man. |
| Mahmud Sheriffo | DIED IN PRISON. The former and only vice-president (in the history of post-independent Eritrea), Sheriffo was a member of the G-15, arrested on September 18, 2001. According to an escaped prison guard at Eilla-Eiro, Mahmoud Sheriffo died in prison in Embatkala, before the prisoners were moved to Eilla-Eiro. |
| Mesfin Hagos | EXILED. Was a member of the G-15, one of 3 who were not arrested because they were outside the country on September 18, 2001 when the round-up of G-15 was initiated. He is part of the leadership of Eritrean People's Democratic Party (EPDP.) |
| Mohammed Ali Jaber | UNKNOWN: formerly ambassador to Yemen and Djibouti, current situation unknown even by some of the remaining members of the Central Committee. |
| Mohammed A. Omaro | ARRESTED: One of the founders of EPLF and later PFDJ, Omaro held a series of ambassadorial positions including Kenya and Nigeria. He returned to Eritrea in 2014 and was subsequently arrested. |
| Mohammed B. Blatta | EXILED: A former member of the ELF leadership, Mohammed Berhan Blatta was a member of the G-15 before he disassociated himself from the group and was spared prison. He left the country and now lives in exile. |
| Mohammed O. Redo | CONFIRMED DEAD: Long ago: Omer Redo hails from Afar. in 1990 before being assigned to Radio Dimtsi Hafash Afar program, he was around afar area in department of political organization of EPLF. He was decent and taciturn man with full of integrity. Shortly after independence served as Ambassador to Yemen. and passed away after a short illness. |
| Muhyadin Shengeb | EXILED: The long-time chairman of National Union of Eritrean Youth and Students (NUEYS), left the party and the country in 2004. Not much was heard from him for 10 years but he is now part of the leadership of Eritrean Forum, also known as "Medrek." |
| Musa Rabá | OCCUPIED: The police chief was one of the signatories when the G-15 were G-19; he disassociated himself from the group under heavy pressure from the president's office. |
| Mustafa Nur-Hussien | ARRESTED: Along with Abdella Jaber and Ahmed Haj Ali, Mustapha Nurhussein was arrested shortly after Forto 2013, the attempt to take over the Ministry of Information and demand democratic change. His whereabouts is unknown. |
| Naizgi Kiflu | DIED, DENIED BURIAL: The veteran EPLF fighter died in London in 2013. For three months, his family pleaded with Isaias Afwerki to allow his remains to return to Eritrea. They were denied and he was buried in London. |
| Nati Ibrahim | UNKNOWN: Nati Ibrahim was one of the signatories when the G-15 were G-19; he disassociated himself from the group under heavy pressure from the president's office. His status now is unknown. |
| Ogbe Abraha | DIED IN PRISON. Renown during the War of Independence, and one of only two full generals, Ogbe was Chief of Staff of the Eritrean Defense Forces until he was demoted and stripped of his rank by Isaias Afwerki in 2001 for daring to criticize the way the Eritrea-Ethiopia war was executed. A member of the G-15, he was arrested on September 18, 2001. According to an escaped prison guard at  Eilla-Eiro, Ogbe Abraha attempted to commit suicide, didn't succeed, but died shortly thereafter in prison in Embatkala, before the prisoners were moved to Eilla-Eiro. |
| Omer Hassen Tewil | DIED IN PRISON: Major General Omer Hassen Tewil was one of Eritrea's five zonal commanders. Shortly after Forto 2013, he was suspected of having a hand in the "coup attempt" and arrested. He reportedly died in jail in May 2014. |
| Osman M. Omer | OCCUPIED: Eritrea's ambassador to Egypt was ambassador to UAE, and governor (Administrator) of Denkalia (Southern Red Sea) region. |
| Osman Saleh | OCCUPIED: A former teacher, Eritrea's Foreign Minister (formerly its Minister of Education) is often accompanied by Yemane Gebreab, the political director of PFDJ, the ruling party. |
| Petros Solomon | ARRESTED. Formerly Eritrea's Foreign Minister and Defense Minister, Petros Solomon, renowned for his role during the War of Independence, was a member of the G-15, and arrested on September 18, 2001 when the round-up of G-15 was initiated. He is in Eilla-Eiro prison in the remote deserts of Eritrea. His wife, Aster Yohannes, was arrested three years later when she returned from the United States, where she was completing her studies. Her mother and her children eventually joined the long list of the exiled. |
| Romedan O. Awliay | OCCUPIED: The former Sports Commissioner is now the Administrator of the Central Zone. |
| Saleh Idris Kekya | DIED IN PRISON. Saleh, once the Director of the Office of the President, and Minister of Transporation, was a member of the G-15, and arrested on September 18, 2001. According to an escaped prison guard at  Eilla-Eiro, Saleh Idris Kekya died in Eilla-Eiro shortly after his transfer from Embatkala as he was unable to cope with the harsh climate. |
| Saleh Mekki | DIED IN OFFICE (ABRUPTLY): The Minister of Health died suddenly, reportedly of a heart attack, on October 2nd 2009. A member of the mass organizations in the US, Saleh Mekki returned home after independence and he was appointed minister of marine resources and later ministry of health. |
| Salma Hassen | FROZEN: Moved to Eritrea from the United States where she held posts as zonal administrator (Anseba Region) and Minister of Labor and Human Welfare. There are reports, still unconfirmed, that she has been frozen. |
| Sebhat Ephrem | OCCUPIED. Sebhat was the Top General and Defense Minister for a long time. After the long-promised reshuffling of ministers, he was reportedly going to be the Minister of Energy and Mines. But, lately, it appears that he has fallen off the favored list and may be headed to the frozen pile. |
| Simon Gebredengel | OCCUPIED: the Deputy Director of National Security survived an assassination attempt in 2007 (the government media offered a typical promise to conduct a full investigation and then typically forgot to share its findings) when the military commanders started acting as warlords fighting over territories and dividing up loots among themselves. He has passed several loyalty tests and appears (APPEARS!) to be firmly in the insiders camp. |
| Stefanos Seyoum | ARRESTED. Stephanos's last post was Director General of Inland Revenue where he made noise wondering why Red Sea Trading Corporation was immune from paying taxes. A member of the G-15, he was arrested on September 18, 2001 when the round-up of G-15 was initiated. He is in Eilla-Eiro prison in the remote deserts of Eritrea. |
| Teklai Habteselassie: | OCCUPIED: Major General Teklai is the Commander of Eritrea's Air Force. Husband of Leul Gebreab. He was promoted to the job when his predecessor, Commander Habtezion Hadgu, was arrested (he remains in prison) for criticizing Isaias Afwerki's role in the Eritrea-Ethiopia border war. |
| Tesfai Gebreselassie | OCCUPIED. Tesfai has had two jobs since 1993: as Minister of Energy and Mines; and as Minister of Land, Water & Environment. He has had the good fortune not to preside over power outages, and to preside over the gold rush (he was the government's front man in its dealings with Nevsun.) |
| Woldemikael Gebremariam | DIED IN OFFICE (ABRUPTLY) in August 2013, when he was the Minister of Local Government. Because his predecessor, Mahmoud Sheriffo, was ALSO the Vice President, many assumed Weldemikael was also the Vice President, when he wasn't. Neither is, for that matter, his successor. The Minister of Local Government is just that: NOT the vice president. There are no vice presidents in Eritrea. |
| Woledmichael Abraha | OCCUPIED: Appointed Minister of Local Government after Woldemichael Gebremariam passed away abruptly. |
| Worku Tesfamikael | FROZEN: Was formerly the Minister of Tourism. Appears to be frozen and has no governmental or ministerial portfolio. Likely in NUEW. |
| Yemane Gebreab | OCCUPIED: The Political Director of the ruling party, PFDJ, appears to have multiple portfolios including as godfather of YPFDJ, the youth franchise of the ruling party; the chaperone of the Foreign Minister and the imaginary "special advisor to the President." |
| Yusuf Sayiqh | OCCUPIED (but FADING): With the death or arrest of almost all of the senior Sahel-Semhar portion of the EPLF alliance, Yusuf is a loner: he recently attended the failed PFDJ festival in Bologna, but no one recognized or mentioned him. |
| Zahra Jaber | OCCUPIED (barely): the last consequential positions she had were two decades ago as member of the Constitutional Commission of Eritrea and as Mayor of Keren. |
| Zemhret Yohannes | OCCUPIED: Joined the EPLF from ELF (Saghem.) His official job is as Head of Research and Documentation of the PFDJ. An ideologue, he often chairs meetings in Europe to reinforce the message of the party: that more patience, and more sacrifice is required. |
| Zemzem Abdella | OCCUPIED: Zemzem who? Nobody in the Central Committee appears to know who she is. |