EIPJD delegation Meets Turkish Politicians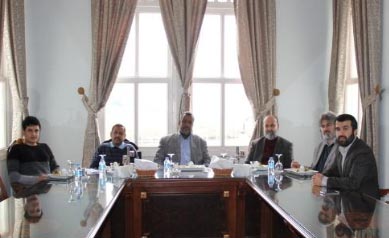 A delegation from the Eritrean Islamic Party for Justice and Development (EIPJD) concluded a one-week visit to Turkey during which it met several Turkish politicians, thinkers and humanitarians.
The EIPJD delegation was headed by Shiekh Saleh Mohammed Osman, the party's secretary general, and Mohammed Nur Kerrani, the secretary of foreign relations .
During its visit, the delegation met Dr. Nureddin Nabati, the deputy president of Turkish Justice and Development party, and Dr. Yassin Aktai, the party's deputy secretary of foreign relations. It also met Prof Mustafa Kamalat, the president of Felecity (Saadet) Party.
The delegation also briefed its Turkish and Arab diplomatic and other audience about the Eritrean opposition, its role and the role of the Eritrean people in struggle to come up with a democratic alternative to "accomplish peace and development in Eritrea after the removal of the dictatorial regime that is oppressing all the Eritrean people of all age groups and regions… before the Eritrean state becomes a failed state in the region."
The delegation also emphasized the risk of Eritreans leaving their country, particularly the youth who are "leaving Eritrea in huge numbers, and becoming victims and dying in deserts and seas."