Debrom's Longing for Home Wins Third Place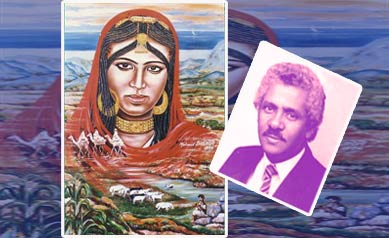 "Longing for Home" an oil painting of an Eritrean woman won third place in the competition organized by the Arab Forum for the Art in London, UK. Veteran artist Mahmoud Debrom painted the work in 1986 when he lived in Jeddah, Saudi Arabia for many years before settling in London.
A few weeks ago Eritreans around the world voted for Debrom's painting work and helped it win third place. For many weeks, admirers of the popular artist have been campaigning to introduce and to create awareness about the painting.
Given the relatively small number of Eritreans compared to the total number of voters, and the tough competition for the prizes, it appears many non-Eritreans have voted for Debrom's painting. An nobserver said, "the painting transcends regions and ethnicity, it is a marvelous work of art and no wonder many people voted for it."
Mahmoud Debrom has numerous paintings and has exhibited his work in many places. In 2009 Saleh Johar interviewed the renowned Eritrean artist for awate.com, the website that first published his work on the Internet and thousands of people were introduced with his work. Awate.com intends to republish his work in a gallery soon.