Daniel Teklehaimanot: King of the Mountains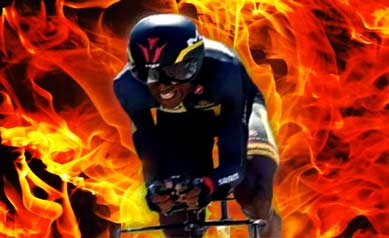 On July 9, Eritrean cyclist Daniel Teklehaimanot, was named "King of the Mountains" and awarded the polka dotted jersey, after he accumulated the most points in the three-climbs sessions of Stage 6 of Tour de France's 191.5 kilometer race.
Daniel Teklehaimanot's achievement is a first at other levels
The team he races for, Team MTN-Qhubeka, is the first African cycling team to participate at Tour de France;
The 10-member MTN-Qhubeka is over-represented by Eritreans: in addition to Daniel Teklehaimanot, it includes Merhawi Kudus.
In a nutshell, Daniel is among the first African team, among the first Eritreans to participate at the legendary Tour de France, and he is the first to win the winner's jersey. The news electrified Eritreans, Africans and all cycling fans.
From a purely technical side, his accomplishment is a natural progression.  He has been competing professionally for 7 years and has won many races including Rwanda, Algeria and Turkey. But it is not the technique which is captivating but the unlikeliness of his story. The 26 year old was diagnosed with tachycardia (escalated heart beat) which required surgery to correct. And although cycling is huge in Eritrea and particularly its capital, Asmara, he did not have access to the same resources that some of his more privileged competitors had.
To top all off, he is a humanist.  In his victory speech, he said that he is a proud Eritrean and proud African and he sees his position in the limelight as an opportunity to raise funds for disadvantaged Africans. His words:
I can't believe it. That was my childhood dream to get the polka dot jersey at the Tour de France. This is a day I will never forget. It is a big step for African cycling. We are trying to give 5,000 bicycles to African students. Being on the podium will help our project and I want to help make a difference for my African people.
At its best, Sports has the ability to unite people and, however briefly, to make us forget all our difference. Take a break, join Daniel at the mountaintop, to celebrate the achievements of an Eritrean, an African and a humanist!
Correction: An earlier version of this posting, incorrectly identified Daniel as having come first overall at the end of stage 6 on June, an error pointed out by Awate community members SA and Michael S. Thanks for the correction: Here's the video of the climb (less than 2 minutes):