Book Review: ELF: Its Struggle for Freedom and Social Justice 1961-1982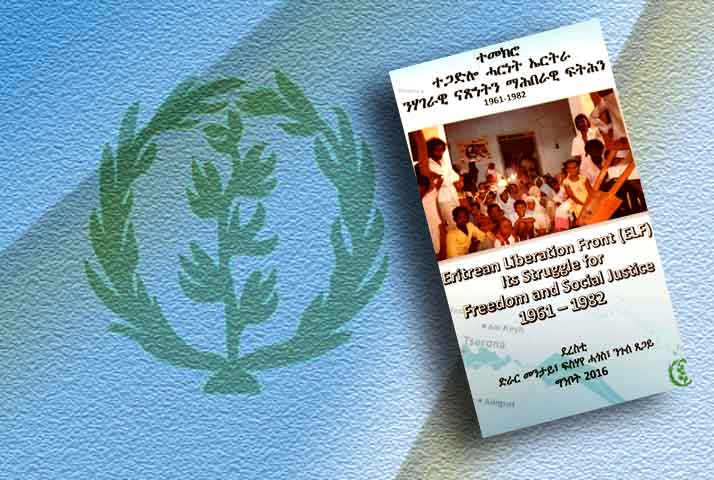 Authors: Dirar Mantai, Fessehaye Hagos and Ngusse Tsegai
Title: Eritrean Liberation Front (ELF): Its Struggle for Freedom and Social Justice 1961-1982
Language: Tigrinya
Publisher: Homib Publishing, homibpublishing@gmail.com
Year: May 2016
Pages: 369
Price: $30.00
To some extent, any organization reflects its founder's comportment, and the Eritrean Liberation Front was no exception. ELF's inimitable code-switching ability to fit to people's social and cultural norms can be traced to its formative years, when a handful of intrepid fighters, under the leadership of Hamid Idris Awate, set the tone and laid the groundwork. Despite his demure appearance, Awate was a born and wise leader, who knew how to use incidents in reaffirming his mission and guiding principles. It looks like every incident was a teachable moment—a hallmark of leadership and wisdom.
In the summer of 1962, the freedom fighter Ali Hishal came to Kassala and regaled a group of Eritreans, among whom was Berhane Goitiom, with the following edifying story.
There was a battle near Hagaz, where the ELF fighters lost a comrade. To dispose his body, they had to find a burial ground, but the people would not allow a stranger be buried in their land. It was their custom.
One of the fighters was upset and avowed, "These people cannot forbid us. Let's take action against them."
Noticing his understandable outrage, a younger comrade advised him to be patient. Amid the commotion, the fighters were wondering of what could be done and finally agreed to call for Awate and allow him handle the matter. As soon as Awate came, he asked his combatants what the problem was. One of the fighters replied, "Since this people have refused to allow us bury our comrade, we need to attack them."
Awate asked, "Why are you acting like fools? Didn't you join to fight for the freedom and security of this people?" They all responded in the affirmative, and Awate asserted, "All right then. We cannot attack people for refusing us to bury our comrade."
At that moment, Awate summoned a meeting of the people of the village and asked them, "Why didn't you allow us to bury our martyr?" One of the villagers stood up and responded, "We don't know the person who has been martyred and we don't allow anyone whom we don't know to be buried in our land." Awate gladly proclaimed, "This is what I was hoping to hear. We are very pleased that you know this is your land and you're willing to defend it. We are not going to force you to allow us bury our martyr. But we will ask you to gather some wood for us." The people asked, "what do you need the wood for?" Awate calmly responded, "Since you would not allow us bury our martyr; we could not just leave him here lying like a piece of a tree-trunk. We need to burn his remains." The people were shocked and said, "We don't want to witness a corpse burning. Please don't burn it; we will allow you to bury it in our land." The conflict was amicably resolved and both sides thanked each other and the martyr was finally buried.
The tact, wisdom and public diplomacy that Awate exhibited during his short tenure as a freedom fighter had a lasting impact on the legacy of the organization. The consultative approach was ELF's strategy of winning the hearts and minds of the public and nowhere was this truer than in the department of ELF's Social Affairs under the leadership of Ibrahim Mohammed Ali. The department that was launched in 1975 became the microcosm of the ELF. This is that story. The story of victory and defeat, success and failure, fortune and misfortune, forward marching and retreat, growth and decay, expansion and atrophy, and exile and exodus.
The trio authors of the book, "Eritrean Liberation Front (ELF): Its Struggle for Freedom and Social Justice 1961-1982," set out to chronicle and record the story of an organization that pioneered the Eritrean armed struggle. It is a tall order of an enormous magnitude; but the recognition borne out of a great sense of responsibility and necessity has made it abundantly clear that the story must be told; it must be done. Mission accomplished; kudos to them.
In a way, it is a luta continua: the continuation of their unfinished revolution and a testimony to Eritrea's "Greatest Generation's" tenacious hold to the cause of freedom. In the words of Rudyard Kipling, the authors have "watch(ed) the things they gave their lives to, broken, and stoop and build 'em with worn-out tools…And so hold on when there is nothing in you (them), Except the Will which says to them: 'Hold on!'"
The youth of the struggle era are the backbone of Eritrea's nationhood. Eritrea is their story. Understanding their sacrifices is understanding Eritrea; honoring their sacrifices is honoring Eritrea; loving them is loving Eritrea; and preserving and cherishing their legacy is to defend the autonomy and integrity of Eritrea. They are the heart and soul and the moral campus of the nation. It is only in this spirit that I enthusiastically invoke the platitude, "eternal glory to our martyrs," and salute Eritrea's greatest generation. Hail to the ELF. Hail to the EPLF.
"The ink of the scholar is worth a thousand times more than the blood of a martyr," says the hadith, and this is what Dirar Mantai, Fessehaye Hagos and Ngusse Tsegai do in their first book—immortalize the legacy of the armed struggle and bequeath it to the next generation.
Their fallen and wounded comrades will be proud and those veterans who are trying, in their sunset years, keep the torch of freedom alight and the memory of their fallen heroes alive, will find solace in knowing that their history will no longer be defaced or erased. I hope it affords them some sort of closure; their sacrifices were not in vain.
The ELF teachers at the Gembeba School in Akeleguzay were responsible for composing the following immortal lyrics which embody the spirit and letter of the book. Incidentally, it is one song that my siblings and I can sing whenever we meet for holidays and reminisce of the good old days. We were all beneficiaries of the ELF educational system. Here is my English rendition:
Let's unite and all come together;
So, the pillar of our home will not shatter.
The objective of our undertaking; taking place today,
Is for the development of our country, so it will be remembered in later day(s).
Dirar, Fessehaye and Ngusse's book is neither written to excoriate the vices of the ELF nor extol its virtues, but to simply tell its story by those who experienced it first-hand. The authors' method is cerebral rather than emotional and their efficacious treatment of the subject is admirable. No doubt, the book will become an instant vade mecum of the history of the Liberation Struggle and of the pioneering Eritrean Liberation Front—affectionately and popularly known as Jebha Abay.
Most of Eritrea's struggle literature is hopelessly didactic and one-sided, but not this one. This is a book that will be appreciated even by those unconstructed partisans of the ELF and EPLF era. Its hard-boiled yet poetic rendering is a thing of beauty. It captures the zeitgeist of the struggle era, and, in the process, eternizes the heroic sacrifices of the many men and women who have made the ultimate sacrifice, gotten wounded and spent the best years of their lives ardently fighting for the cause of the nation. But, most of all, it sheds light, in a non-intrusive and non-proselytizing way, on the issues that have beleaguered our protracted armed struggle and now our fledgling nascent nation. It adds duly to our fund of knowledge and enhances our understanding and perspectives. It is quite a feat of an accomplishment.
The authors have the necessary gravitas to write this book; they are ELF veterans themselves. But, more importantly, they have evidently taken the time to ruminate on the subject and on how to approach it. Their work is a nexus of editorship and authorship; it is a compendium of first-hand stories and eye-witness accounts neatly weaved together. It is a collaborative effort that can serve as a model for all Eritrean veterans who have the moral responsibility to record their stories and the stories of their fellow fallen combatants.
Dirar, Fessehaye and Ngusse have paved the way.
The goal in this and other similar endeavors is not, and should not be, to canonize our martyrs and make them above criticism, but to ensure that they are not forgotten. A society that doesn't know its history will muddle through its future aimlessly; and that cannot be a good thing.
The glory of Eritrean martyrs lies not in their strength but in their frailties, not in their wisdom but in their ignorance and limitations, but, amidst all of that, they had the audacity to dream big and commit to the lofty ideas of freedom and independence and the dignity of self-rule and rule-by-consent. It is the story of freedom fighters who were, in the words of Oscar Wilde, "lying in the gutter but gazing up at the bright stars in heaven."
The book, "Eritrean Liberation Front (ELF): Its Struggle for Freedom and Social Justice 1961-1982," is a great addition to the literature of the Eritrean Liberation struggle. I learned so much from it and recommend it strongly to anyone who has the slightest interest in learning about the history of liberation struggle. The seeds of our unity and disunity, and greatness and weakness were planted in yesteryears and it is crucially important that we make all the effort to know and understand our history. This is what this book affords us and we have Dirar Mantai, Fessehaye Hagos and Ngusse Tsegai to thank for. Thank you, gentlemen.
The book can be purchased by contacting: homibpublishing@gmail.com. Payments can be deposited at Wells Fargo Bank, Account#: 1129903587 and Routing#: 121042882.
---
Semere T Habtemariam is the author of the new book, "Reflections on the History of the Abyssinian Orthodox Tewahdo Church." Africa World Press, or Amazon