Hope From Pretoria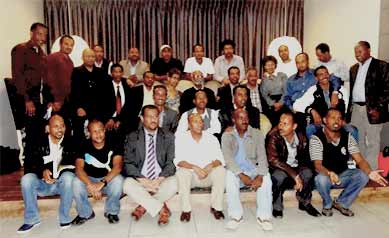 In a culture that is not strong on expressing gratitude the word "yeqenyeley" has evolved to mean, "Thank you," but its initial use seems to be more selfish and self-serving. It is simply used to express a wish of re-using an item again and again. The more accurate, refined and noble word "temesgen" is used almost exclusively for expressing gratitude to God. Interestingly the word "temesgen" lacks personal intimacy indicating the God of the Tewahdos, "Our Father who art in heaven…" is indeed not that personal. But who wants to go theological today; I just want to say "yeqenyeley" to my friends in Pretoria, South Africa who afforded us a great opportunity to focus on what is important. The workshop was, for sure, a feast of intellect; a bonfire of ideas that sparked a renewed zeal for a broad-based solidarity movement that is hoped to catapult the-movement-for-democratic-change to victory. Don't get carried away; it is just a workshop, but not just any workshop, there was something special about it. Perhaps it had to do with the spirit of Mandela; the spirit of Truth and Reconciliation. I guess it is one of those where one has to be there to know it; but one cannot help but hope that those who have been baptized will go on mobilizing the Eritrean people to stand up for justice and democracy.
But more on the workshop and my trip to Pretoria later; let me start with a story that was told by one of our gracious hosts, Asmerom Tewelde, who in our last day drove Semere Kesete, Abdurahman Seyed and me to the majestic Voortrekker Monument that celebrates the pioneer history of the Afrikaner. From the top floor of this great landmark, we were able to get a panoramic view of the scenic Pretoria; and if you are a history buff like me there is plenty of stuff to gobble.
Brother Asmerom is of medium height, of lighter complexion with a linguistic prowess aptly beautified with a sense of humor. Occasionally I pride myself with an encyclopedic knowledge of Tigrinya proverbs, but in a few short minutes, he succeeded in proving me wrong. I am not that great to be humbled, but it was the right pinch that awakened my thirst for Tigrinya wisdom. Listening to him is exactly what I did; concerned I might fit the description in his proverb, "wedi sebeyti's zereba ykhtr imber aykhteln." (Try translating that into English!) When I learned he will be studying law, I told him that he should be doing comedy or acting, and as a matter of fact he had a small role in the movie Beyond Borders that starred Angelina Jolie and Clive Own. He was, for the most part, the Tigrinya coach for the Namibian actors. Check him out, he is the one sitting on top of the truck and spoke in unmistakably Eritrean accent. The movie is available on Netflix.
Inda inqrbit Temen (House of scorpion and snakes)
The earthly possession of a couple included a cow, a sheep and a chicken. After some time of married life, the woman fell out of love and was scheming to get rid of her husband so she can have it all. She would put poison in the places she knew her husband will not miss; but the house-mouse will get there in time and remove it. This went on for some time and finally out of desperation, she asked her husband to buy her a mouse-trap. The mouse heard the conversation. She approached the cow, sheep and chicken and asked for their help; and all of them told her to get lost.
The unsuspecting husband bought the mouse-trap on his way from work and as they settled for the night, the wife put the trap in one of the places where she previously had the poison. Shortly after, she heard the click sound of the mouse trap and eagerly went to savor her victory. She was so confident of her prize that she didn't bother to verify if she had the right victim. She stretched her arm to pick up the mouse-trap and was bitten by a snake which was struggling to get out. She ran away screaming and fell on the ground, quickly losing consciousness and the husband rushed her to the hospital. She received the necessary medical treatments and was asked to stay overnight for further monitoring. The next day the doctor recommended that she gets lots of chicken soup to regain her health and strength. The husband had to slaughter his only chicken and when that did not make her get better, he had to do the same with the sheep. Unfortunately, all the chicken and sheep soup did not help her to recoup her health, and finally she succumbed fighting her last breath. The husband slaughtered his only remaining possession, the cow, for her tezkar, 40 days memorial; and was left flat broke.
The husband was left alone in the house without his prized possessions. He could not stand his loneliness, deprivation and sorrow and had to move out. There was no one to care for the house that it became a haven for scorpions and snakes –inda inqrbit temen.
It is in recognition of the fact that Eritrea has become inda inqrbit temen that Eritreans from different parts of Africa, Australia, Europe and North America, as individuals and representatives of civil organizations, met on May 9-11, 2014, in Pretoria, South Africa, to discuss issues of national importance at a workshop organized by EMDHR under the theme: "Strategic Thinking on Political and Socioeconomic Crises in Eritrea: Implications, Scenarios and Responses." The workshop was divided into four thematic categories: The Rule of Law and Constitutionalism, Socio-economic and Humanitarian Crisis, The Road to Democracy, and Transitional Justice and Peace Building. I presented a paper on the Road to Democracy and since EMDHR have not stated what they intend to do with participants' papers; I will not be able to share it with you, at least for now.
But in the beginning was the long trip to Pretoria; an almost 16 hour non-stop flight from Atlanta. The flight from Dallas to Atlanta was short and engrossed that I was with the companion I was reading, I was surprised to notice the plane slowing down on the tarmac. This is the only time I agreed with Delta's slogan, "You'll love the way we fly." Next-time, I take long trips, it better be first class; otherwise staying home or driving is the only option for me. In the last few months I put more than 6000 miles driving to East and West coasts, and experiencing Woody Guthrie's folk song, "This land is your land, this land is my land, from California to New York Island, from the Redwood Forest to the Gulf Stream waters, and this land was made for you and me." I found it to be a total bliss. After more than 24 years of studying, living, working and visiting in about 40 states, I'm still spellbound by the beauty of America and its endless possibilities. The beauty of its landscape, topography and vastness is only matched by the beauty of its ideas, and most of all by the crown-jewel of ideas: freedom. Having experienced it first hand, it is only natural that I wish it to the land of my ancestors and to the people I share a natural bond with. This idea is that inspires my political thinking and that animates my activism.
A prior arrangement was made where Dr. Bereket and I will meet in Atlanta. Having arrived about 40 minutes earlier I had the opportunity to charge my cellphone and continue conversing with my companion about the importance of literature and why we should care. Time quickly lapsed and as I hurried towards the escalade I saw the 80 plus year young Dr. Bereket swaggering past me. I said, "Hi, ami adictur" and he glanced towards me and responded, "selamat ya ibni," and we exchanged hugs. We had a couple of hours to spare and as soon as we reached our terminal, we found a nice place where the good doctor had a glass of wine and the wimpish me a cappuccino. Any time with ami aldictur is time well spent. Most people know Dr. Bereket for his impressive resume, but I know him as a caring friend, mentor, and advisor, confidante who has grown to fill the roles of an uncle and father altogether for me. During our long flight, Dr. Bereket sat in the seat behind me, and at least once, he came to advise me to get up off my seat every two hours and move around. After finishing talking with my companion, I watched the movie Lone Survivor.
When our plane landed in Pretoria and were passing through customs, we saw Fozzia Hassan who hurriedly came to greet us. I've neither spoken nor seen her for the last few years since I resigned from my EGS chairmanship; she was a member of the board. She is a single-mom raising two kids and I could easily appreciate her commitment to the cause of freedom. This was a workshop where everyone had to cover his/her own travel expenses. During the course of our stay in Pretoria, I was struck by how much she has matured and by her grasp of issues. Her colleague from London, Biniam Debessay, was an equal delight to see him talk; his passion for defending the liberation struggle is only matched by his intense desire to see a democratic Eritrea that he bravely fought for as a member of the EPLF mechanized unit. He is pursuing a degree in Political Science and his thesis is on Soft Power. (Way to go bud; can't wait to see more and bigger things from you and thanks for teaching me a new Tigrinya word!)
The tall, handsome, Hollywood like persona, Henok Haile was the one who drove us to our hotel from the airport in his 7 seat passenger SUV. I learned a lot about the generals and other military personnel, and how the system has emasculated them, life in military service, and the warsay-ykealo project from him. But most of all, I appreciated his insights about EMDHR and the opposition. He has an uncanny ability to simplify issues.
We had to wait for a few more minutes for Solomon Assefaw, from California, who had arrived a bit earlier, and took a taxi instead. Solomon and I have spoken over the phone once or twice in the past, and based on what I have read online and the many rumors I heard, I didn't expect a jolly-good-fellow who I would instantly like and celebrate. If you like the Asmarino lingo and humor, he is the man. He strikes me as someone who is more comfortable with action than with words and his no-none-sense approach is quite refreshing. Solo is very caring and generous with a personality that is hard not to like. Put some red costume and a white beard on him, he would make a great Santa.
After showering up, we went next-door to a restaurant (actually few blocks away) where our hosts and other quests were waiting for us. We met with the indefatigable Human Rights advocate, Elsa Cherum, the talented and affable Abdurahman Seyed whom I had met in the Netherlands about 12 years ago, the tough and strong-willed Semere Kessete, Binian Debessay I had mentioned earlier, and the extraordinary AAW—Ambassador Andebehan Woldegirogish or simply Andy, a term that reminded him of his old school days. We also learned that Dr. Assefaw Tekeste was not able to join us for the conference. It is also here that we met most of the leadership of EMDHR: Kuluberhan, the chairman, Dr. Adane, the Treasurer Abdelwas'I, Tesfalem and others their names escapes me. It was a group of people that I immediately felt at home with.
It was after breakfast the next morning that I met Abdurazaq Kerar from Australia. I had met him before in Geneva, alongside Yassin, Elsa Cherum and Amaha Domenico, during the UPR sessions where all of us, except Elsa, came representing the Awate Foundation. Abdurazaq had translated two documents into Arabic at my request before and it was basically a reunion of old friends. It is here that I met the many people that make EMDHR. I'm not going to list their names for fear of leaving out some. But, it is really nice to meet with people of different background like the botanist Dr. Michael Bairu or the civil engineering Ph.D. candidate whose name escapes me, who seem, due to their scientific training, look at things logically and more clearly. I particularly enjoyed Meron's Elite Theory presentation.
The opening remarks were given by the leaders of EMDHR: Kulubrehan, Dr. Adane and Tesfalem. Dr. Adane is an expert in peace building with an extensive experience in the region which proved to be an important asset in our deliberations. It looks like Adane's and my path have crossed when we were kids in Mendefera. I'm sure the temperament and equanimity of Kulubrehan had a lot to do with the success of the organization that was led since its establishment by my friend, Samuel Bizen. I've always equated EMDHR with Samuel for he is the one who introduced me to it. Listening to his speech on the last day proved me that I was right. After so many emails, chats and phone-calls, it was really a treat to meet Samuel and I hope to see him soon, hopefully in Asmera.
A former minister who is a member of ANC leadership was invited to share his experience in the long struggle against apartheid as well as in the democratically elected government. I was struck by two things he said: the propensity of small countries to hatch endless number of organizations and how difficult it is to try reconciling organizations that don't have ideological differences. The ANC was able to overcome the challenges because it was the by far the strongest and most influential organization that wisely and in a spirit of magnanimity reached out to the smaller ones and included them in the process. He exhorted that we should never enter into negotiations if we are not ready to make compromises.
The candidness with which the deliberations were conducted was a milestone. The spirit of camaraderie and solidarity was evident in the way people eagerly embraced each other. But most of all, there was an enthusiasm to be part of the solution; and expedite the end of tyranny. It looks the muddy waters are finally settling down where people can see the urgent and the important, the important but not the so urgent, the manageable and the unavoidable, and the avoidable and the unmanageable.
weriz@yahoo.com