Ahmed Suwera: An Honorable Man Departs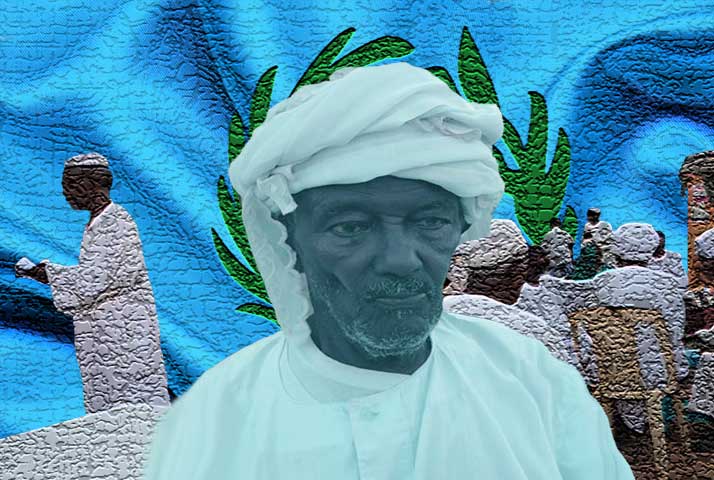 Today, the Khartoum sun didn't shine on the selfless Ahmed Suwera. He departed this world leaving behind a legacy of a dignified and inspirational life despite old age and neglect. The country for which he spent all his life was not welcoming. It has become a private ranch for a regime of tyranny. Ahmed Suwera sacrificed his life to see tyranny erased from his homeland. Yet, he didn't live to see a free Eritrea, he just heard of a liberated land.
Suwera was an inspiration to all those who valued honor and dignity highly. He spent years of his life distributing leaflets and magazines to the people in the streets of Sudan, and continued to do long after his eyesight became weak. He lived a taugh life but kept his dignity and honor. He taught the meaning of dedication  and kept candlelight of hope alive. Today Eritrea buried part of its soul, part of its body, in Khartoum. Suwera's pious remains has been exiled from Eritrea, just like he lived his life in exile. Today, Eritrean activists lost an inspiring and stubborn patriot. We all lost an exemplary man who embodied in his being a genuine love for his people and country. We lost Ahmed Suwera, we lost one of our heroes.
Ahmed Ismail Ahmeddin, also known as Ahmed Suwera, was born in 1936. In the 1959, he joined the Eritrean Liberation Movement, under whose banner he struggled until 1963 when he was arrested by General Aboud's government in Sudan. Together with others, the Sudanese government handed him over to the security apparatus of king Haile Sellassie that jailed him. However, soon he managed to escape and return to the Sudan where he joined the Eritrean Liberation Front with which he remained until he joined the ELF-UF.
In 1996, Ahmed Suwera co-founded the Eritrean Initiative Group, which itself was a co-founder of the Alliance of Eritrean National Forces, the precursor of the Eritrean Democratic Alliance, an opposition umbrella.
Suwera Human Rights Group which was established by Yassen Mohammed Abdella in Sudan is namd after Ahmed Suwera in recognition of his tireless struggle for the freedom of his people.
On November 19, 2016, Ahmed Suwera, the hero who had dedicated his life to the service of his people, died in Khartoum. The man proudly stood tall, similar to the highest Eritrean peak, Mt. Suwera, with which he shared the name; he remained true to his cause until he breathed his last breath.
On this occassion, we call and encourage Eritreans all over the world to organize evenings to pay homage and tribute to such a rare human being.
May God bless the soul of Ahmed Suwera, and our condolences to his family, his friends and his colleagues. May the Eritrean people be compensated for the loss of a true patriot who loved his people and country.
Additional information courtesy of Yassin Mohammed Abdella and Abubaker Fretay