Yet Another Lawsuit Hits Canadian Mining Company Nevsun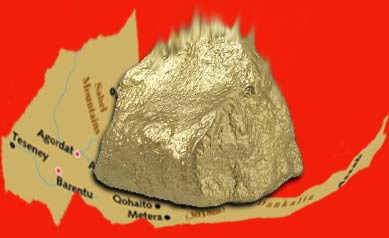 On behalf of three Eritreans, a Canadian legal team has filed a case in Vancouver and is suing Nevsun Resources Ltd, a Canadian mining company.
The Canadian legal team is, "comprised of Vancouver law firm Camp Fiorante Matthews Mogerman (CFM), Ontario law firm Siskinds LLP, Toronto lawyer James Yap and the Canadian Centre for International Justice (CCIJ)"
According to a press release issued today, the case against Nevsun was filed "for slave labour and crimes against humanity."
As reported by Gedab News on July 2, 2013, such a lawsuit was apparently encouraged by the extensive report issued by Human Rights Watch on January 3, 2013. The report under the the title, "Hear no Evil: Forced Labor and Corporate Responsibility in Eritrea's Mining Sector," stated that, "Nevsun's experiences show that by developing projects in Eritrea, mining firms are walking into a potential minefield of human rights problems. Most notably they risk getting entangled in the Eritrean government's uniquely abusive program of indefinite forced labor—the inaptly-named national service program."
The report added, "Through this program the Eritrean government keeps an enormous number of Eritreans under perpetual government control as conscripts. Originally conceived as an 18-month program, the national service scheme now requires all able-bodied men and most women to serve indefinitely, often for years and with no end in sight, under harsh and abusive conditions. Those who try to flee risk imprisonment, torture, and even reprisals directed against their families."
Nevsun operates a mining concession in Bisha, a region 40 Kms. west of Agordat, a town in western Eritrea. The Bisha mining company is jointly owned by Nevsun Resources Ltd. and the Eritrean ruling party.
Several contractors and sub-contractors involved in Bisha gold mine, that are owned by the Eritrean ruling party, are known to use free labor extracted from conscripted Eritrean youth.
According to the press release, "the case is before the B.C. Supreme Court because Nevsun, which owns a majority share of the Bisha mine, is headquartered in Vancouver and is incorporated under the laws of British Columbia."
Several Canadian companies partner with repressive regimes and operate in countries where there are prevalent human rights abuses.
According to the press release, "The lawsuit… [is] based on the international law prohibitions on forced labour, slavery, torture and crimes against humanity. It is one of the first human rights lawsuits in Canada to assert claims based directly on international law."
Last month, Nevsun was under UN scrutiny for its shady deals with the Eritrean Government. The company has a history of stonewalling human right groups and UN agencies on questions related to its financial dealings with the Eritrean government.
According to a recent UN Somalia Eritrean Monitoring Group (UNSEMG) published on Oct 25, 2014, when asked by UNSEMG  to verify  that "hard currency raised through mining  revenues was not appropriated  for the purpose of supporting activities that would constitute a  violation of resolution 1907 (2009)", Nevsun refused to disclose any financial records or statements by citing numerous confidentiality agreements with the Eritrean government.
But when UNSEMG asked similar questions to Ambassador Tesfay of Eritrea, he stated that UNSEMG, "should direct specific questions to Nevsun, especially on issues related to the issue of how payments were being transmitted to the Government of Eritrea."
Earlier this summer, before settling a multi-million class action lawsuit on behalf  Nevsun stockholders, the company stated that the only way it would disclose any financial record is if a court in Eritrea compels it to do so.
Related Reading:
Nevsun Resources: Slave Labor At Bisha Mine
Hear no Evil: Forced Labor and Corporate Responsibility in Eritrea's Mining Sector