Tragic Tales Of Eritrean Families: Mohammed Said Abdella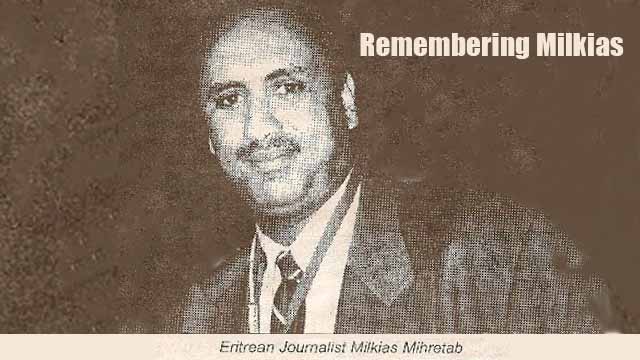 Yesterday, March 26, 2021, we received a shocking news. Milkias Mehreteab Yohannes, one of the best writers awate.com ever hosted, has passed away. We will republish several of his articles on a weekly basis. This article was first published on Nov, 13, 2010//Awate Team
One thing that greatly disturbed and puzzled me in my life as a journalist in Eritrea was the case of Eritreans who disappeared; those who went into thin air—guday dehay zeybelom sebat. I am still asking questions and wondering without getting any kind of answer about their dilemma. All the time I ask myself the same questions without getting answers. How do you deal with a situation when one of your family members disappears for a year? Maybe for  five or ten  years?  How about nineteen years? How do you keep your sanity when your brother, father, son or daughter has evaporated without a trace for a very long time and what do you do? How do you deal with the excruciating pain and the feeling of not knowing what happened? How do the mothers and the "widowed" women deal with the fading of their fiancés, husbands, sons and relatives for a long period of time? Is there any medicine or mechanism to deal with such an unbearable tragedy?
For those of you who luckily do not have anyone from your family member taken away, just do the following to at least feel a fraction of the pain that the families of the disappeared Eritreans feel: stop calling or talking to your loved ones for a year, two years, or five years! You will at least understand a little bit of what I am talking about. Luckily, and glory be to the Almighty God, I am not a victim of such calamity. But as curious citizen and a journalist, for some time now, I have been observing and following the heartbreaking stories of the disappeared, those whose where about are unknown since a long time, the missing, Guday halewatom zeytefelete zegatat.
One cold night in Asmara, I was coming from a friend's house in Sembel when I met Kalthoum Ibrahim Mohammed; I was on one of the mini bus taxis that are popularly known as Gemels. These modes of public transport, though efficient and affordable, are crowded by all sorts of passengers. I heard someone shouting "Masterie, masterie! (my nick name). When I looked back, I saw my friend Dia M. Said standing with a very beautiful young lady. We greeted each other and agreed to meet the next day. When we met, I asked him, "Man, you have a beautiful sister? Kidney ke tisibik iya wedey habtikha! My friend Dia, in his always humble demeanor, started laughing heartily and replied, "aye masterie, nsa dea adey indya!''(Oh man she is my mother!) I couldn't believe him. Can such a young woman be his mother! That is how I came to know Mrs. Kalthoum Ibrahim Mohammed, her great family and the painful life they lived because of the horrendous fascists of the Higdefites republic of Eritrea.
In the early seventies, Kalthoum was married to Mohammed Said Abdella, a young, energetic and a successful businessman. Both were Tigre from the vicinities of Habero in the Sahel region though Kalthoum grew up and spent most of her time in Keren. They came from prominent, God fearing, highly respected families. Though not educated in business management and he didn't have a master's degree in economics, Mohammed's business acumen and insight in trading was legendary among those who knew him. He and his young bride Kalthoum traveled to many places in search of business opportunities to make a living. Where ever he went, Mohammed Said quickly established himself and became good at what he did. Kalthoum has many fond memories of them in different places all over Eritrea and in other countries. Eventually they settled in Asmara and opened a mid-sized store, Sahel grocery, in downtown Asmara. Business was good. Mohammed Said was a hardworking individual and he toiled day and night to fill his store to help his extended and growing family. Even in the early nineties, the days of shortage and siege, when Asmara was under the Derg, Mohammed Said's Sahel grocery was full of essential stuff and hard to find goods, a testament to its owner's hard work and dedication to his trade. Those who know him remember him not for his business talents, his trading knowledge, customer service skills, his wealth or trading proficiencies but for his humanity. He is still remembered for his immense generosity and by the compassion he showed to those who were less fortunate, the destitute souls of the city.
From the old housemaid Adey Amete, who was with the family for more than 20 years, to the street children who didn't have a family to help them, they all weep when they tell  Mohammed Said's stories of unbelievable kindness to strangers and his limitless sympathy to help anyone regardless of their creed, religion, tribe or status. From the simple Asmaran Housewife who runs short of money to buy a kilo of sugar, to an old lady who is in need of money to go to Mariam Daari pilgrimage in Keren, Mohammed's hands were always open. Kalthoum told me that sometimes her husband's unreserved generosity and charity was a source of conflict between them. She raised legitimate questions and concerns: "How can you help everyone at the expense of your own family? You need to save. You can't be responsible for all these people?"  But Mohammed was unstoppable, even in a time when business was not so good and the demands of his expanding family was growing. People who came from the countryside to Asmara, did not worry about food and lodgings if they happen to know "enda Mohammed said" whose house resembled a big hotel (Albergo) with ten or twenty guests sleeping there at a time. He provided food, lodging, and amenities for that many people for free, for days or months when for others, hosting a single person for only one week would be so difficult.
Mohammed Said lived for only three years after the independence of Eritrea, until the Era of slaughter and destruction for many Eritreans, especially our Muslim brethrens, was heralded by the Eritrean regime. Sometimes in 1994, a pick-up truck with a tinted window was parked across Sahel grocery. As usual, Mohammed came around 9 am to open his store; but he was opening the shutters, two men approached and asked him, "Are you Mohammed said?''
"Yes, intay delikhum zom ahwatey?" He replied. He might have thought they were looking for some kind of assistance, to ask him about a direction or something of that sort.
"We need to talk to you for a moment (hansab delinaka alena….)." The men replied.
The bewildered Mohammed Said asked, "Are you all right, what is wrong? At least let me open my store (bdehan diyu? imo hansab dukan kikheft…)
"No, you will open it after a while, we need to talk to you and you will be back soon, it will not take much time." The men said.
A few people saw the drama unfolding in that fateful morning of 1994, when the two plain clothed men accompanied Mohammed Said and sped away in the pick up truck; no one ever saw Mohammed Said Abdella after that.
The generous entrepreneur, the kind hearted and pious family man, the compassionate and and God fearing Eritrean citizen from Habero Sahel, Mohammed Said Abdella vanished into thin air; a great catastrophe and untold calamity fell upon his family.
Imagine the deep sadness, the nightmare, the broken heart, the anguish, the endless terror his family went through since 1994 to this day?
A husband or a father in Eritrea (and almost any where else) is the pillar and the strength of the family. The Father (Abo) is a provider and educator of his children, protector of his home and family, a leader and signpost of continuity and survival of the family unit. Losing a father or a husband in traditional societies like Eritrea is tantamount to a death sentence to many families, and the damage is catastrophic.
As any wife in a similar situations will do, the young Kalthoum was fearful but didn't want her apprehensions to affect her young sons (The eldest Adil was around 14). Together with her family and friends she begun frantic search for Mohammed Said all over the place—Police stations, Kebeles, Administration offices (Mimhidar), detention centers, Military camps. Every where.  No one knew where Mohammed Said was; time went by without any trace of him. Sometimes there were flickers of hope: some one said that he saw Mohammed Said and other prisoners in the town of Ghindaa. Kalthoum would leave every thing behind and travel to Ghindaa to look for her husband; sometimes she spent months without any success. Another person would claim that he thought he saw Mohammed Said in Hagaz (nmohammed said ab hagaz zireakhuwo yimesleni). For the anxious and dispirited family, this seemed like a breaking news and Kalthoum and her sons will travel to Hagaz in search of Mohammed Said abdella, Ybba, as he was fondly called by his children. The lead would turn out to be useless.
Mohammed Said Abdella was a blood relation of the Eritrean police chief, Brigadier General Musa Rabaa. In a normal country, even in a traditional tyranny, you would expect the chief of the police to know a thing or two about the imprisoned and detained citizens. But Eritrea under the demagogue Isaias Afewerki, is not a normal country and the police chief, not only didn't know anything about the disappeared citizen, he was not sure of what might happen to him the next day. He told the pleading  young wife, Kalthoum Ibrahim: "Let me tell you the truth, stop looking for your husband and just  concentrate on  your kids. Let alone knowing about youre husband's fate, we don't even know our own fate." ( Nnebsina ikwa ayfeletnan zellena)
One would think that this would be the end of Kalthoum's quest. Wrong. A families of a missing  person would never give up or cease their search. They always dream that one blessed day their loved one would come back. For sure. They hopfully say that, "He must be somewhere in prison and he will definitely come home! He could not fade away like that, one day he will return and come to his family, soon; it is just a matter of time…" 
Some times in 1999, there was a widely spread rumor in town that many political prisoners will be released on the occasion of the New Year and the beginning of the new century, 2000. Secretaries in office of the president, some journalists in the ministry information and other officials said that the president would pardon and free the prisoners. The joy in the faces of the families of the missing persons was evident. As a close friend and a confidant of the Mohammed Said family, I was elated by the great news though deep inside me I doubted its veracity; the sadist, Godless and evil Eritrean regime would never do such a thing—does the Khmer Rouge of Cambodia, the Nazis of Germany or Kim Jong Il of North Korea ever free any political prisoner? But I didn't show any sign of doubt and waited anxiously with the family of the missing. Mohammed Said's house was painted with fresh bright colors, new carpet was installed, things were tidied and organized; everyone was full of hope and in high spirit to welcome Mohammed Said. The year 2000 arrived, days passed and became weeks but nothing happened! Soon reality sunk in, and I cannot the feeling of sadness and the dejected looks on the faces of the family. Their spirits were utterly crushed and air of total hopelessness and the unimaginable misery reigned in the house!
The endless saga of destruction and horror stories in Eritrea is never ending. The sad families of Eritrea are still watching the situation patiently. And I will continue to write yet another chapter from the Eritrean regime's Book Of  Hell.
________
coming soon…