Paris and New York: The Tale of Two Eritrean Diplomats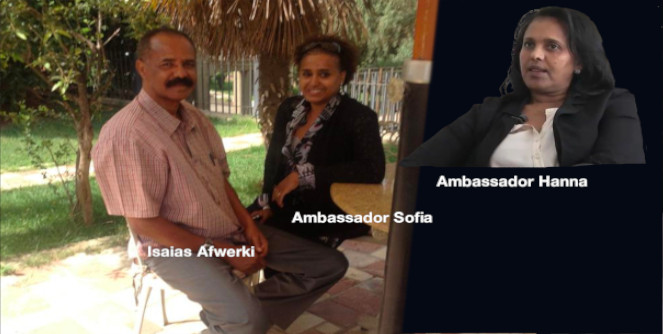 Gedab News learned that Hanna Simon, the Eritrean ambassador to France, has been recalled back to Asmara, but she "is reluctant to return."
According to our source, Ambassador Hanna has written a critical report to Osman Saleh, the official Eritrean minister of foreign affairs. Osman rarely travels alone on diplomatic missions; he is always shadowed by Yeman Gebreab who is widely identified as the presidential advisor though the Eritrean government never issued a statement announcing his appointment to any government position.
Minister Osman has communicated his disapproval of the report Hanna submitted, but the ambassador is believed to have said "her report is factual and honest."
Since a few months ago, President Isaias has been pressuring Osman Saleh to get Hanna back to Eritrea though "he knows only Hanna herself can decide whether to return To Eritrea or not."
Views are divided among the close circle of the president some of whom have already started a rumor about ambassador Hanna's private life, and "her romantic relations."
Isaias Afwerki is angered by Hanna's report in which she harshly criticized the agreement reached between "president Isaias Afwerki and prime minister Abiy Ahmed concerning the establishment of an Ethiopian navy in Eritrean waters."
According to an agreement reached with Ethiopia in March 2019, France agreed to provide technical support, "capacity building and structure."
Meanwhile, Isaias Afwerki has appointed his close friend Sofia Tesfamariam as his ambassador to the United Nations.
Sofia is a naturalized American citizen, born in Ethiopia, and raised in Zimbabwe for most of her adult life. She has been living in the USA for many years.
Eritrean opposition activists are unhappy with Sofia's appointment, particularly since it comes a few days after a tragedy in the Mediterranean Sea, where over 130 people, including dozens of Eritreans, drowned.
In a similar tragedy in October 3, 2013, when a ship capsized causing the drowning of 366 Eritreans, Sofia mocked the victims as "children of rich people who had the means to travel to Europe."
An activist said, she is "a vile person with a record of mocking the victims of her friend the dictator, and it is a mockery to reward her with such a high position."
In Eritrea, appointment to all the senior positions are made by the president alone, and "he doesn't have to go through the parliamentary approval process because it is a one-man rule with no legislative body."
Related reading:
The Lampedusa Tragedy: A Chronicle