One More Nonagenarian Star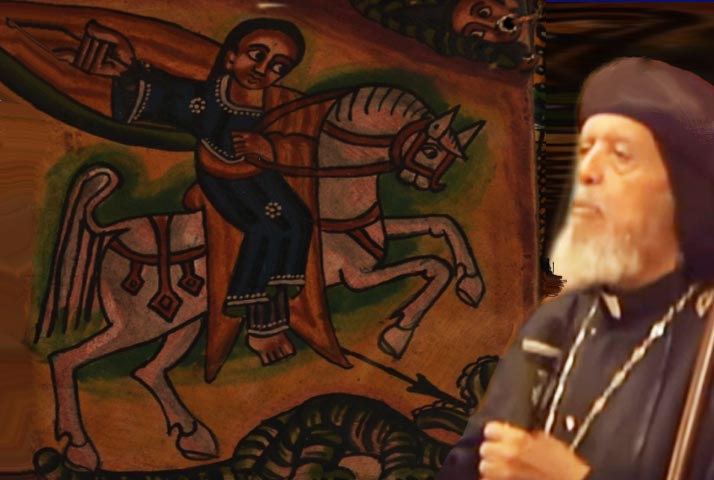 His name is H. H. Abune Makarios, an inspiring and pious church leader. In 2009, His Holiness Pope Shenouda III, Pope of Alexandria and Patriarch of All of Africa on the Holy Apostolic See of St. Mark the Evangelist, assigned H. G. Abune Makarius to serve as bishop (overseer) of the North America Diocese of the Eritrean Orthodox Church.
Abune Makarios has always remained a true embodiment of his faith and preached peace, honesty and solid belief in God. By doing so, he has inspired many believers to examine their role as humans and as Eritreans.
A churchgoer said, "Every time Abune Mekarious take the podium, he brings a fresh and inspiring message." His latest speech which we found on Youtube (courtesy if Simerr TV) is no different.
The video was recorded in Umea, Sweden and it is 2 hours long. The entire video is full of wisdom, humility and a message of peace and unity. We thought of translating the entire message but found the task to be gargantuan. Therefore, until someone takes the challenge and volunteers to translate it into English, we opted for a different way to get you to help by exerting little efforts.
The speech is full of quotable quotes; picking the insightful and wise quotes would be very beneficial to all of us. That is why we are announcing a competition to see who catches the best quotes from the 2-hour long video.
We encourage you to listen to it and catch quotes that you like and then post it on the forum under this page. We will continuously copy select quotes from what you post and add it to the content of this page. At the end, we will find a way to rank the best quotes. Any takers?
For a start, here is a quote we picked: "Religion came to us, we didn't go to religion."
That is apparently a message to those who think they have more ownership to Eritrea because they belong to one sect or another; Therefore, we were one people when the preachers came to us and our ancestors made different choices.