Negarit 41: ደላሎ ፖለቲካ – سماسرة السياسة – Political NGOs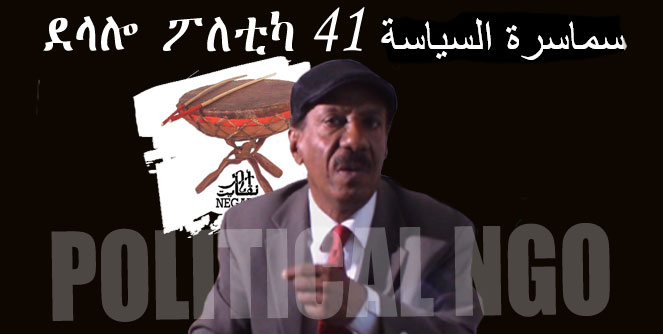 ደላሎ ፖለቲካ – سماسرة السياسة – Political NGO
Dellala: Political NGOs

We saw them off crossing the river
We saw them off fly to the grey skies
That didn't (and will not) fall
We saw them off…
At the banks of the River Thames
We saw them off…
At the Gatwick terminal
They waved, we waved
They cried, we shed tears
And we ululated
As we saw them off to Belgium.
Some caught the Shnell Tsug
(Now baptized, The Reisen Express)
It's an excursion to Brussels
Where they will stroll the fairgrounds
To sell and buy stale products
At the political stalls, and dark kiosks
The money-changers will announce the wares
With shy megaphones
They'll  make a kill, a seasonal loot.
And the bidders will head South
Or, so they declared
To Wed'lhelew, to Wed-sherife
To Kilo 26, to Aroma, to the rest of the desolate camps
But the flight captain lost his navigation map
The plane headed West instead
It will soon land in the land of the peanuts
To recruit more uncles, and aunts…
A four-man crowd waited at the terminal.
Soon the season will be over
The Kangaroo trip will be declared a success
B'Awet tezazimu!
Then it's time for migration, like birds
With fake peacock feathers…
Do peacocks migrate, or just gracefully pace?
But birds with fake feathers do migrate
Back to frigid Europa
Where the Reisen Express is planning
For yet another excursion, for the next season
Another season of expected bounties
In the land of political enterprises.
Come Ethiopia, come all
Come Djibouti, come all
Come Sudan, come…which Sudan?
Come Somalia, in many pieces
Eritrean Dellalas have peace for you,
And pieces for their people
Long live destitution
Long live auction markets
Long live the political stock market
Where sufferings fetch the highest price,
Where pretension goes for charity
Where workers curve steel wedges
For the dire markets of 2011.
Long live the Eritrean misery
Long live the deep pockets…
Dollars and silver…
But not a cent for the hunched back
Eritreans, who carry the label on their shoulders
The discounted sales price of their misery.
Saleh Johar- Jan 12, 2011
Related link: https://awate.com/eritrea-the-endangered-brown-frog/