Miriam Was Here In Tigrinya Coming Out In July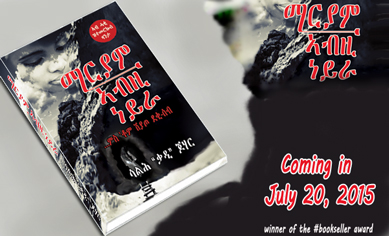 It's with great pleasure that I announce that the Tigrinya translation of my last book "Miriam Was Here" is now accomplished. The translation took almost a year and another several months in editing, checking, proofreading, cover design and registration.
I am also glad to announce that I received the prestigious "#BookSeller" award from the PFDJ supporters who were generous enough to offer the award before the translation was finished. I am grateful to them.
The book will be available starting July 20, 2015 and as always, I would appreciate your help in distribution. I kindly ask all my friends and allies who are willing to volunteer to help me distribute the book all over the world to contact me on either on facebook, twitter or e-mail so that we can work out the shipping arrangements.
MIRIAM WAS HERE describes the ordeal of Eritreans: parents, enslaved youth, sexually exploited victims, distressed parents, victims of human trafficking and organ harvesting, neglected refugees, betrayed veterans of the struggle era, and many others. The story is told in 28 chapters contained in over 300 pages.
Writing in English might have limited my reach to my Eritrean audience and that is why many of my readers have been appealing tome to translate my work into Arabic and Tigrinya. I have tried to compensate the readers of both languages: Miriam was Here is coming in July; my other book "Of Kings And Bandits" is coming in December in Arabic.
I hope Tigrinya readers will find the book worthwhile and enjoy reading it in just one month.