Major General Ahmed Kakay Died A Prisoner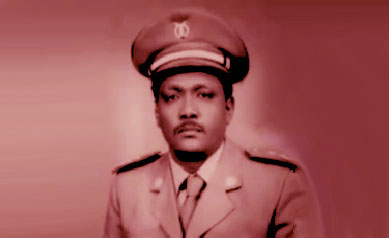 After wrestling with illness for a long time, on Saturday February 15, 2015, Major General Ahmed Omer Kakay finally succumbed to his illness and died in a Khartoum hospital. He was in his mid-sixties.
General Ahmed was under house arrest since the January 21, 2013 rebellion known as the Forto Mutiny. He had played a role in negotiating with the leaders of the mutiny most of whom were soon imprisoned; Colonel Saeed Ali Hijay, the leader of the mutiny was killed in cold blood after he surrendered. Many of the officers and soldiers who were under his command were soon made to disappear. Still others, including Major General Ahmed Kakay, were put under house arrest.
Scores of senior leaders of the PFDj were also arrested, allegedly, for being instigators of the mutiny. Among them were Abdella Jabir and Mustafa Nurhussen, both members of the central committee of the PFDJ. Abdella was the organizational affairs director of the ruling party, and Mustafa was governor of the "Southern Zone."
Once under house arrest, the government disconnected General Ahmed's telephone line and confiscated his cell phone. For two years he lived in seclusion disconnected from the outside world to the extent that he couldn't attend his relatives' weddings or funerals.
Several months ago after his health deteriorated and he was near death, the government reluctantly allowed him to travel to Sudan for medical attention. Though a senior military officer, he left Eritrea as a common person on a common passport.
His relatives had accompanied him to Sudan since he was immobilized and couldn't walk on his own. The government didn't offer to cover his medical expenses and it was paid for by funds raised from his relatives and friends, mainly those residing in Saudi Arabia.
He suffered from liver disease and chronic malaria.
According to sources from within the regime, "to save face, after his death, the government transported his body to Asmara where it announced a funeral is planned for Wednesday."
A longtime colleague of General Ahmed told Gedab News that "he was a dedicated military man who had little interest in politics and avoided conflicts, always preferring to remain neutral, above the intra-party squabbles."
Ahmed Kakay was born in Afta, a village in the environs of Zula. A veteran of the armed struggle, he joined the Eritrean Liberation Front in the mid 1960s at a very young age. A few years later he was among the founders of Popular Liberation Front under the leadership of the late Osman Saleh Sabbe. In 1977, when the PLF split, he moved on with the EPLF under the leadership of Ramadan Mohammed Nur.
Major General Ahmed was a member of the non-functioning central committee of the ruling party whose many members are either dead, exiled, imprisoned, or made to disappear.
The general's colleague added, "while PFDJ was celebrating the Silver Jubilee of the battle of Massawa for propaganda, Petros Solomon [the commanders of the battle of Massawa] was suffering in jail with his wife, and General Ahmed Kakay was breathing his last breath in Khartoum. The cause for our struggle is betrayed."
General Ahmed Kakay is survived by one daughter.