Hajji Mussa: Awate.com 2017 Man of The Year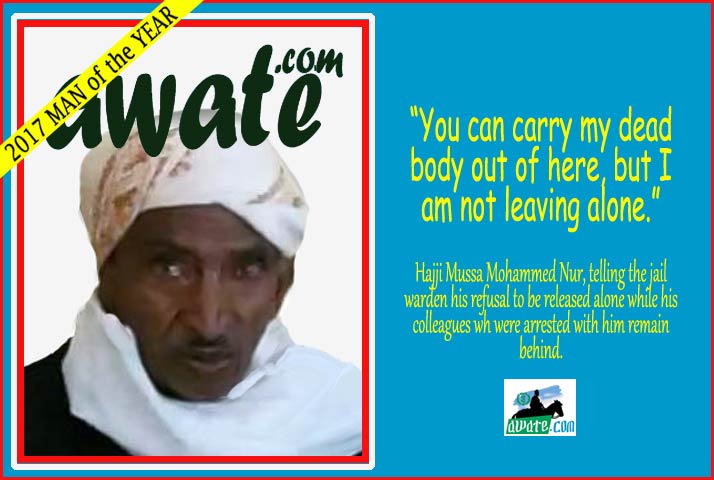 On Friday, October 20, 2017, the Eritrean security forces arrested Hajji Mussa Mohamed Nur and scores of others from different parts of Asmara. He is the Board Director of Al-Diaa Islamic school. The school is a private community school established in the 1960s by the late Ustaz Mohammed Bashir Ahmed. Hajji Musa is a respected elder and the president of the board that openly rejected the government's interference in the school's affairs.
A few days earlier, thousands of people from the community had gathered at the school compound to be briefed by Hajji Mussa and other board members concerning the government's attempts to confiscate the school. Both the school board and the community members had stated their rejection of the government's attempts and promised to protect the institution that they established with their efforts and private resources.
Hajji Mussa has become sick due to the harsh situation in the jail that a man his age cannot bear, and the government decided to release him from jail and put him under house arrest. When the prison warden informed him of the decision Hajji Mussa refused to walk out of the prison alone unless all the other prisoners who were arrested with him are released. He defiantly told the warden, "You can carry my dead body out of here, but I am not leaving alone."
Hajji Mussa's courageous defiance against injustice has inspired all Eritreans of goodwill in an unprecedented way. His exemplary defense of his rights and the rights of Eritrean citizens has emboldened the Eritrean justice seekers camp. His arrest and the subsequent demonstration that followed his arrest is now considered a turning point in the Eritrean struggle against tyranny and injustice.
Awate.com is proud to name Hajji Mussa Mohammed Nur, the Man of the Year for 2017.