Eyewitness Report: A Glance At The Situation In Eritrea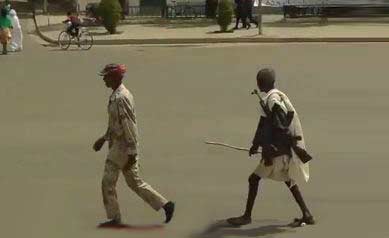 It has been a while since rationing of essential consumer items started in Eritrea. It has been since power became so scarce that Eritreans visiting home carry big quantities of candles. Tap water is almost nonexistent and the sanitation in Asmara and other towns is worrisome. Even with oil price have been dropping for months, petrol is rationed. And those who have a ration, particularly taxi drivers, receive their share of the rationed gas and sell it on the black market. Because the government fixes taxi fares, taxi drivers make more or equal money by staying off the road. And many do just that: relax at home.
Yesterday, member of the Awate Forum (nicknamed Hager) who says he just returned from Eritrea, posted a comment that we thought would shade some light on the dire situation in Eritrea. Below is the report with minor editing:
I didn't see any Giffa for the time I was there. There is a call for military training but people are refusing. For the military training they are calling them to report to Gergera. From one village I know, only two people went. As you know, now it is the harvesting season back home. <em>Kewee</em> is great but the problem is there is no manpower to do the labor. Everywhere you go, you see women harvesting Taff.


.

Fuel shortage is unbearable. Not a single gas station sells fuel. The only option you have is to buy it from the black market. At times I paid 120nkf pet liter for benzene. In every corner of a street in Asmara you see underage kids with empty Coca-Cola bottles ready to sale you benzene. Electricity shortage is very bad. At one time I went three days without my cell phone because I couldn't charge it.


.

Some price of goods


.


* Sugar is 50nkf /kilo* Bread is 3nkf each
* Egg is 8nkf each
* Coke or Sprite (Made in Sudan) is 25nkf each


.

I didn't see any military in Asmara or anywhere. The presidential palace has guards 24/7 but that is.


.

Didn't see much checkpoints. For example, from Asmara to Mendefera there is one right before you get to Dubarwa but they only check the trucks and bigger vehicles. There is one right before you get to Mendefera and it's the same thing.


.

I came back without running into a single person who is grateful for what the government is doing. It seemed to me that everyone is trying to find a way to get out of the country.


.

Corruption is above the roof. I encountered it myself. I knew if I didn't pay, my job won't get done (at least on time).


.

Safety was good. You see people at 11 O'clock at night walking all alone.


.

Transportation is a mess. Half of your time is spent waiting for a bus or a mini bus. The lines are very long.


.

Sanitation is unbearable. Not a single restaurant, or public service place I visited, had a running toilet or running water. Heck, in some cases I had to do what I had to do and use a newspaper.


.

Immigration…..now they issue you exit visa for ten years. Meaning if I return to Eritrea within ten years, I don't have to go and get an exit visa.
I know I am all over the place, but hopefully what I have written would give you a glance of the situation in our motherland.