Eritreans in Egypt Demonstrate in Solidarity With Al Diaa School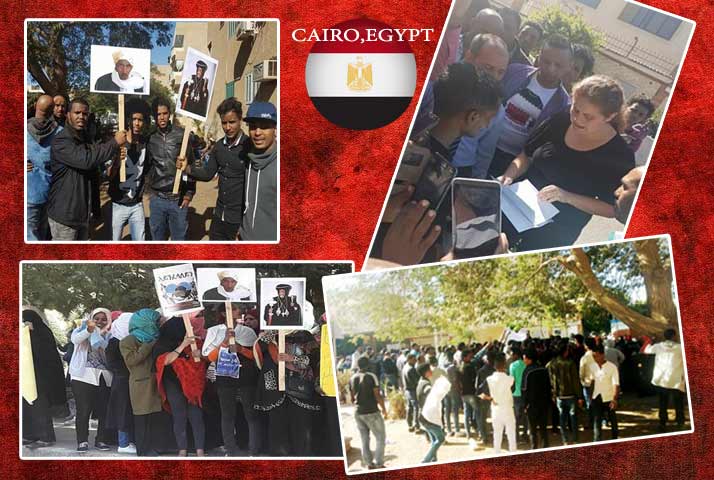 Report by: Mohammed Hiyabu
More than 400 Eritrean refugees in Egypt held a massive demonstration, Sunday morning 5th of November, 2017 in the Egyptian capital Cairo in solidarity with the Deya'a school in Asmara, Eritrea. The refugees flocked from different parts of Cairo and gathered in front of the UNHCR office in the city of 6th October. The demonstrators chanted slogans condemning the Eritrean government and its President Isaias Afwerki and the violations and heinous practices it wields against the administration and students of the Deya'a civil school recently in Asmara in particular and the grave violations committed against Eritrean people throughout 26 years in general.
The demonstrators also carried pictures of Sheikh Musa Mohamed Noor, head of the board of the Deya'a school, who was arrested by the Eritrean authorities amid the breakout of the school issue recently, and pictures of the Pope of the Eritrean Orthodox Church, who was put under house arrest by the same authorities' long time ago. They also for national unity between Muslims and Christians in Eritrea, which the ruling regime always try to exploit this sensitive issue in an attempt to justify its gross human right violations and elongate its reign in power. The Christian and Christian protesters stressed that the Eritrean regime does not represent a certain religion but is hostile to all Eritrean religions and values, and always try to exploit the religious and national differences in Eritrea for its malicious and narrow interests. They called on the Eritrean people at home and abroad to pay attention to these evil schemes of the regime and strengthen their national unity for freedom, justice and the rule of law in which all can people live in peace regardless of their religious and ethnic differences.
The protesters called on the UNHCR and all human rights and humanitarian organizations to care more about the forgotten Eritrean people's issue and its rights, which denied and violated by the Eritrean regime. They urge all the agencies and countries to help Eritrean people and, especially with regard to the issue of Eritrean refugees and emigrants, who flee the hell of the regime and face suffering and tragedies in their perilous journey of refugees seeking freedom and a decent life away from the injustice and crimes of the regime.
At last, the representatives of the demonstrators handed over a memorandum containing the demands of the Eritrean refugees in Egypt to the representative of the High Commissioner of the UNHCR in Egypt and all human rights and humanitarian organizations in the world regarding the suffering of the Eritrean people at home and abroad because of the tyrannical regime that rule Eritrea with iron and fire since 1991.