A Sample Of The Eritrean Grief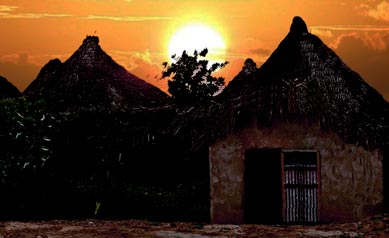 The following was posted as a comment on Awate Forum; it is a profound story that we decided to make it a feature article
Tesfabirhan, the author of the article stated, "my story is a drop in an ocean I am just lucky to be able to write about my family; there are families with no one tell their stories."
Compared to the number of beleaguered and suffering Eritreans, the stories that are made public are, indeed, "a drop in an ocean." Those who boldly decided to be the voice of the voiceless are depressingly few.
Such stories are the reason for the stampede of young and old Eritreans to leave the country. And these are the kind of victims whose sufferings that the Eritreans embassies worldwide perpetuate.// Editor
---
Let me share my story with you. Some people don't know what every Eritreans are facing, yet they comment just for the sake of commenting. Let me share with you what my family has been going through for many years.
My brother is the one who made me to be who I am today. When I was a university student in Eritrea, he decided to take care of our entire family and took the full responsibility of caring for the ten members of our family. At that time six out of the ten were students: one was serving in the military, he was married and a father; a married sister was a mother of three, and her husband was serving in the military. My brother was also served in the military for four years before he decided to abscond, hide, and work to care for the family. After working for two years while hiding in a small family garden, until 2006, life became so difficult for him and he couldn't continue working under the circumstances anymore.
The government took my mother away and kept her in prison. My father was working as a local administrator and they wanted him to serve them while keeping my mother in prison. That impacted my brother who had no option left but to give himself up and he went into prison where he stayed for one year before he was freed. That was in September 2007.
My brother was able to attend my university graduation ceremony, which was held in 2007. That evening he told me that he can't live in Eritrea anymore. Together with a close of his, who was in an almost similar situation, they decided to flee outside Eritrea. Their escape was an eight days journey to the Sudanese border. They crossed the border to Sudan and went to the Shegerab refugee camp where Eritrean refugees are camped for decades. My brother stayed there for three months. He had no one he knew living overseas to provide any support for him and he struggled and survived there for three months. Eventually he was able to leave the camp and reach to Khartoum after he received some money from home.
Life was hard in Sudan and he worked equally hard because he wanted to help his family who were still in Eritrea. Fortunately, he had many skills in construction and agriculture. While he lived in the Sudan, he managed to survive and even to help our two sisters who faced trouble after they decided to flee Eritrea–human smugglers holding them hostage asked for a ransom and my brother was the only one who was supposed to help. He also managed to help and finally my sisters joined him.
Until 2009, I had no income at all and our family continued to be dependent on my brother. At that time, I was just beginning to be able to support myself, but yet, I was unable to support my family at home.
My brother continued to bear the burden of supporting our family responsibility until December 27, 2012 when he dialed a "missed-call" to me. I returned his call and he told me he was severely ill. Three days later he passed away. May he Rest in Peace.
Through his support, I am who I am now.
One of my sisters now she is living in Canada. Another is living in Italy (she has a shocking experience but she didn't want to tell me the details). My youngest brother also had similar unfortunate experience; he finally crossed the Mediterranean Sea this summer. He is now living in Norway.
My father, who was shocked over the death of his son to the extent that now he unable even to control himself. My mother, who carried and gave birth to eight children, is now alone, with no one around even to help her fetch firewood.
My older brother, a second round national service, was inflicted with Tuberculosis, and he was elated when they gave him a leave: he thought it is a good opportunity to work (the national service member who was happy because he was wounded reminded me of my brother). My brother started to work. But since he was not able to take his medicine properly, he was infected for a second time. But after some time, started to work again. But he was infected for a third time, though luckily he didn't die. He spent six-months in a military hospital. Sadly, now he is almost paralyzed, but we are lucky he is still alive—this brother is a husband and a father of five.
I still have another brother who is under thirty years of age and he is still living in Eritrea; a father of three children, he is tied up in the national service.
My sister, a mother of four children, already has her oldest daughter doing the national service.
And myself? I am a student who just finished my MA degree program and who depends on scholarships for his daily life. I am also a husband and a father too, though separated by a sea of injustice from my family whom I miss so much.
Imagine now: if what you read in just a sample, a tragedy of a single Eritrean family, what is the cumulative, national pain that Eritreans are going through!
A mother of eight children, yet no one around to fetch her firewood and water; a father of eight children has no one of them around to assure him, "here I am, father".
The above story is my personal story, the story of what my family went through and what they real situation they are facing. I feel the pain of my mother, her sorrow, her loneliness, and her anguish. I feel the grief of my heartbroken father. None of us is around when he needs us most in his old age, we are forced not to be around. Incidentally, these are the type of helpless people that the Nobel prize nominee, Abba Mussie Zerai, has been helping.
And I miss my brother. I hear echoes of his voice coming from the grave, talking to me, "where are you, Tesfabirhan? Are you around? Are you fulfilling our dreams? How is mother doing? Don't let our father sit alone? Be with him."
And I am living in France, helpless, unable to help my three year old child still stranded in the middle of the way to join me but couldn't because of a piece of paper, a passport problem! This is the pain from within, cutting my guts.
Yet, I didn't narrate the stories of my uncle, my aunt, my extended family and my friends—how shocking do you think that would be? But let me conclude by telling you about the suffering of my aunt:  she is a mother who lost four of her sons during the liberation struggle. Now she is living alone, always crying, in a small house in a village—in a house has no electricity. Her beloved sons fought to bring light to Eritrea, yet, their almost eighty years old mother, like many Eritreans, lives in a dark room.