Eritrean Salvation Front Attacks A Government Garage In Asmara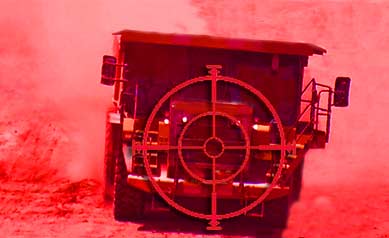 In a statement issued today, March 13, 2015, of which Gedab News received a copy, the Eritrean National Salvation Front (ENSF) announced that its armed unit attacked a government garage in Qohawta neighborhood, southeast of the capital city Asmara. ENSF is an Eritrean opposition organization.
According to the statement, the attack was carried out at 8pm on Wednesday March 11, 20015
The attacked garage serves heavy trucks owned by the government's land transport companies and concerns which are mainly used to haul gold and other minerals from the mining area, mainly from Bisha, the largest mining concession in the country.
The mine is operated by the Bisha Mining company which is jointly owned by the Eritrean government and the Canadian Nevsun Resources. It is not known if the latest attack would hamper its operations.
ENSF stated that its elements destroyed some trucks and retreated to their places safely with one of the attackers sustaining light wounds. It also stated that it has "made all necessary preparations to shift its activities and place of operation to confront the regime inside Eritrea."
The statement described its latest operation as "a response to the looting of national resources by the regime, including its aggression on the Eritrean people in Arbaate Asmera and Tselot, and suffering it inflicted on the people of Adi Keih lately." It further explained the ENSF "doesn't target the helpless Eritrean army but the regime and anyone who supports it."
The statement concluded with a call to the Eritrean Army to "defend its people and protect their resources by standing up to the PFDJ government."
Gedab has not yet confirmed the news independently.