Eritrean Airlines: An Eritrean Story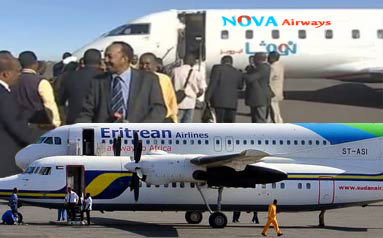 If there is one entity that symbolizes Eritrea, it must be Eritrean Airlines. It is its metaphor for something that one has much expectation for but one that repeatedly, continuously and predictably fails because it never learns from its failures.
Like a flag, an airline is a symbol: it stands for some kind of autonomous statehood. Thus, right after independence, in 1991, Eritreans saw the emergence of "Eritrean Airlines" as a sign of independence. Autonomy. Just like Eritreans welcomed the raising of the Eritrean flag at the UN, they welcomed the sight of a plane with the words "Eritrean" inscribed on its body. Eritreans took pictures of it at the tarmac of Asmara Airport. It was hope of better days to come. Hopes dashed in a series of misadventures: of lessons never learned.
The first one, "The Airline Company", was a privately-held company owned by three Eritreans: Nessredin Ibrahim, Habib Kebire and a third silent partner. It was launched in 1992 soon after Eritrean independence. It was a squadron of one. It used Romanian chartered planes and crew. The airline, which changed its name to Eritrean Airlines to comply with Eritrean Civic Aviation Authority (ECAA) requirements, had limited runs, mostly to Massawa, Asab, Saudi Arabia and Sudan. The Airline Company discontinued when, in the summer of 1994, the captain, a Romanian, flew the plane home and wouldn't return, leaving passengers stranded.
The second one, which was known as "Red Sea Airlines", was launched after Abraha Ghermazion (where is he now?) was named ECAA manager in 1995. The goal was to take over the lucrative routes of Lufthansa and Ethiopian Airlines which were carrying thousands of Eritrean passengers every year. Abraha Ghermazion was replaced by Stifanos Afwerki who, in turn, was replaced by Paulos Kahsay. Red Sea Airlines ceased operations in 1998, following the ignition of the Eritrea-Ethiopia war. After a two year lull, Red Sea Airlines attempted a comeback in a venture between a wealthy Saudi banker (Bin Mahfouz) and the PFDJ's Red Sea Trading Corporation. Aynom Mebrahtu was named director of the ill-fated venture, which shut down in 2002.
The third one, named "Queen Bee" was launched in April of 2003. Many Eritreans remember Queen Bee and the fanfare when it was launched. Leasing a couple of used Boeings and Airbuses, Queen Bee announced routes to Frankfurt, Rome, Milan, Nairobi, Djibouti and Dubai. The Queen Bee had an Eritrean crew—pilot, first officer and flight attendants pulled off from the Intercontinental Hotel in Asmara. Queen Bee was described as yet another example of "self-reliance." Given the ruling regime's poor financial management skills, and its focus on using the airline as a political vehicle to transport Eritreans during the tourist season, the airline was operating at a loss until it was shut down in 2008.
Then came Nasair, supposedly a private company, which was launched to provide service between Asmara and Massawa, in addition to limited flights to several regional airports including Jeddah and Dubai. It was shut down in the summer of 2010.
Then came Eritrean Airways. More accurately, Pakistani Airways. Under the terms, Eritrean Airways would run as an independent private company whose management reports to a Board of Directors. The ticket office would not receive stamped order papers to issue tickets to the employees of the regime and their families. The Eritrean regime would have to buy its tickets like any other customer. But the ruling regime is not used to paying for services from providers which it owns, and it is not familiar at all with the rigors of audited financial statements or parliamentary oversight over its operations, so skepticism had been the natural reaction.
The Pakistani management team recommended that Eritrean Airlines cease long haul routes and instead to concentrate on routes to and from the Middle Eastern and African countries that are close to Eritrea and within a four-hour flight range. This would mean replacing its fleet of Boeing 767 and a McDonnell-Douglas (MD-83) with smaller aircrafts—four small planes were expected to be purchased or leased. Pakistan and Qatar would provide the consultancy and financing and the Eritrean regime would campaign the Diaspora Eritreans to buy shares of the new Eritrean Airlines. This is because the Diaspora Eritreans who consider the ruling regime an investment of sorts have been reliable when it comes to throwing good money after bad. Negotiations were also underway to have Emirate Airlines and Qatar to provide connection flight to and from Asmara for travelers from the rest of the world.
All came crashing down. One after another.
In October of last year, Lufthansa stopped its flights to Asmara, Eritrea. Sources affiliated to the ruling party in Eritrea stated that flights would resume in November of last year and explained that the reason for the stoppage of flights was a temporary hiccup. Lufthansa, which operated three flights per week to Asmara, was popular particularly among the Diaspora Eritreans who travel home in large numbers. Certainly, Lufthansa would not abandon its lucrative itinerary that it had run almost as a monopoly. But last October it did. Five months into its cancellation of flights to Asmara, the information that Lufthansa would resume its flights "pending the signing of a new air traffic agreement between Germany and the African state," has not materialized. Why?
Now, the only outlet for travelers to and from Eritrea is the ailing Sudan Airways which has limited flights around the world.
On March of 2013, the Eritrean government announced an agreement with Sudan Airways to enable the non-existent EAL to operate "some flights on behalf of Sudan Airways out of Khartoum." According to news reports, the agreement looked "like a codeshare agreement to enable them fly to destinations that currently operated by Sudan Airways by making use of Eritrean Airlines." But flights to and from Eritrea remained inefficient and cumbersome.
The PFDJ-cheering websites moved on to the flavor-of-the-week: this time, it was Turkish Airlines!  It was going to fly to Asmara beginning on…. well, SOON!
In December 2013, an Eritrean government affiliated website announced, "Nova Airways (O9), Sudan's second largest carrier, began flights to Asmara today, ahead of Turkish Airlines and Qatar Airlines who have announced to make similar moves in the coming months." It further announced that "Nova Airways fleet operates with one Boeing 737-500 and four Bombardier CRJ200ER aircrafts."  In Asmara, the CRJ 200 Nova aircraft was received with much fanfare, and "Eritrean Minister of Tourism, Ms. Askalu Menkerios, inaugurated the launching of the direct flights to and from Asmara – Khartoum – Juba, as well as Kassala city."
Despite the hyperbole, the state-owned Sudan Airways is so small Nova's website indicates that the airline operates only one CRJ 200 and two helicopters.
It is common for passengers to lose their money in the confusion when they discover their tickets are not honored by the ever changing Airline agreements. EAL operates its only asset, an old Boeing 767-200ER. Several leased airplanes often operate out of Asmara only to disappear shortly afterwards. Because of safety concerns, none of the European countries will allow EAL to land in any airport in Europe.
It is possible that Lufthansa, Turkish Airways or other Airlines could begin flights to Asmara; but given the record of the Eritrean Government, and its non-existent EAL, Eritrea is not expected to have an effective and efficient air connection with the rest of the world.
When an Ethiopian Airlines co-pilot hijacked his plane to Geneva to ask for asylum, a journalist for the Los Angeles Times took the occasion to address his experience with the Airline. He writes: "The key to the aircraft's success was that, despite being a government-owned company, it hewed to capitalist standards of profit and loss. That was true during the regime of Marxist dictator Mengistu Haile Mariam, which ended in 1991, and during his rebel successor, Meles Zenawi, who died in 2012. These governments plainly understood that a smoothly-functioning international airline was a magnet for desperately needed foreign exchange. That seems obvious, but it was a rule flagrantly violated by many other foreign regimes…."
The Isaias Afwerki regime is one of those who do not get it, and cannot get it. A successful airline requires a competent General Manager, an independent board, a commitment to excellence with a focus on the bottom line. In the autocratic system of Eritrea, where Isaias Afwerki is most threatened by independent institutions, independent institutions and managers who excel at their jobs, this is impossible and so the saga of Eritrean Airlines will continue to be the saga of Eritrea: great potential continuously sabotaged by a petty tyrant.
© Copyright 2014 Awate.com. All rights reserved. This material may not be published, broadcast, rewritten or redistributed without written consent from the Webmaster@awate.com