Eritrea and Syria: Doha Pulls On Isaias Afwerki's Leash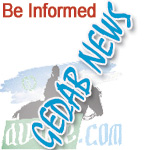 The League of Arab States, which has officially offered the Syrian seat to the opposition coalition ("National Coalition"), held a ceremony at the Syrian embassy in Doha, Qatar to mark the event and participating in the ceremonies was Eritrean Ambassador to Qatar, Ali Ibrahim Al-Uqud.
Eritrea is not a member of the Arab League, nor has its government taken an official stand on the civil war in Syria. However, this does not appear to have gotten in the way of Ali Ibrahim Al-Uqud of participating in lowering of the Syrian flag and its replacement by a National Coalition flag.
By virtue of seniority, Ali Ibrahim Al-Uqud is considered the Dean of the the diplomatic corps in Qatar. Last year, his non resident accreditation to Iran was denied by Tehran.
Returning Favor?
The Eritrean regime has been dismissive of the entire "Arab Spring", which it characterized as a CIA-instigated movement whose sole intent is "creative chaos" for the purposes of destabilizing the region and installing puppet governments.
It is unclear, then, why the Eritrean regime is supporting the Syrian opposition.  What is clear is that the Emir of Qatar is a close ally and benefactor of Eritrean president Isaias Afwerki; and that the uncharacteristically forceful position the Arab League has taken against Syria, including is suspension of its membership two years ago, was spearheaded by Qatar.
The two-day Arab League summit, which commenced on March 26, 2012 in Doha, Qatar, issued a long list of declarations, some of which have been repeated in every summit for decades while the League has taken few, if any, practical steps towards implementing them.
One of the Doha Declarations welcomes "the agreement between the Republic of Djibouti and State of Eritrea of June 6, 2010 which was concluded under the auspices of His Highness Sheikh Hamad bin Khalifa al Thani, Emir of Qatar."
Despite the terms of the agreement, there has been no progress in almost three years: the Qatar peacekeepers are still stationed on the border of the two neighboring states; Djibouti is frustrated that there has been no discussion of exchanging prisoners of war–following the June 2008 clash between the two Horn of Africa neighbors. The Eritrean regime claims that neither country is holding prisoners of war—despite confirmations made by the Monitoring Group on Somalia and Eritrea.  Moreover, Eritrean exiles to the West, who had been held prisoners in Djibouti for being undocumented aliens, confirm that there are Eritrean prisoners of war in Djibouti who have been abandoned by their government for nearly five years.
//END
awate.com
inform. inspire. embolden. reconcile