Another Leader of The Eritrean Opposition Forces Died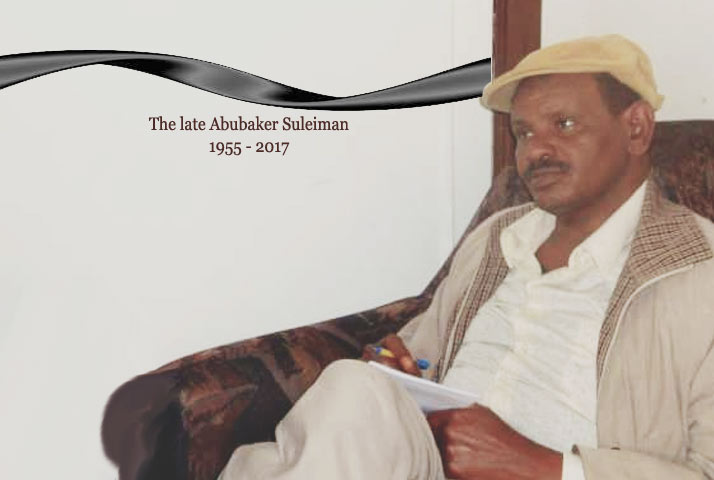 On Wednesday, February 8, 2017, Abubaker Suleiman, the secretary of the Executive committee of the Eritrean Federal Movement (EFM), died in Khartoum, Sudan, and was buried there.
The soft spoken Abubaker is remembered by his intellectual depth, and his humble and respectful demeanor.
Born in Agordat in 1955, he traveled to Kassela to finish his high school. He traveled to Libya, where he graduated with a bachelor degree in literature. An active member of the Eritrean students' movement, after graduation, he returned to the liberated areas under the Eritrean liberation Front. He became in charge of the student affairs office.
Eventually, due to the developments in the field, he migrated to Saudi Arabia, where he was a member of the Workers' Union.
Upon the liberation of Eritrea in 1991, he returned home and started a business of exporting livestock in addition to the restaurants he established. That didn't please the vengeful PFDJ government that closed his business and put him in prison. Abubaker was released from prison only to be forcefully conscripted into the army; he was sent to the Badme front.
While in service, Abubaker became diabetic, was inflicted with typhoid and attacked by a severe Malaria. An army truck dropped him on the road close to Tessenei from where people picked him and smuggled him to Kassala. He stayed in hospital in Kassala for months.
In 2005 he was appointed head of the Eritrean Democratic Alliance (EDAA) in Khartoum until it was closed by the Sudanese government. He then moved to Addis Ababa and became the head of the Arabic unit of the EDA information department. He also elected as a member of the political office of the EDA representing the EFM.
In 2010, he was involved in the Eritrean opposition dialoge forum, as well as the 2011 Awasa congress where the Eritrean National Council for Democratic Change was established.
Until his death, Abubaker was the Secretary of the Executive committee of the Eritrean Federal Movement.
The late Abubaker Suleiman is related to the national hero, the late Sheikh Ibrahim Sultan, and is survived by two daughters.